(LIVE IN LOCKDOWN WITH THE INTERNATIONAL SPACE ORCHESTRA)
The Avalanches and The International Space Orchestra (ISO) have come together to share their collaborative music video for The Avalanches' new track 'Wherever You Go' ft Jamie xx, Neneh Cherry and CLYPSO.
The video, filmed live during the COVID-19 lockdown, is a meteorite shower of space science, planet poking and harp-playing spacecraft operators coming together with the Australian alt-rock/electronica pioneers, The Avalanches, in the most cosmic collaboration imaginable.
 
"We are forever grateful to Dr. Nelly Ben Hayoun and the International Space Orchestra for a truly magical, inspiring and connective experience," said Robbie Chater and Tony DiBlasi of The Avalanches. "During a hard lockdown, it has renewed our faith in music, humanity and the power of connection, science and love. We have so much respect for all those at NASA and the SETI Institute and the work they do pushing the boundaries of human exploration, in trying to find the answers to the universe, and who and what lay beyond our neighbourhood."
As a part of their musical collaboration, The Avalanches also worked on developing a sonification of the Arecibo message created by SETI Institute co-founder Frank Drake, who shared the original message with the band.
"We would also like to thank Dr. Franck Marchis and Dr. Frank Drake for all their help in deciphering the Arecibo message for inclusion on our upcoming project. This is the first time this message has been translated into music," said Chater and DiBlasi.
Created in 2012, ISO is directed by SETI Institute Designer of Experiences Nelly Ben Hayoun-Stépanian along with musical director Evan Price. Under Ben Hayoun- Stépanian's leadership, ISO has performed sold-out shows on some of most significant stages (San Francisco Symphony Hall, the Fillmore Theater and the Hollywood Bowl) and with world-renowned Grammy award-winning artists such as Bobby Womack, Damon Albarn, Beck, Sigur Rós, Maywa Denki and Savages.
Of the collaboration, Ben Hayoun- Stépanian said, "The Avalanches have been working on a space-inspired album for a few years now. Researching sounds coming from space, they came across the brilliant work developed by our scientists at the SETI Institute and by the International Space Orchestra. Very quickly, it became apparent that our musical collaboration should focus on further inspiring new perspectives and desires to understand the universe. In the current context, we could not make our performance happen in real life, but we decided to make it happen regardless, and this performance is the result of our online meetups. We hope that our performance will allow for further curiosity and interest to research distant galaxies and extraterrestrial intelligence and life. Working with the Avalanches has been our greatest honour, one of the most cosmic experiences we have encountered. Robbie and Tony are truly inspiring, kind, caring and just too brilliantly talented. Thank you to them for having us at the International Space Orchestra and the SETI Institute a part of their outer-space musical journey."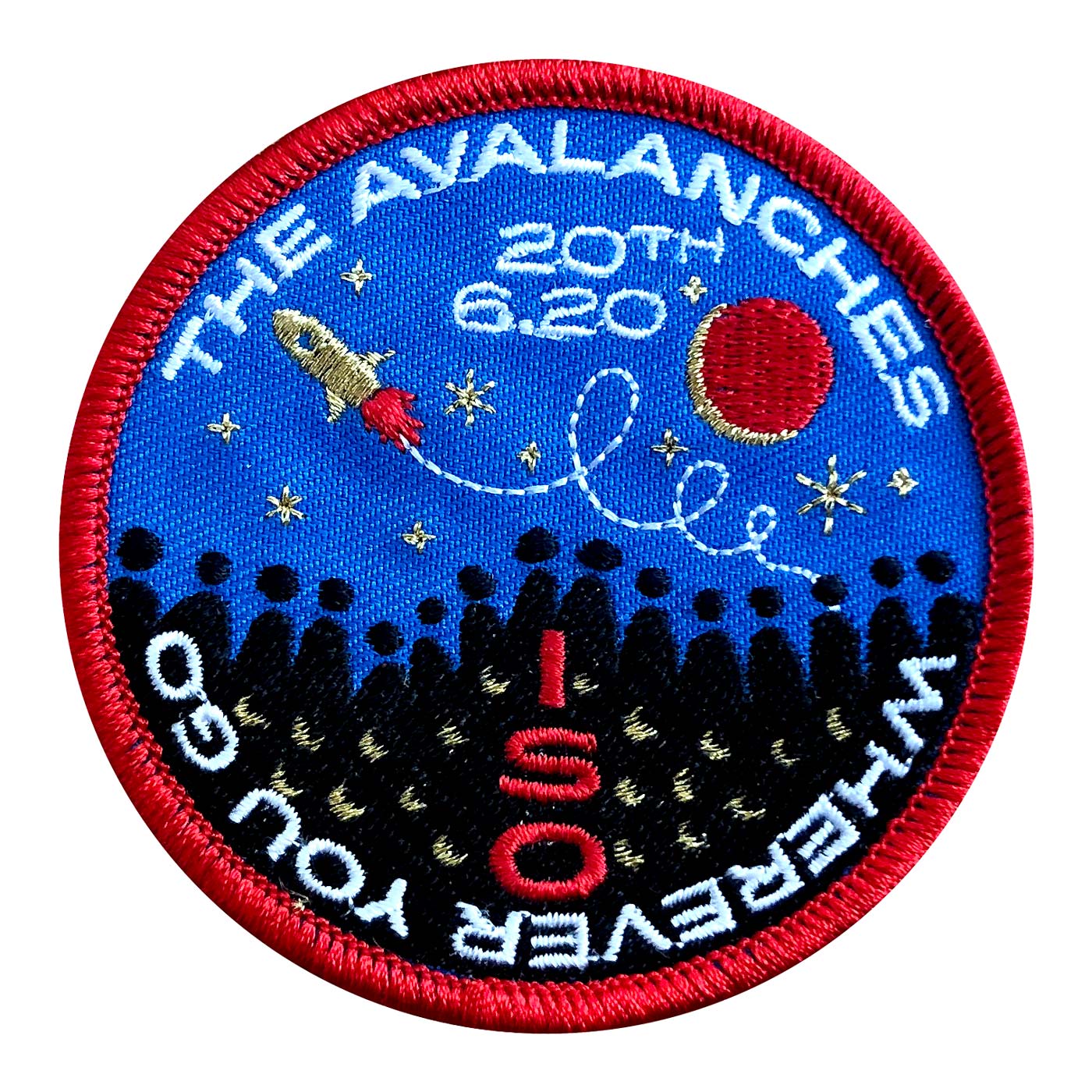 ABOUT THE AVALANCHES
On their groundbreaking debut, Since I Left You, The Avalanches presented the world with a totally unique sound, crafted by meticulously combining over 3,500 vinyl samples. This approach set a precedent for dance music, inspiring a whole generation of musicians and producers. Released in Australia in 2000 and in the U.S. and the U.K. in 2001, Since I Left You is now regarded as a modern classic, It was named one of the year's best albums by critics around the world and later placed in the Top 10 of Pitchfork's Top 200 Albums of the 2000s and in the Top 20 of Rolling Stone's Greatest EDM Albums of All Time. The video for the title track won Best Video at the 2001 MTV Europe Music Awards and was named one of the top music videos of the 2000s by Pitchfork.
The release and subsequent tour in support of Since I Left You was followed by a 16-year radio silence, which was broken with the release of The Avalanches' sophomore album, Wildflower (Modular Recordings). It debuted at No. 1 on Billboard's Vinyl Albums chart and atop the Australian Albums chart in 2016. Wildflower earned six ARIA Award nominations and international acclaim, with The Guardian hailing it as "a joyous journey" and Pitchfork proclaiming it "better than just about any music ever made" and "an album that could have been made by nobody but the Avalanches."
In 2020, The Avalanches have been unveiling their first new music since 2016's Wildflower – the track "We Will Always Love You" feat. Blood Orange, which was praised as "a plush compendium of longing" by The New York Times. "Running Red Lights" feat. Rivers Cuomo & Pink Siifu, earning attention from Rolling Stone, Pitchfork, NME, Billboard and The FADER. In July came two songs; "Reflecting Light" feat. Sananda Maitreya and Vashti Bunyan examines the sounds that haunt our lives and reverberate through space. "Wherever You Go" feat. Jamie xx, Neneh Cherry and CLYPSO, is an epic track that begins with greetings from planet Earth – sampled from The Voyager Golden Record , a gold-plated copper disk launched into space by Voyager 1 and 2 in 1977 – and erupts in a frenzy.
ABOUT THE INTERNATIONAL SPACE ORCHESTRA
The International Space Orchestra is the world's first orchestra of space scientists. Blending space exploration, bassoons, harps and triangles; planet-poking and bluegrass-playing spacecraft operators – The International Space Orchestra's members are individuals drawn from NASA Ames Research Center, the SETI Institute, and the International Space University. The International Space Orchestra is an experiential and hybrid research laboratory, where space scientists are implementing, deconstructing, performing, singing, mixing, modifying, and designing musical acts. It is a provocation to action: a call to imagine and disrupt future human relations to space science; to adapt space science to our creative needs. They previously performed with Sigur R ó s, Beck, Damon Albarn and Bobby Womack, The Prodigy, Penguin Café, Japanese composer Maywa Denki, Savages, and more. In this tangential reality, your Flight Controller conducts arias, and the Payload Officer works a baritone sax, while the Capsule Communicator is on the triangle and an astronaut on percussions. Following the rules of Tragedy defined by the ancient Greeks, The International Space Orchestra chorus introduced the public to the emotional nuances of space science missions. In 2015, European Space Agency Italian Astronaut Samantha Cristoforetti brought the ISO music Compact Disc to the International Space Station. Since then, the ISO record is orbiting the Earth onboard the International Space Station, experiencing Zero Gravity inside the Cupola. The International Space Orchestra is currently rehearsing with director and SETI Institute Designer of Experiences Dr. Nelly Ben Hayoun- Stépanian and Two time Grammy-Award winner ISO musical director Evan Price at NASA Ames Research center, California- and online!
http://internationalspaceorchestra.com/
ABOUT NELLY BEN HAYOUN- STÉPANIAN PH.D
Nelly Ben Hayoun- Stépanian Ph.D is an award-winning designer of experiences, a French filmmaker with Algerian and Armenian descent, who creates multi-dimensional experiential projects at the intersection of film, science, tech, theatre, politics and Design. Wired awarded her their inaugural Innovation Fellowship in 2014, and Icon magazine recognized Dr. Ben Hayoun as one of the top 50 designers 'shaping the future'. In 2018, Nelly was distinguished as the first on the list of top 50 women on the speaker circuit by The Drum Magazine; while in 2017, Creative Review named her one of the Creative Leaders 50, selecting 50 creatives they felt were 'driving change, not just within their organisation but in the world at large', Dezeen selected her as one of the '50 inspirational women in architecture and design'. She is the founder and director of the International Space Orchestra the world's first orchestra of NASA space scientists and astronauts; and the founder of the tuition free university- University of the Underground- which includes board members and activists like Prof Noam Chomsky and Prof. Arjun Appadurai, this tuition-free educative and cultural program is supporting plurality of thinking, free and transnational teaching and unconventional practices in the basement of nightclubs. Dr. Ben Hayoun-Stépanian is the author and director of three feature-length documentaries (ie: The International Space Orchestra, 2013; Disaster Playground, 2015 and I am (not) a monster, 2019). Her various roles include Director of Nelly Ben Hayoun Studios, Designer of Experiences at the SETI (Search for Extraterrestrial Intelligence) Institute, Senior fellow at the Hannah Arendt Center for Politics and Humanities, Chief of Experiences at file transfer service WeTransfer, Vice Chair of the IAF (International Astronautical Federation) Technical Committee on the Cultural Utilization of Space (ITACCUS), a member of the IAF Space Education and Outreach Committee (SEOC) and a member of the IAA (International Academy of Astronautics) Search for Extraterrestrial Intelligence (SETI) permanent committee amongst others. When she is not making films, Nelly is a keynote speaker and has spoken worldwide about the value of experiential design practices in the context of nightlife, outreach, community and education. Her design work has been exhibited at the National Museum of China, MOMA, V&A, the MET and other leading design institutions. Ben Hayoun- Stépanian is also an amateur boxer who trains at the legendary Gleason's Gym in NYC in the fighting crew of trainer Hector Roca. She has a Barbie doll and a Lego made of herself.
Link to Press Images:
https://www.dropbox.com/sh/23u1jojbhjv9nd4/AAB3dtH_DAJ4iZR7VsHGzsy8a?dl=0
Download full press release here:
https://www.calameo.com/read/0048123630b1b76e022e2
SETI Institute Experiences:
https://www.seti.org/experiences
Additional Information
International Space Orchestra musicians and participants to The Avalanches performance:
Aileen Aniciete - Former Operation Lead, NASA Ames Research Center, Choir.
Alan Ni - Spacecraft Program Manager, Astro Digital Viola.
Annette Rodrigues - Former Associate Director for Center Operations, NASA Ames Research Center; NASA Ames Bluegrass Band, Ukulele.
Barbara Jo Navarro - Former NASA Assistant Chief, Flight Systems Implementation Branch, NASA Ames Research Center, Trumpet.
David Roland - (Ret.) Senior Systems Administrator, NASA Advanced Supercomputing Dobro / Ukulele.
Elisabeth Giessler - Doctor of Optometry, Violin.
Emeline Paat-Dahlstro - Co-Founder, SpaceBase; Former Chief Impact Officer, Singularity University, NASA Research Park, Choir.
Frank Caradonna - Retired Aeronautical engineer; Army Aeroflightdynamics Directorate at NASA Ames Research Center; NASA Ames Jazz Band, Piano.
Greg Schmidt - Director, NASA SSERVI (Solar System Exploration Research Virtual Institute), Ukulele.
Joel McKinnon - Software Engineer, NASA Ames Research Center, Bass Guitar.
John Bresina - MER Tactical Activity Planner, LCROSS & LADEE Activity Planning & Command Sequences Lead, NASA Ames Research Center, Choir / Rhythm Section.
John Cumbers - Founder of Beta.Space and Synbiobeta; Former Lead for Planetary Sustainability, NASA Ames Research Center, Choir.
Julia Schorn - Behavioral Health & Performance researcher, NASA Johnson Space Center; former Space Biosciences intern, NASA Ames Research Center, Harp.
Lothar Determann - Attorney, Baker McKenzie; Commercial Pilot; Law Professor, Freie Universität Berlin; Lecturer, Berkeley School of Law. Tenor Saxophone.
Katie Gründler - Student Intern, SETI Institute, Flute.
Janice Bishop - Senior Research Scientist and Chair of Astrobiology, SETI Institute; Exobiology Branch, NASA Ames Research Center, Clarinet.
Lukas Gründler - Research Assistant, SETI Institute, Trombone.
Markus Gründler - Student Intern, SETI Institute, Euphonium.
Marianne Cooper - Retired Engineer and Group Leader for Life Science Experiments/Space Shuttle Missions, Lockheed Martin Corporation, NASA Ames Research Center, Violin / Viola.
Marianne Ryan - Attorney specializing in space law and policy, Choir.
Matt Linton - Chaos Specialist; Former Deputy CISO, NASA Ames Research Center, Cello.
Melanie Lean - Postdoctoral Research Fellow, Stanford University, Choir.
Andrew Henry - Technical Lead, Open Mission Control Technologies, NASA Ames Research Center, Choir.
Michael Gross - Software and systems engineer for SOFIA, NASA Ames Research Center, Trombone.
Miryam Strautkalns - Applied and computational mathematics and computer science, San Jose State University; (Former) Research software engineer, Intelligent Systems Division, NASA Ames Research Center, Choir.
Matthew Daigle - Principal Applied AI Research Scientist, Palo Alto Research Center (PARC) Guitar Oliwia Baney Graduate Student, Former Nasa Ames DEVELOP, Cello and other instruments.
Rei Ueyama - Research Physical Scientist, Earth Science Division, NASA Ames Research Center, Violin.
Sora Ueyama - Pre-K student and future NASA astronaut, Bubbles and Toys.
Rodney Martin - Deputy Data Sciences Group Lead, Percussion / Clarinet.
Rusty Hunt - Flight Director, LCROSS Lunar Impactor and LADEE Lunar Orbiter, NASA Ames Research Center, Baritone / Saxophone.
Tamra Scott-Hunt - Former international model & music video vixen, Choir.
Ryan Pittman - Resident Agent in Charge, Cyber Crimes Division, Office of Inspector General (OIG), NASA Ames Research Center, Banjo.
Sarah Hobart - VIPER Ground Data System Manager, NASA Ames Research Center, Choir.
Scott Poll - Deputy Chief, Intelligent Systems Division, NASA Ames Research Center, Violin.
Taylor Hobart - Front of house, Steppenwolf and Blue Man Group, Choir/Harp.
Ted Garbeff - Aerospace Engineer at the Wind Tunnel Systems Branch, NASA Ames Research Center, Violin.
Vanessa Kuroda - Former BioSentinel and LADEE Spacecraft Communication Engineer, NASA Ames Research Center, Piano.
Evan Price - Ten-year veteran of the world-renowned, paradigm-shifting jazz ensemble, the Turtle Island Quartet, violinist and musical director Conductor.
Nelly Ben Hayoun - Designer of Experiences SETI Institute, Director and founder of ISO.
About the SETI Institute
Founded in 1984, the SETI Institute is a non-profit, multi-disciplinary research and education organization whose mission is to lead humanity's quest to understand the origins and prevalence of life and intelligence in the Universe and to share that knowledge with the world. Our research encompasses the physical and biological sciences and leverages expertise in data analytics, machine learning and advanced signal detection technologies. The SETI Institute is a distinguished research partner for industry, academia and government agencies, including NASA and NSF.