The Hereditary Grand Duke and Duchess of Luxembourg, along with other dignitaries, visit the SETI Institute.
Last week, the SETI Institute was privileged to welcome the trade mission from Luxembourg which was visiting the Bay Area. The mission was led by Luxembourg's Deputy Prime Minister and Minister of the Economy, Etienne Schneider. Also accompanying the delegation were the Hereditary Grand Duke Guillaume and Hereditary Grand Duchess Stéphanie, as well as representatives from several companies active in the space industry.
The visit included presentations about the SETI Institute's work from President and CEO, Bill Diamond, Director of the Carl Sagan Center, Nathalie Cabrol, Senior Research Scientist Mark Showalter, and Senior Research Scientist Margaret Race, as well as a tour of the SETI Institute. One highlight was giving the Hereditary Grand Duke and Hereditary Grand Duchess the opportunity to take a virtual reality tour of the International Space Station using an Oculus Rift.
The SETI Institute also discussed the NASA Frontier Development Lab (FDL), which is being hosted by the SETI Institute. FDL is a summer workshop that addresses knowledge gaps in space science by pairing machine learning expertise with astronomy and planetary science expertise at the PhD level. The 2017 research categories will include planetary defense, space weather, and space resources.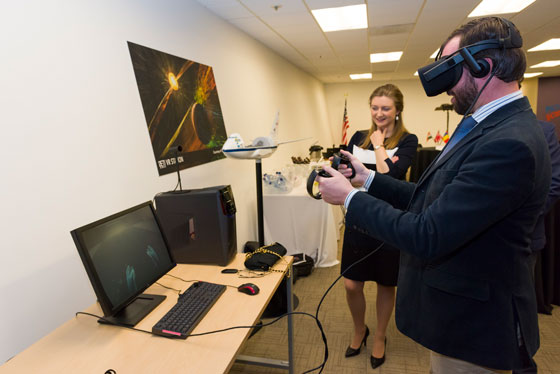 "We were thrilled to have the Luxembourg delegation visit with us at the SETI Institute," said Bill Diamond, "and we look forward to a continuing relationship focused on our shared interest in exploring and understanding space."
For more information about FDL please click here.