When an explosion in space occurs, professional and citizen scientists must obtain data on it as soon as possible. That is why the SETI Institute and Unistellar's Cosmic Cataclysms program is collaborating with the mobile and web application Astro-COLIBRI — to make notifications of these elusive events available to everyone as soon as they are detected. 
"The universe brims with cosmic cataclysms and enigmatic flashes of light, all awaiting our understanding," said Dr. Franck Marchis, senior planetary scientist at the SETI Institute and co-founder & Chief Scientific Officer at Unistellar. "With the advent of expansive surveys, such as at the Vera C. Rubin Observatory, even citizen astronomers armed with digital telescopes can significantly contribute to science, possibly even uncovering phenomena like laser beacons from extraterrestrial civilizations. Our collaboration with Astro-COLIBRI aims to unite and guide this burgeoning community of amateur astronomers globally."
Astro-COLIBRI (COincidence LIBrary for Real-time Inquiry for Multimessenger Astrophysics) is an innovative tool designed to aid in studying transient astronomical events. Transient events — such as supernovae, gamma-ray bursts, and stellar mergers — are fleeting cataclysmic phenomena that can offer profound insights into the mechanisms and processes of the universe. Revealing their secrets requires rapid and precise observation, and Astro-COLIBRI provides instrumental real-time alerts. Their notifications of new transient discoveries come from observatories worldwide and provide users with the crucial details necessary to make an observation.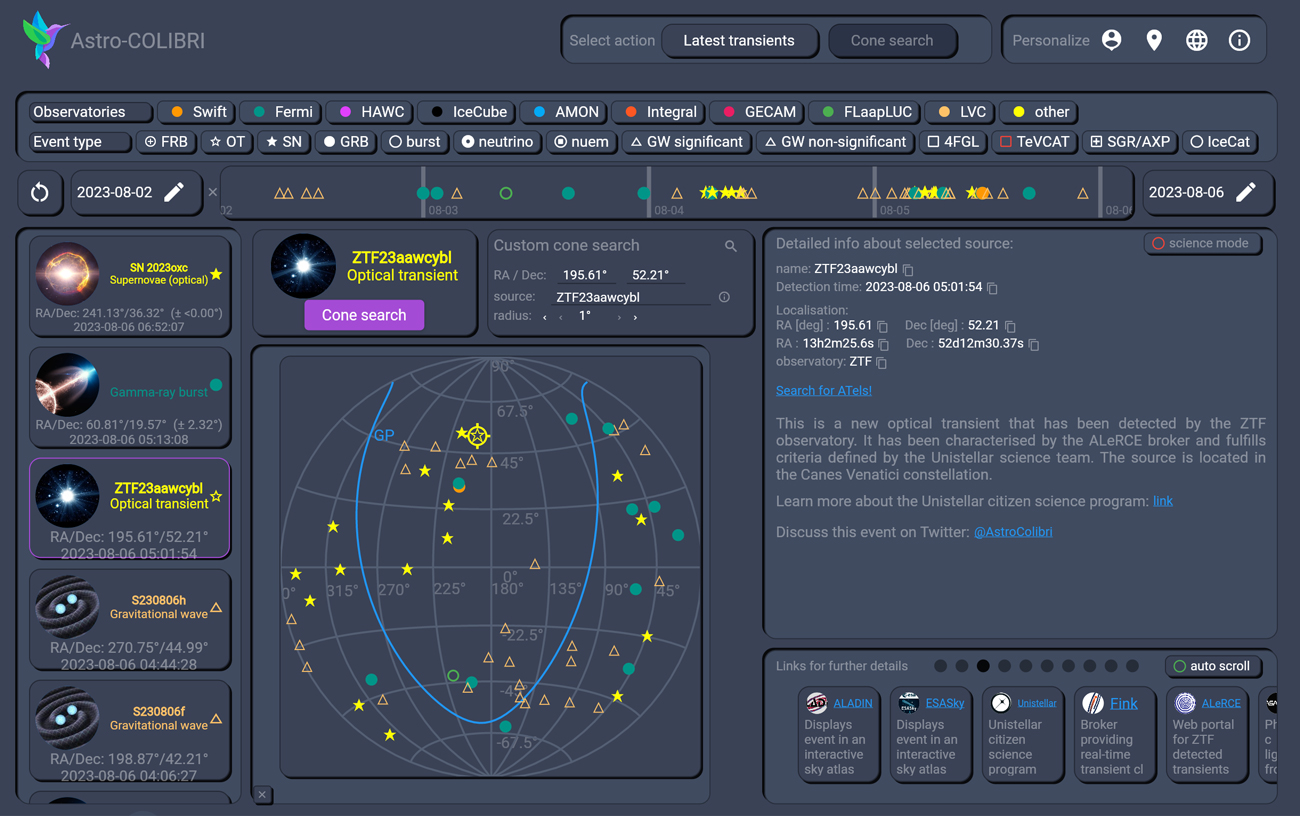 The SETI Institute and Unistellar will now contribute to Astro-COLIBRI by sending notifications of transients found by the Zwicky Transient Facility (ZTF) at Palomar Observatory within two minutes of their discovery. The SETI Institute / Unistellar alert system automatically filters the hundreds of potential supernovae identified each night by ZTF and, for the most observable and scientifically interesting targets, sends real-time alerts that guide Unistellar citizen scientists in making timely observations, like they did recently for supernova SN 2023ixf in the Pinwheel Galaxy. Through this new collaboration, these SETI Institute / Unistellar alerts are also now sent to the Astro-COLIBRI web and mobile interfaces, adding a significant source of discoveries. 
As soon as a transient event notification appears via the Astro-COLIBRI mobile app, Unistellar observers will be able to click the provided link that launches the Unistellar app and instructs their eVscope on how to record images of that particular cosmic cataclysm. Those without a Unistellar telescope can still use the alert to plan their observations, making the discoveries of ZTF accessible to stargazers across the globe.  
By streamlining the process of transient data collection, Astro-COLIBRI, the SETI Institute, and Unistellar are playing a pivotal role in advancing our knowledge of the dynamic and ever-evolving universe. This cosmic endeavor is made possible through funding provided by The Gordon and Betty Moore Foundation and the Richard Lounsbery Foundation.