July 17, 2019, Mountain View, CA -- Yesterday, Girl Scouts of the USA (GSUSA) announced the release of 42 new badges for girls in grades K–12 in outdoor adventure and science, technology, engineering, and math (STEM). Among these new badges are the Space Science badges for Girl Scout Cadettes (grades 6-8), Seniors (grades 9-10), and Ambassadors (grades 11-12) which were developed as part of the SETI Institute's Reaching for the Stars: NASA Science for Girl Scouts program (also known as Girl Scouts Stars). These badges follow the Space Science badges for Girl Scouts in grades K-5, which were released in 2018.
"With more than 1.7 million Girl Scouts in the U.S., these new Space Science badges will inspire the next generation of female researchers and explorers to pursue education and careers in space-related sciences," said Pamela Harman. Harman is the Director of Education at the SETI Institute and Principal Investigator on the Girl Scouts Stars program.
Funded by NASA's Science Mission Directorate and led by the SETI Institute, each Space Science badge was developed in collaboration with GSUSA and the SETI Institute's subject matter expert partners from the University of Arizona, ARIES Scientific, and the Astronomical Society of the Pacific, as well as Girl Scouts of Northern California. In true girl-led fashion, and to guarantee that only the highest-quality programming made its way to girls, GSUSA led three rounds of national pilot and field testing with current Girl Scouts to ensure the activities are fun, age-appropriate, and achieve the program's learning outcomes.
Cadettes who earn the Space Science Researcher badge will investigate properties of visible and invisible light and observe the night sky. Seniors who pursue the Space Science Expert badge will classify stars, study their life cycles, and experiment with astronomical imaging. Ambassadors will dive into a research project, look at worlds beyond Earth, and learn about women who work in NASA's Science Mission Directorate as they complete the Space Science Master badge.
"Growing up in a small town, Girl Scouts was one of the few programs that offered opportunities for girls to explore new ideas and skills," said Harman, a Girl Scout alum. "We're excited to collaborate with the organization to increase interest in space science through the new badges."
"Girl Scouts has ignited the power and potential of girls for over a century, and we are committed to ensuring that today's girls are the future of American leadership," said GSUSA CEO Sylvia Acevedo. "Girl Scouts is where girls can explore new subjects, discover their passions, learn to take smart risks, and become their best, most confident selves—whether they want to become a NASA astronaut, an entrepreneur, a mountain climber, a coder, or a cybersecurity agent."
The Girl Scouts Stars program also features train-the-trainer workshops for girls and volunteers, including the Astronomy Camp for Leaders at the University of Arizona; the Girl Scout Astronomy Club Training at NASA's Goddard Space Flight Center for girls, volunteers, and amateur astronomers; and the Girl Scout Astronomy Adventure Destination at the University of Oregon's Pine Mountain Observatory.
Last year, Space Science badges for Girl Scout Daisies (grades K-1), Brownies (Grades 2-3), and Juniors (grades 4-5) were released. Daisies who earn the Space Science Explorer badge observe the Sun, Moon and sky. Brownies who pursue the Space Science Adventurer badge dig into the Solar System, Moon phases, constellations, and share their findings. And Juniors who earn the Space Science Investigator badge explore the planets, celestial motion, the three-dimensional nature of a constellation, and develop models that explain the size and scale of our Solar System.
Badge booklets that detail the requirements for the Space Science Researcher, Space Science Expert, and Space Science Master badges are now available online at girlscouts.org and will be in local Girl Scout council stores mid-August. To join or volunteer, visit www.girlscouts.org/join.
Reaching for the Stars: NASA Science for Girl Scouts is funded by NASA Science Mission Directorate under cooperative agreement No. NNX16AB90A. Any opinions, findings, and conclusions or recommendations expressed in this material are those of the author(s) and do not necessarily reflect the views of the National Aeronautics and Space Administration. 
View/download full press release here: https://www.calameo.com/read/004812363dfc522b48e36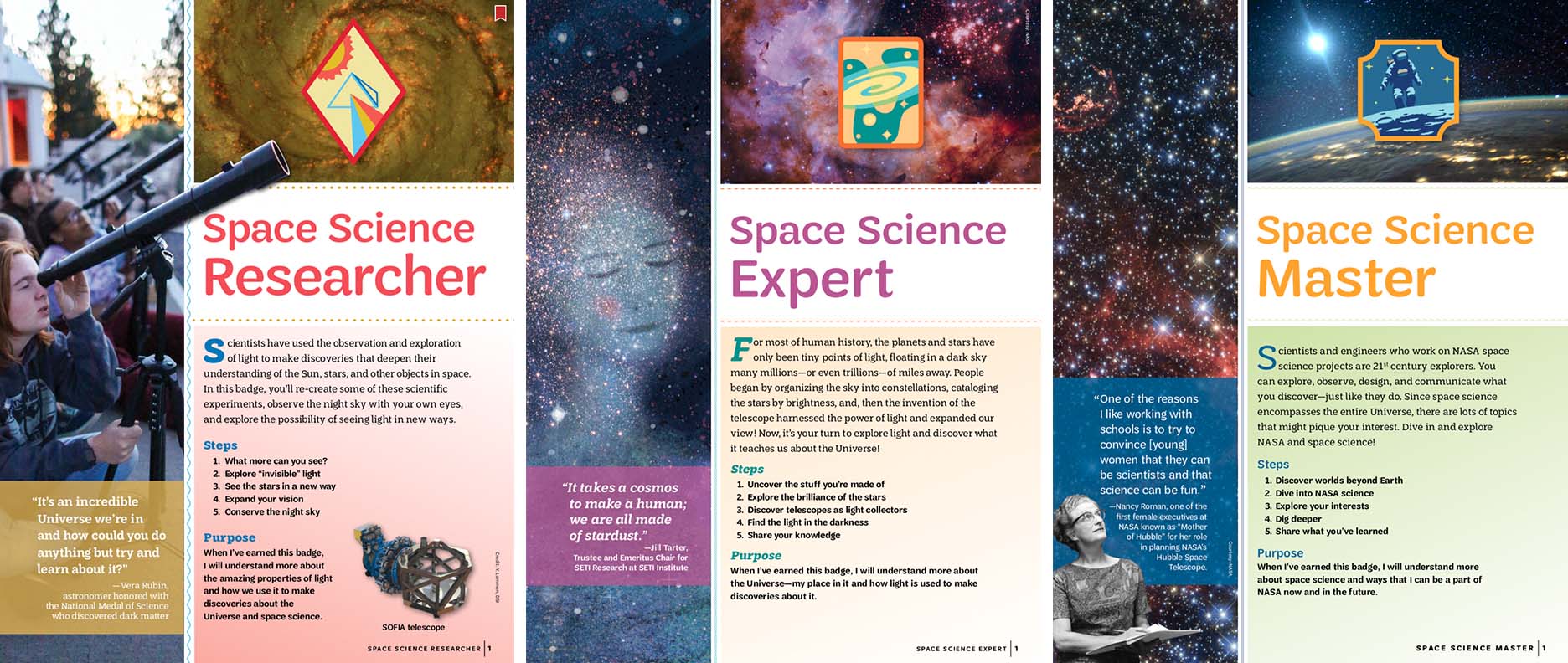 About the SETI Institute
Founded in 1984, the SETI Institute is a non-profit, multi-disciplinary research and education organization whose mission is to lead humanity's quest to understand the origins and prevalence of life and intelligence in the Universe and to share that knowledge with the world. Our research encompasses the physical and biological sciences and leverages expertise in data analytics, machine learning and advanced signal detection technologies. The SETI Institute is a distinguished research partner for industry, academia and government agencies, including NASA and NSF.