Planetary Protection and a Mars Exploration Debate
On the subject of planetary protection, even the scientific experts don't agree all the time. Planetary protection is concerned with biological cross-contamination of planets during space missions. The Outer Space Treaty of 1967 – signed by more than 90 countries -- requires that space exploration be done is ways that avoid bringing hitchhiker microorganisms from Earth on outward bound spacecraft and bringing something back that could be biohazardous to Earth.
Now there is a debate about whether planetary protection policies for unmanned missions searching for life of Mars should be relaxed in advance of human missions to Mars. A former SETI Institute scientist, Alberto G. Fairén, now with the Centro de Astrobiologia has written an article suggesting that human missions to Mars will increase the likelihood of planetary contamination and time is running out to discover the existence of life on Mars. John Rummel, of the SETI Institute's Scientific Advisory Board has rebutted that assertion.
Deep Mine Research and Education at Boulby Mine
SETI Institute scientist Rosalba Bonnacorsi is part of the expedition the team when NASA Spaceward Boung and the U.K. Centre for Astrobiology conduct a planetary analog expedition iin the Boulby Mine. Boulby is the site of the astrobiology analog research with the Mine Analog Research Program (MINAR).
The team includes scientists, teachers, engineers, biologists, geologists and astronauts who will work on a variety of science and technology projects to address specific scientific questions and test a variety of potential technologies and planetary exploration protocols.
Spaceward Bound is an educational program and will use the lab and mine environment to carry out science and technology in support of the subsurface exploration.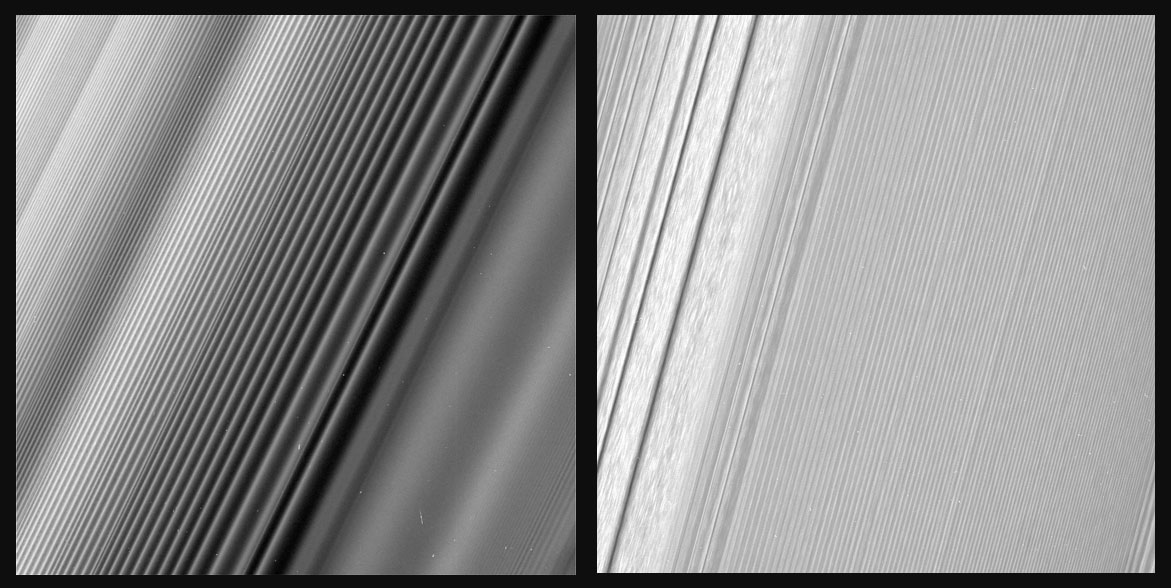 Cassini and Saturn's Rings
SETI Institute scientist Matt Tiscareno, who has been working on research from Cassini since 2004, shared some highlights from Cassini's Ring-Grazing orbits (December 2016 to March 2017) – weekly plunges through the ring plane just off the outer edge of the main rings of Saturn – and Grand Finale (April 2017 to September 2017) – weekly plunges between the rings and Saturn's cloud-tops. The science goals of these orbits included sampling of particles from Saturn's rings and atmosphere, detailed measurements of Saturn's gravity and magnetic field to probe the planet's interior, and close-range imaging of Saturn and its rings.
Rings Found Around Dwarf Planet Haumea
Haumea is the first dwarf planet and Kuiper Belt object found to have a ring system. Scientists hope this discovery will help them understand how and why rings form. Until the discovery of rings around the asteroid 10199 Chariklo in 2013, it was assumed that only large planets could host ring systems.
SETI Institute scientist Mark Showalter who is leading the hazard planning team for New Horizon's next flyby target, an object in the Kuiper Belt called MU69, commented:
"I'm sort of torn. Scientifically, this is fascinating. But as someone with MU69 on his mind, I did meet the news with some trepidation. We hadn't not assumed there was a ring, but it drives home the point that there are generally things out there that we might not know about. We'll be doing a great deal of studying and preparation."
The Unistellar eVscope Making it Easier than Ever to See Objects in the Night Sky
The new Unistellar eVscope uses optics and electronics to increase the brightness and celestial objects in the eyepiece in real time. This is making easier and more exciting for casual observers to view colorful nebulas, asteroids, meteor showers, far away galaxies and more in the night sky, even in areas with heavy light pollution such as New York City. Further, when the telescope is available to the public in late 2018 (and through a crowdfunding campaign coming up later this month), it will also be wi-fi enabled, making it possible for researchers to request observations of objects from different parts of the world and for users to share their observations.
SETI Institute Elects Dava Newman to Board of Trustees
The Board of Trustees of the SETI Institute has unanimously elected Dava Newman as the newest member of its Board of Trustees. Dava is the Apollo Program Professor of Astronautics at the Massachusetts Institute of Technology (MIT) and a Harvard-MIT Health, Sciences and Technology faculty member. She previously served as Deputy Administrator of NASA under the Obama administration, from May 2015 until January 2017.
Big Picture Science
Last week an encore presentation of On Defense looked at technology in the military. This week, Too Big to Prove, explored the long road to the Nobel Prize in Physics.
Facebook Live
Last week's Facebook Live went behind the scenes of the SETI Institute's radio show and podcast, Big Picture Science. This week, Franck Marchis was live from the Division of Planetary Sciences meeting with planetary scientists. Cynthia Philips, Jim Bell and Hal Levison talking about future NASA missions. There will also be a bonus Facebook Live from the SOFIA hangar in Palmdale, CA with participants in the Airborne Astronomy Ambassadors program.
All past Facebook Live videos can be seen on the SETI Institute's Facebook page at https://www.facebook.com/SETIInstitute/.
Events
Division of Planetary Sciences, October 15-20, Provo, UT SETI Institute Scientist Matt Tiscareno is a featured speaker who will present research on the planetary rings of Saturn and the Cassini mission. Other SETI Institute scientists whose work will be featured at the conference include Christina Dalle Ore, Melissa McGrath, Mark Showalter, Franck Marchis, Driss Takir, Robert Morris, Matija Cuk, Ross Beyer, David Hinson, Erin Ryan, and Peter Tenenbaum.
Sidewalk Astronomy at Pier 17, October 24 in San Francisco. See the universe from Pier 17 in San Francisco with Unistellar eVscope! SETI Institute astronomer Franck Marchis will be there to demo the prototype.
SETI Talks: October 26, Menlo Park, CA Featuring David Grinspoon and a discussion of the Anthropocene.
SETI Talks: November 29, Menlo Park, CA Featuring Jeff Coughlin and Geert Berentsen and a discussion of the Kepler and K2 missions.
American Geophysical Union: December 11-15, New Orleans, LA SETI Institute Scientist Matt Tiscareno will present research on the planetary rings of Saturn and the Cassini mission.