Last summer, two interns worked with Drs. Janice Bishop and Lori Fenton to study the North Polar Gypsum Dunes on Mars, focusing on the Olympia Undae region. Our French colleague Yves Langevin first discovered the high gypsum levels here in 2005, shown in red above the white ice cap of the martian north pole.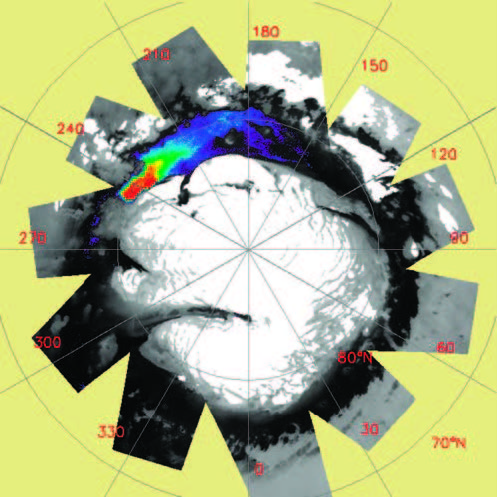 These dunes are intriguing due to their unique gypsum composition, proximity to the polar ice deposits, and seasonal variations. Bishop and Fenton had suspected that these dunes were more complex than previously realized and decided to characterize the morphology and mineralogy of the dunes with newly available images from the Mars Reconnaissance Orbiter.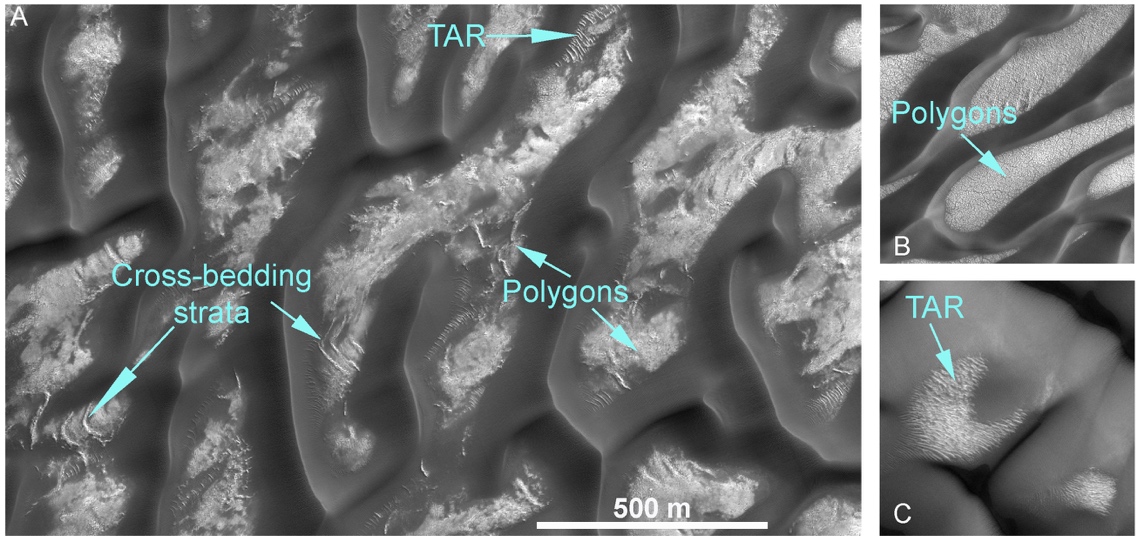 Intern Katya Yanez from California State University Northridge researched the morphology of the dunes using HiRISE images collected at different seasons and discovered that seasonal frost on the dunes acts strangely. In summer, the dunes appear dark compared to the bright patches underneath and between the dunes. However, the frost in winter creates the opposite illusion, where the dunes become lighter-toned than the interdune materials.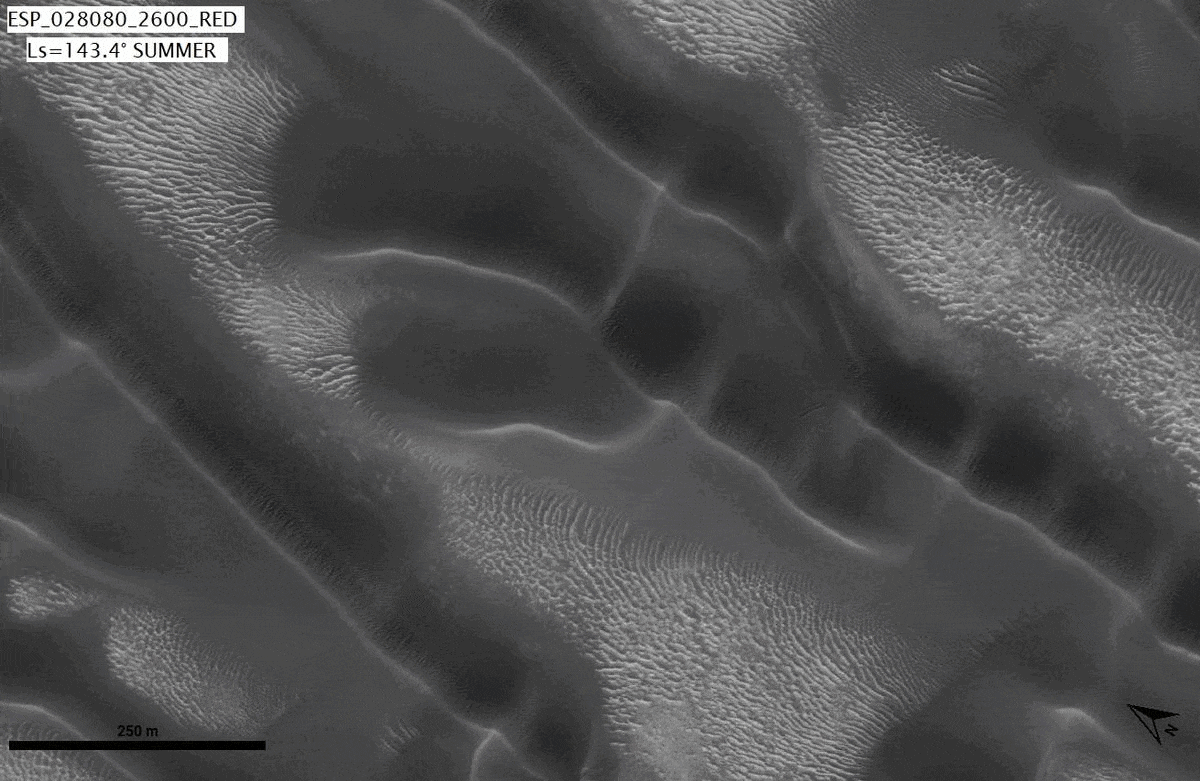 Katya also mapped out four different types of surface morphologies she identified in the interdune regions and noticed that the frequency of these changed across the Olympia Undae Sand Sea. We were particularly intrigued by the polygonally-cracked surfaces observed in interdune regions in parts of Olympia Undae.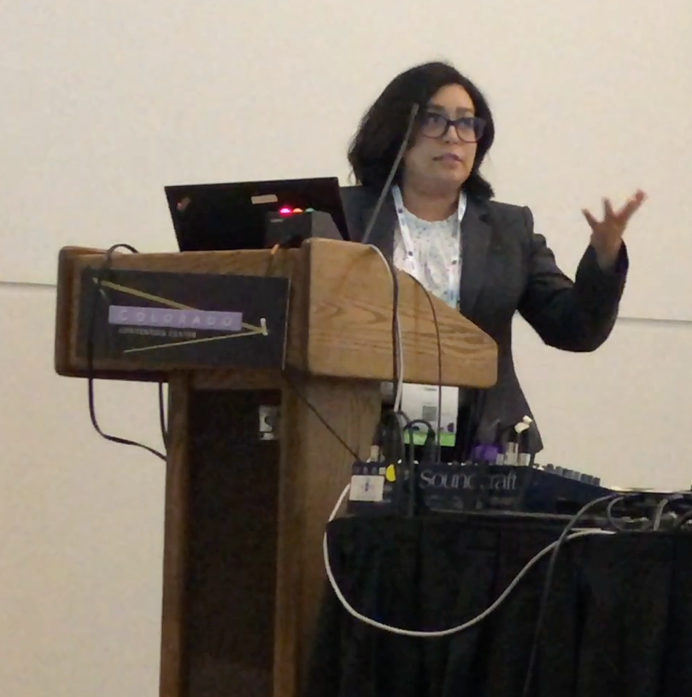 Differences in the morphology and color of the interdune materials from east to west across Olympia Undae suggest that a dynamic system with changing processes produces these light-toned patches. Furthermore, variations between the morphology of the dunes and interdune regions imply a difference in composition.
Katya presented her results at the Geological Society of America meeting in Denver in October.
Katya presented a continuation of her project at the American Geophysical Meeting held virtually and in Chicago on December 13th. She has been characterizing variations in gypsum concentration in the dunes across Olympia Undae using CRISM images. Her analysis correlates the gypsum content of the dunes with the morphology and composition of the interdune regions to begin outlining hypotheses for modern processes occurring across the North Polar region of Mars.
Intern Markus Gruendler from Newark Memorial High School investigated CRISM images at Olympia Undae processed with a new calibration technique by collaborator Mario Parente, Professor of Engineering and Computer Science at the University of Massachusetts at Amherst. Markus collected spectra of multiple dunes and the associated brighter interdune regions and compared these martian spectra with lab spectra of minerals from the collection of Janice Bishop. His project focused on characterizing the composition of the bright regions between and underneath the gypsum-rich dunes. Our group discovered that different types of sulfates are present together with the gypsum. Further, the composition is associated with the morphologies of the interdune materials and the location at Olympia Undae.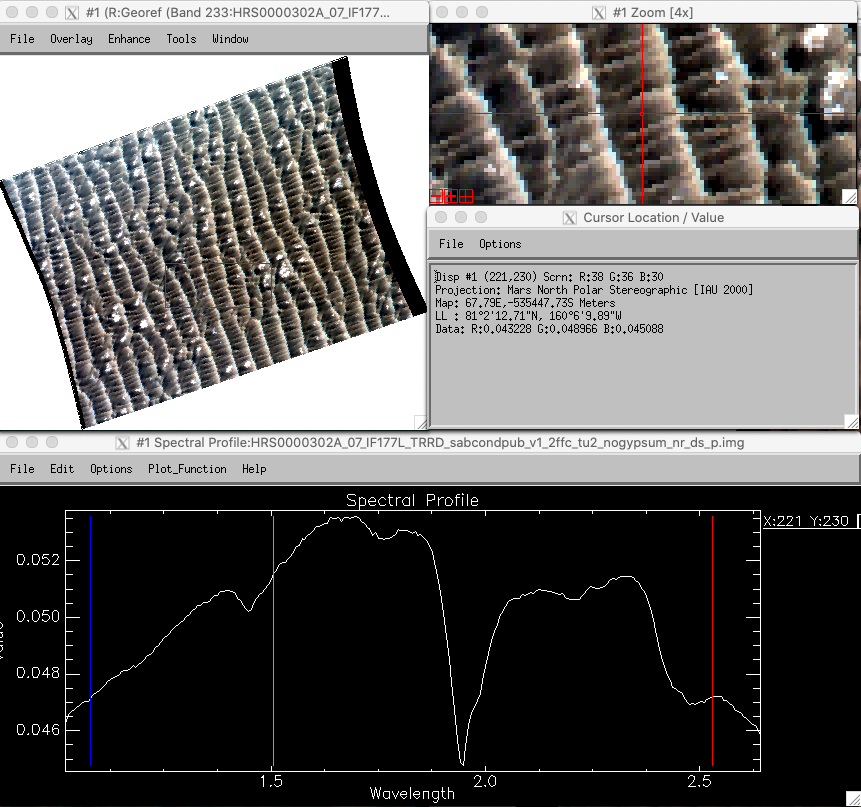 Markus also presented his results at the Geological Society of America meeting in Denver in October.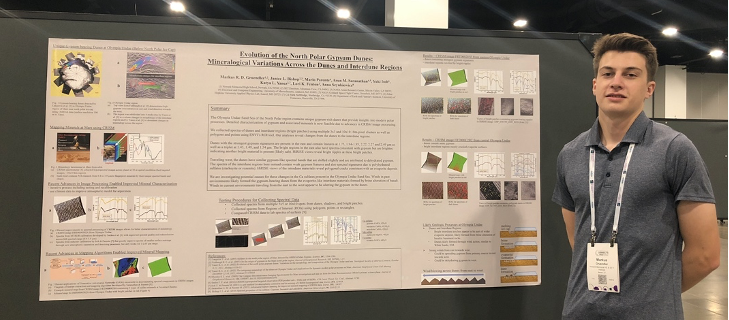 Desenterrando los misterios detrás de las dunas de yeso del polo norte en Marte
Traducido por Katya Yanez
El verano pasado, dos pasantes trabajaron con las Doctoras Janice Bishop y Lori Fenton para estudiar las dunas de yeso del polo norte en Marte, enfocándose en la región de Olympia Undae. Nuestro colega francés Yves Langevin descubrió por primera vez los altos niveles de yeso aquí en 2005, que se muestran en rojo sobre la capa de hielo blanca del polo norte marciano.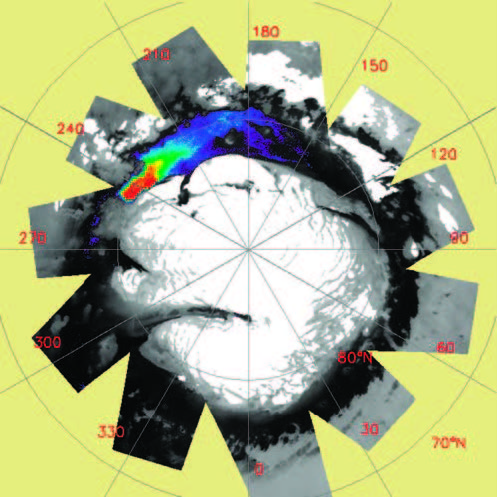 Estas dunas son intrigantes debido a su composición de yeso, su proximidad a los depósitos de hielo polar y sus variaciones estacionales. Bishop y Fenton habían sospechado que estas dunas eran más complejas de lo que se creía anteriormente y decidieron caracterizar la morfología y la mineralogía de las dunas con nuevas imágenes disponibles del Mars Reconnaissance Orbiter.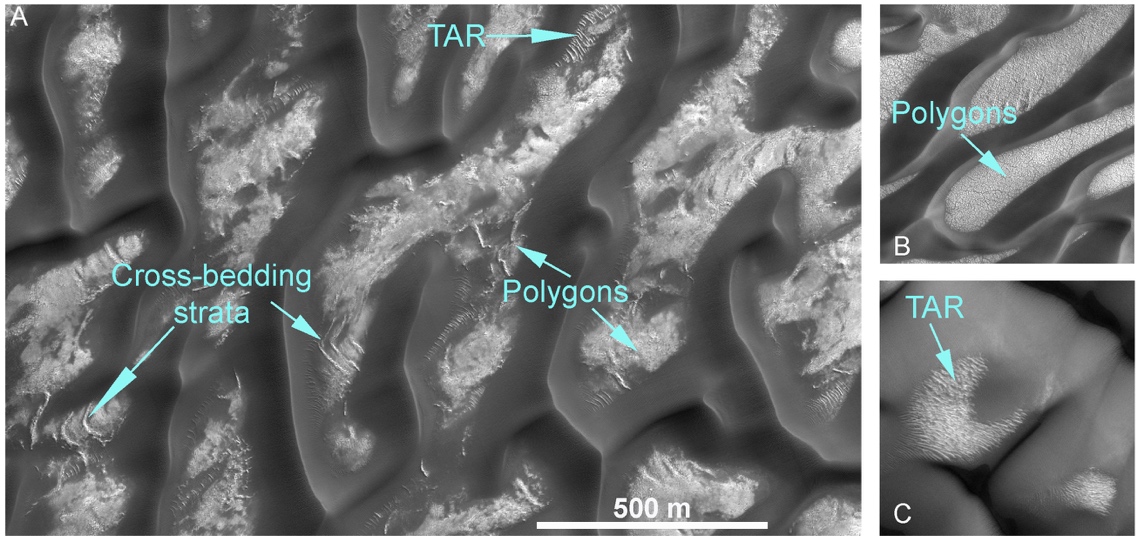 La pasante Katya Yanez de California State University Northridge investigó la morfología de las dunas utilizando imágenes de HiRISE recopiladas en diferentes estaciones y descubrió que durante el invierno la escarcha sobre dunas actúa de manera extraña. En verano, las dunas parecen oscuras en comparación con las manchas brillantes de las depresiones intradunales. Sin embargo, la escarcha de invierno crea la ilusión opuesta, donde las dunas se vuelven de tonos más claros que los materiales en la interduna.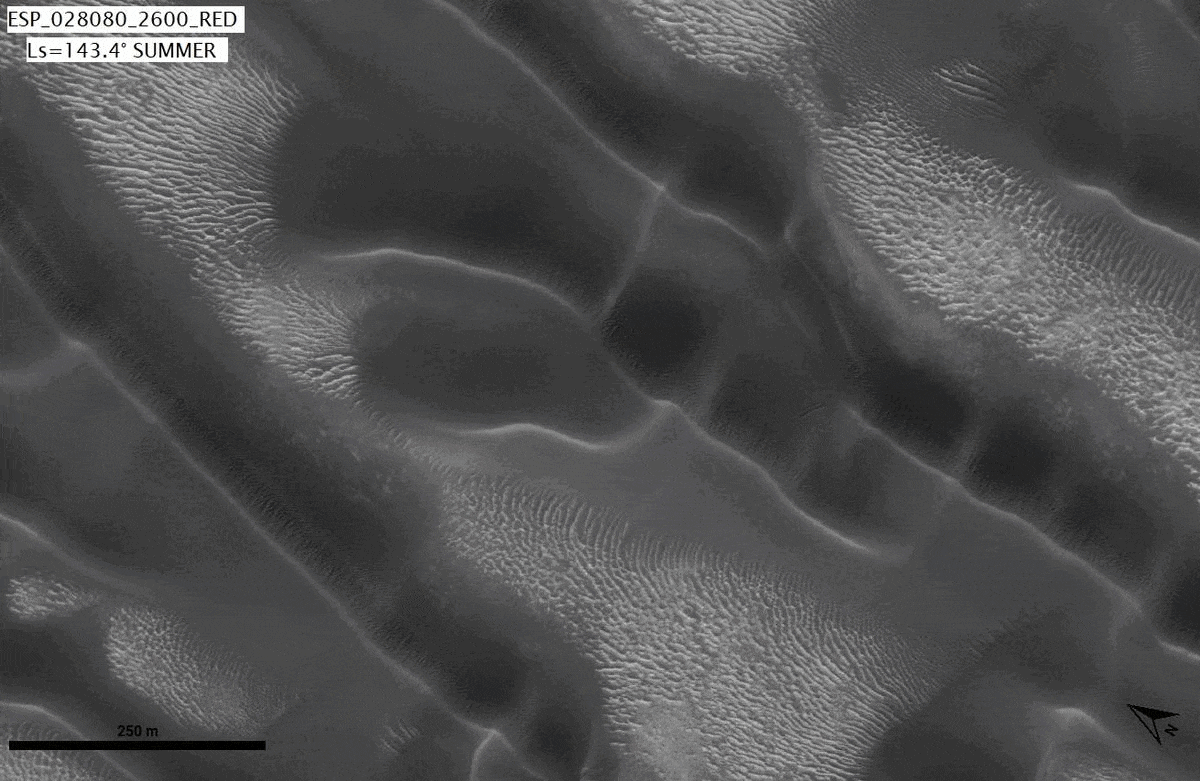 Katya también identificó cuatro tipos de morfologías de superficie en las depresiones intradunales y notó que la frecuencia de estos cambia a través del mar de arena de Olympia Undae. Estábamos particularmente intrigados por las superficies con grietas poligonales observadas en algunas de las interdunas de Olympia Undae.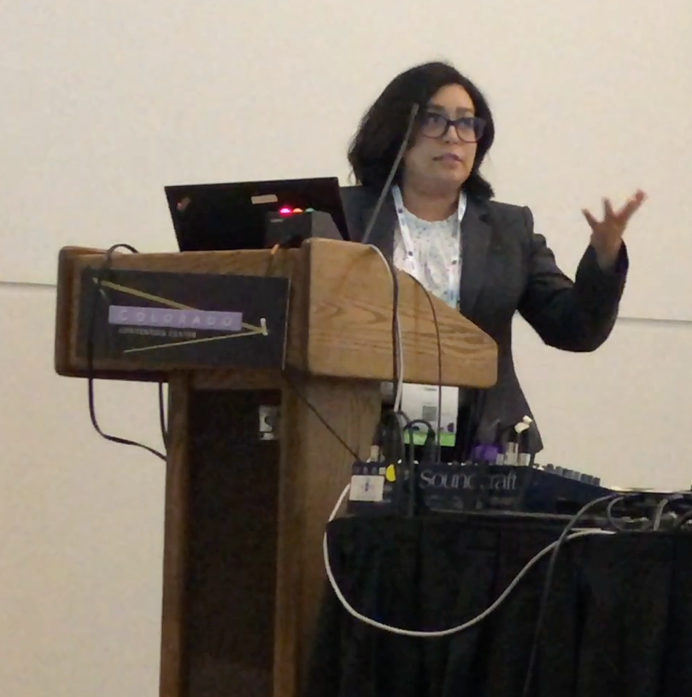 Las diferencias en la morfología y el color de los materiales intradunales cambian de este a oeste en Olympia Undae y sugieren que este es un sistema dinámico con procesos que producen cambios en estos parches de tonos más claros en la interduna. Además, las variaciones entre la morfología de las dunas y las regiones interdunales implican una diferencia en la composición del sedimento.
Katya presentó sus resultados en la reunión de la Sociedad Geológica de América (Geological Society of America) en Denver en octubre.
Katya presentó una continuación de su proyecto en la conferencia de la Unión Geofísica Americana (American Geophysical Union) realizado virtualmente y en Chicago el 13 de diciembre. Katya ha estado caracterizando variaciones en la concentración de yeso en las dunas de Olympia Undae utilizando imágenes CRISM. Su análisis correlaciona el contenido de yeso de las dunas con la morfología y composición de las regiones intradunales para comenzar a esbozar una hipótesis sobre los procesos contemporáneos que ocurren en la región polar norte de Marte.
El pasante Markus Gruendler de Newark Memorial High School investigó imágenes CRISM en Olympia Undae procesadas con una nueva técnica de calibración creada por el colaborador Mario Parente, profesor de ingeniería y ciencias de la computación en la Universidad de Massachusetts en Amherst. Markus recolectó espectros de múltiples dunas y las correspondientes regiones intradunales de tonos claros y comparó estos espectros marcianos con espectros de laboratorio de minerales de la colección de Janice Bishop. Su proyecto se centró en caracterizar la composición de las regiones intradunales de tonos claros y la región debajo de las dunas de alto contenido de yeso. Nuestro grupo descubrió que diferentes tipos de sulfatos están presentes junto con el yeso. Además, la composición está asociada con las morfologías de la intreduna y su ubicación en Olympia Undae.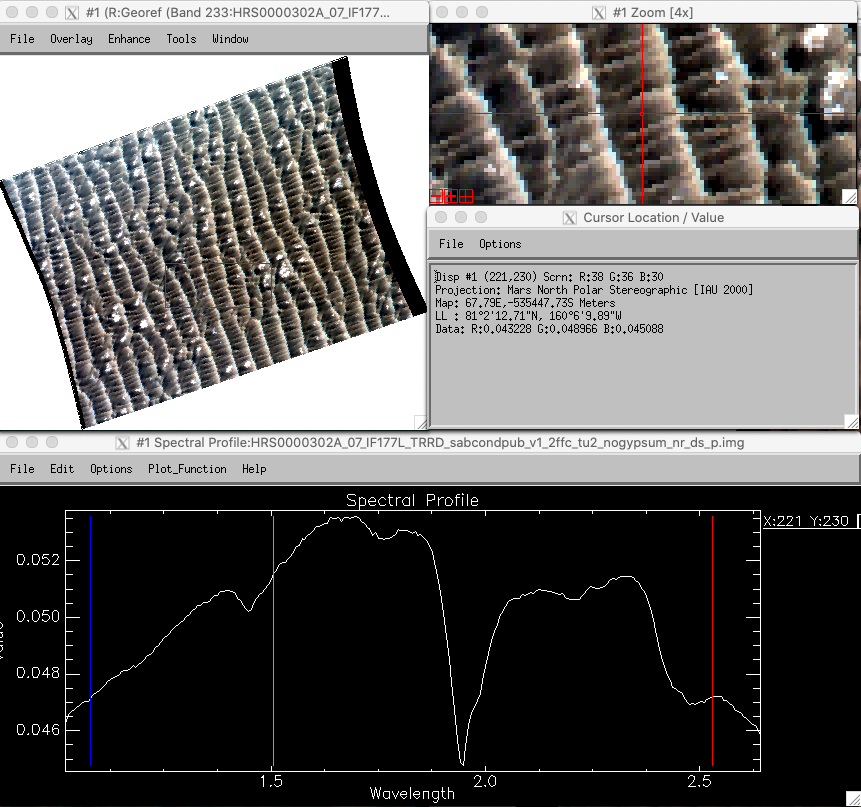 Markus también presentó sus resultados en la reunión de la Sociedad Geológica de América (Geological Society of America) en Denver en octubre.