Asteroid Belt Objects Scrutinized
A team of astronomers, including Franck Marchis, performed a study of 42 of the largest objects in the asteroid belt, using the European Southern Observatory's Very Large Telescope (ESO's VLT) to determine characteristics such as density and their 3D shape.
This large difference in density suggests the asteroids' composition varies significantly, giving astronomers important clues about their origin. "Our observations provide strong support for substantial migration of these bodies since their formation. In short, such tremendous variety in their composition can only be understood if the bodies originated across distinct regions in the Solar System," explains Josef Hanuš of the Charles University, Prague, Czech Republic, one of the authors of the study. In particular, the results support the theory that the least dense asteroids formed in the remote regions beyond the orbit of Neptune and migrated to their current location.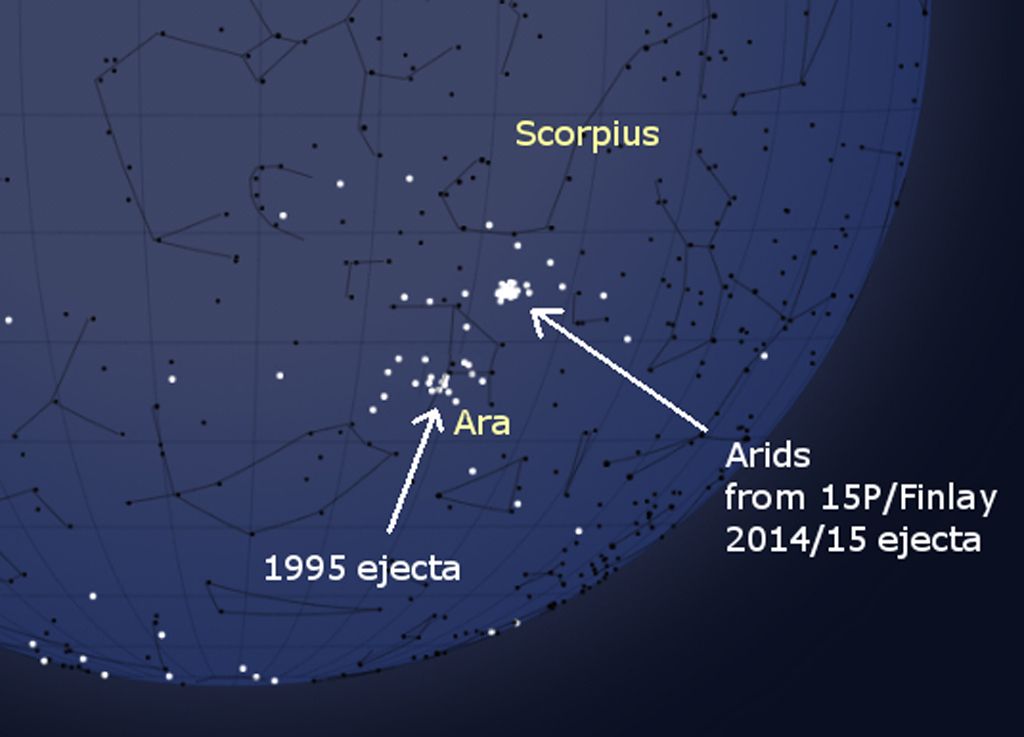 Comet15P/Findlay Spawns a New Meteor Shower
Comet15P/Findlay swings through the inner solar system about every six years, and this year the Earth passed through its debris trail, as predicted by scientists and verified by the Cameras for Allsky Meteor Surveillance (CAMS) network. This was the first time that this shower has been identified and viewed.
The meteor shower radiated from the Ara Constellation, which means altar in Latin. The constellation is located in the southern sky, wedged between Scorpius, Telescopium, Triangulum Australe, and Norma. This is why SETI Institute meteor astronomer Peter Jenniskensnamed the shower "Ardis."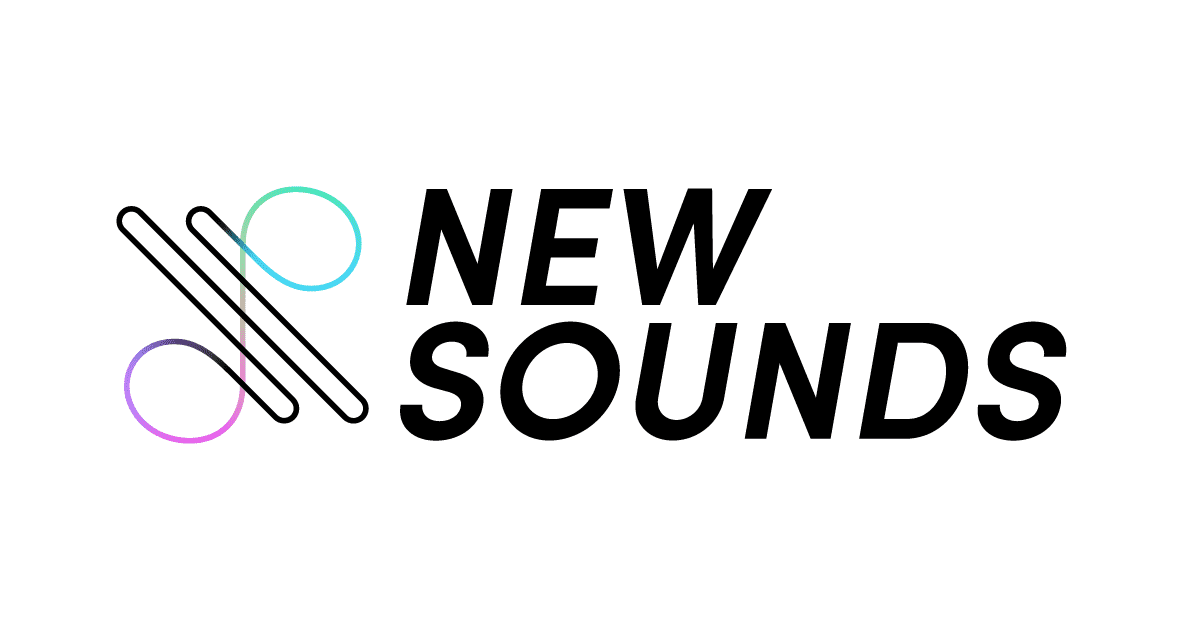 UnEarthly Music
SETI Institute Artist in Residence (AIR) artist Felipe Pérez Santiago's music is featured on the New Sounds podcast. Felipe is the Artistic Director of the Earthling Project.
There's also music by Mexican/Dutch composer Felipe Pérez Santiago, inspired by the work of astronomer Jill Tarter, the co-founder and former director of the SETI Institute (search for extraterrestrial intelligence.) Written for a project by the Austin-based composers' lab, Golden Hornet, Felipe Pérez Santiago's "Quest" is one of a series of works for amplified cello and electronics, performed by former Kronos Quartet member cellist Jeffrey Zeigler.
World Space Week Activities Aimed at Inspiring Girls
The theme for the 2021 World Space Week was "Women in Space". The SETI Institute and its partners created several events to encourage girls to participate in space science.
Along with the SETI Institute and The Planetary Society, Unistellar's launching a super inspiring initiative to get one million girls to discover space (check it out here!) complete with can't-miss virtual courses, fantastic freebies and even an amaze Asteroid Art Contest. 
And the only thing more limitless than the cosmos? Your future career in space. Whatever your vibe, there's a job where you can be the star you are.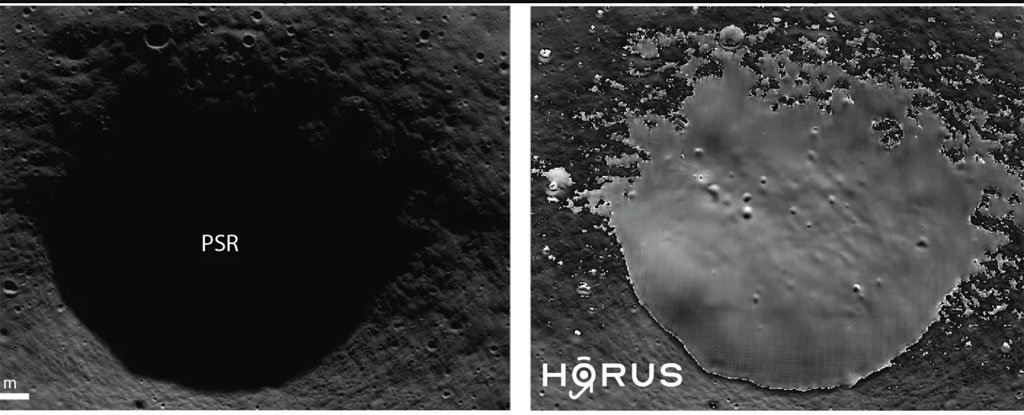 HORUS Helps Scientists Discern Water on the Moon
The Frontier Development Lab (FDL) participated in a project to refine imaging of dark craters at the lunar south pole, using artificial intelligence (AI).
But any images captured using that reflected light are too "noisy" to make out any detailed features.  

Enter a new technique developed by scientists at the Max Planck Institute for Solar System Research (MPS) in Germany.

They used an AI algorithm called the Hyper-effective nOise Removal U-net Software (HORUS). HORUS's primary goal is to "clean up" the noisy images of the bottom of unlit craters collected by other spacecraft, such as the Lunar Reconnaissance Orbiter (LRO).
Sample Return Missions: Are We Safe?
Planetary Protection works both ways: we want to try not to contaminate another world with our presence, but we also want to protect Earth from any contamination from other worlds. Scientists differ on the benefits vs. harm of bringing back rock samples from Mars.
Other scientists, on the other hand, consider that the risk that eventual Martian life forms are in some way dangerous for the population or our planet is negligible. Andy Spry, a scientist at the SETI Institute of California and a consultant in planetary protection at NASA, pointed out that COVID-19 and other infections show that there is always a previous process of interaction or repeated contacts between the microorganism and its hosts so that they become pathogens, as if they were molecular keys and locks. "It is extremely unlikely that a biological entity that evolved and adapted to an extraterrestrial environment would take advantage of life forms on Earth," he said on the specialized site. Space.com.
Big Picture Science
Join hosts Seth Shostak and Molly Bentley each week as they explore emerging science and technology research.
Home Invasions
As we struggle to control a viral invader that moves silently across the globe and into its victims, we are also besieged by other invasions. Murder hornets have descended upon the Pacific Northwest, threatening the region's honeybees. In Africa, locust swarms darken the sky. In this episode, we draw on a classic science fiction tale to examine the nature of invasions, and what prompts biology to go on the move.

With guests Peter Ksander, Eva Licht, Chris Looney, Nipun Basrur, Amy Maxmen
Fuhgeddaboudit
A thousand years ago, most people didn't own a single book. The only way to access knowledge was to consult their memory. 

But technology – from paper to hard drives – has permitted us to free our brains from remembering countless facts. Alphabetization and the simple filing cabinet have helped to systematize and save information we might need someday.

But now that we can Google just about any subject, have we lost the ability to memorize information? Does this make our brains better or worse?
 
With guests Judith Flanders, Craig Robertson, David Eagleman
More Big Picture Science episodes can be found at http://bigpicturescience.org/episodes.
SETI Live
SETI Institute hosts interview cutting-edge scientists each week on social media. Recent SETI Live episodes include:
Unlocking the Secrets of the Universe: Exoplanets and Dark Matter
Jessie Christiansen is an astrophysicist who searches for, characterizes and catalogues planets orbiting other stars – exoplanets. She's currently working on TESS to find the nearest planetary systems to Earth that may be studied with the next generation of ground- and space-based telescopes. Sophia Gad-Nasr is working on her PhD in cosmology and astroparticle theory and phenomenology. Her research focuses on dark matter – specifically Self-Interacting Dark Matter, a type of dark matter that experiences collisions, making galaxies cosmic particle colliders. Join Jessie and Sophia in conversation about their work and what inspired them to discover space and understand our Universe.
10,000 Light Years from Home (A SETI AIR Conversation)
Meet Brittany Nelson, our newest artist in residence! Brittany's thought-provoking, poetic works express the curiosity, solitude, and longing that are connected to the search for Life beyond Earth. During this SETI Live chat with SETI AIR Director Bettina Forget, Brittany will discuss how she uses 19th century photographic chemistry techniques to address themes of queer and feminist science fiction. Brittany's latest works include a series of bromoils based on photos of the Martian landscape taken by the Opportunity rover. She also explored technique of holography for her series Tiptree's Dead Birds, an ephemeral recreation of the letters of the closeted lesbian science fiction writer Alice Sheldon, who wrote under the pen name James Tiptree, Jr.
Getting Ready for Lucy's Launch!
On October 16, NASA's Lucy mission will launch from Kennedy Space Center in Florida, with the SETI Institute's Franck Marchis on the scene. The Lucy mission is the first space mission to explore the small bodies known as the Jupiter Trojan asteroids. Join Franck and a group of citizen astronomers on the day before launch day.

A special SETI live with Arin Asvar, Rachel Knight, and Kevin Voeller, citizen scientists who participated in an occultation campaign to figure out the shape of Patroclus, one of Lucy's targets.
On the eve of the launch of NASA's Lucy Mission, they will tell us about their trip and excitement about seeing this event live from Florida. We'll discuss the importance of the Lucy mission and upcoming citizen science events to support the mission.
Videos of all past Facebook Live events can be found on our Facebook page, https://www.facebook.com/SETIInstitute/, or on our YouTube channel, https://www.youtube.com/SETIInstitute.