Philippe Sarrazin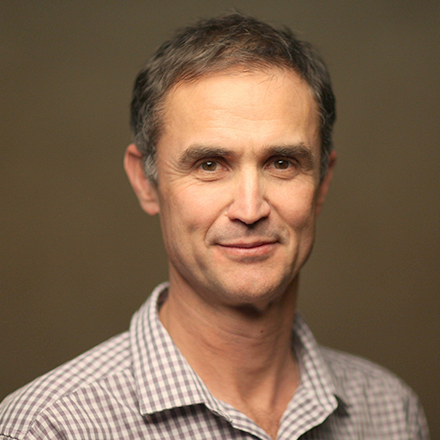 Senior Research Scientist
Disciplines: Instrumentation
Degree/Major: PhD, Materials Science
psarrazin@seti.org
Biography
Dr. Philippe Sarrazin focuses his research at SETI on the development of analytical X-ray instruments for in-situ planetary exploration. He works in close partnership with scientists in the Exobiology branch of NASA Ames Research Center, where his research lab is located.
Dr. Sarrazin played a key role in the development of CheMin, the only X-ray diffraction instrument deployed in space. Mounted inside the MSL Curiosity rover, CheMin has been roving Mars for over 5 years, and has provided critical science data to the mission.
Over the last decade, Dr. Sarrazin has been developing - new planetary X-ray instrument concepts: hybrid XRD combining powder diffraction and Laue diffraction, high resolution powder XRD using a Guinier geometry, XRF mapping instrument MapX, micro-CT instrument for analysis of ice cores and rock cores, etc. He also leads the technical development of high TRL subsystems critical for the deployment of these techniques in space (X-ray detectors and cameras, X-ray tubes, power supplies, sample handling systems, etc).
In parallel of his research at SETI, Dr. Sarrazin runs a small business, eXaminArt LLC, to bring innovative X-ray instruments to the commercial market, with a particular interest in applications to Cultural Heritage.
Major Awards
2014 NASA Exceptional Space Act Award
2013 NASA Government Invention of the Year Award
2011 Federal Laboratory Consortium for Technology Transfer - Outstanding Commercialization Success
2010 NASA Commercial Invention of the Year Award
2009 Pittcon Editors' Awards - Gold
1999 R&D 100 Award
Publications
G. J. Taylor, et al: Modal Analyses of Lunar Soils by Quantitative X-Ray Diffraction Analysis. Geochimica et Cosmochimica Acta 08/2019;, DOI:10.1016/j.gca.2019.07.046
E. Rampe, et al: Sand Mineralogy Within the Bagnold Dunes, Gale Crater, as Observed In Situ and From Orbit. Geophysical Research Letters 08/2018; 45(1-4)., DOI:10.1029/2018GL079073
M. Gailhanou, P. Sarrazin, D. Blake: Modeling of x-ray fluorescence full field imaging using planar square pore micro-channel plate optics. Applied Optics 08/2018; 57(23):6795., DOI:10.1364/AO.57.006795
S. Morrison, et al: Crystal chemistry of martian minerals from Bradbury Landing through Naukluft Plateau, Gale crater, Mars. American Mineralogist 06/2018; 103(6):857-871., DOI:10.2138/am-2018-6124
P. Sarrazin, et al: MapX: 2D XRF for Planetary Exploration - Image Formation and Optic Characterization. Journal of Instrumentation 04/2018; 13(04):C04023-C04023., DOI:10.1088/1748-0221/13/04/C04023
P. Walter, P. Sarrazin, M. Gailhanou, D. Hérouard, A. Verney, D. Blake: Full-field XRF instrument for cultural heritage: Application to the study of a Caillebotte painting. X-Ray Spectrometry 04/2018;, DOI:10.1002/xrs.2841
C. Achilles, et al: Mineralogy of an Active Eolian Sediment from the Namib Dune, Gale Crater, Mars. The Journal of Geophysical Research Planets 06/2017; 122(11)., DOI:10.1002/2017JE005262
G. Chiari, P. Sarrazin, A. Heginbotham: Non-conventional applications of a noninvasive portable X-ray diffraction/fluorescence instrument. Applied Physics A 11/2016; 122(11):990., DOI:10.1007/s00339-016-0521-x
T. Bristow, et al: The origin and implications of clay minerals from Yellowknife Bay, Gale crater, Mars. American Mineralogist 04/2015; 100(4):824-836., DOI:10.2138/am-2015-5077CCBYNCND
J. Grotzinger, et al: A Habitable Fluvio-Lacustrine Environment at Yellowknife Bay, Gale Crater, Mars. Science 01/2014; 343(6169):1242777., DOI:10.1126/science.1242777
D. Vaniman, et al: Mineralogy of a Mudstone at Yellowknife Bay, Gale Crater, Mars. Science 12/2013; 343(6169)., DOI:10.1126/science.1243480
D. Bish, et al: X-ray Diffraction Results from Mars Science Laboratory: Mineralogy of Rocknest at Gale Crater. Science 09/2013; 341(6153):1238932., DOI:10.1126/science.1238932
D. Blake, et al: Curiosity at Gale Crater, Mars: Characterization and Analysis of the Rocknest Sand Shadow. Science 09/2013; 341(6153-6153):1239505-1239505., DOI:10.1126/science.1239505
D. Blake, et al: Characterization and Calibration of the CheMin Mineralogical Instrument on Mars Science Laboratory. Space Science Reviews 09/2012; 170(1-4):341-399., DOI:10.1007/s11214-012-9905-1
Related projects
Current research projects:
CheMin (MSL funded)
MapX: Mapping X-ray Fluorescence Spectrometer (MatiSSE funded)
XTRA: An eXtraTerrestrial Regolith Analyzer for Lunar Soil (DALI funded)
MIST: Mars In-Situ Tomograph for analysis of North Polar Layered Deposits (PICASSO funded)
PIXI: Planetary In-situ X-ray Imager for radiography and microtomography of rock samples (SBIR funded)
NAI: Changing Planetary Environments and the Fingerprints of Life (NAI funded)
CheMinX: Next generation CheMin XRD/XRF for Mars exploration (pending)