You're Invited to Attend the "Save Our Science" Event June 9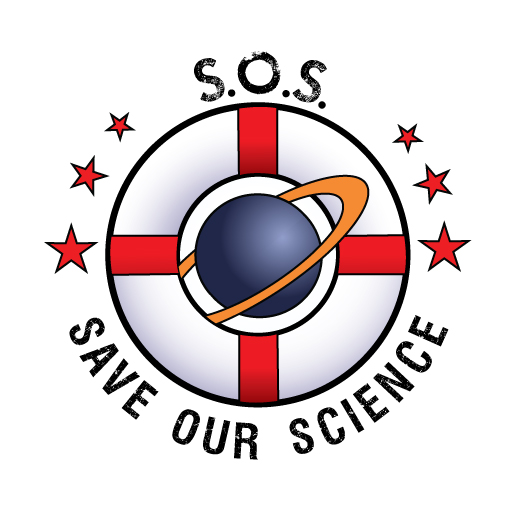 You're invited to attend the "Save Our Science" event for June 9th at the Red Rock Café in Mountain View. Dr. Jill Tarter, Bernard M. Oliver Chair for SETI Research, Dr. Nathalie Cabrol, Leader of the Planetary Lakes Lander Team, and other planetary scientists from the SETI Institute will speak about out against the devastating budget cuts proposed by the Obama administration, which threaten the future of solar system exploration and will hurt America's intellectual talent pool.
Time: "Save Our Science" event begins at 7:30 pm on Saturday June 9th.
Location: Upstairs at Red Rock Café, 201 Castro Street Mountain View, CA 94041
Event organizer: Noah Hammond, SETI Institute, 831-295-1672
"The proposed FY13 budget cuts 20% from NASA's Planetary Science Division," explained Cabrol. "Funding drops to $1.2 billion from a current $1.5 billion. These cuts will force NASA to cancel its plans for its most ambitious exploration missions, cancel collaborations with the European Space Agency (ESA) on the 2016 Mars Trace Gas Orbiter and the 2018 ExoMars rover, slash the Mars Exploration Program, cancel the Lunar Quest Program, delay the very successful Discovery and New Frontiers competitive programs, and force cuts in mission operations and data analysis for several current missions, reducing the science return on an investment already made by the taxpayers."
"The impact is right here on Earth," argued Tarter. "Planetary scientists at NASA centers, universities and research organizations, like the SETI Institute, face a future that drops or greatly delays planned missions to Mars and the outer planets. The nation risks the loss of a generation of upcoming, talented engineers and researchers whose careers are centered on the exploration of our solar system in the quest for life beyond Earth. Scientists and the public are uniting in a campaign to 'Save Our Science' that kicks off June 9."
The national "Save Our Science" events are spearheaded by Dr. Alan Stern, Vice President of the Southwest Research Institute, leading scientist on the New Horizons Mission to Pluto and beyond, and key leader in private commercial space flight. He's also former administrator of the Space Science Division of NASA. Stern will appear in the Bay Area as a featured speaker at the upcoming SETIcon II, a public science conference hosted by the SETI Institute, June 22-24, in Santa Clara, CA. Several panels at SETIcon II will focus on planetary sciences, the future of space exploration, and commercial space flight. Tickets are available now.
SETI Institute scientists invite the public to the Red Rock Café in Mountain View, CA on Saturday, June 9 to support "Save Our Science," learn about planetary sciences, and sign letters to Congress urging them to restore funding to planetary science. Musical entertainment will be provided by "Before Perils" and Red Rock Café will have drinks and snacks available for purchase. This event is free and all ages are welcome. This event is part of a coordinated nationwide effort. On the same day, space scientists and research institutions across the country are holding car washes and bake sales to raise awareness about budget cuts to planetary science.