The AAA 2018 season continued with five science teachers from the William S. Hart School District in Santa Clarita, California.
The SETI Institute's NASA Airborne Astronomy Ambassadors (AAA) 2018 season continued with an enthusiastic group of five Southern California high school teachers. During the week October 15th, science teachers from the William S. Hart School District in Santa Clarita, California, were joined by a district science curriculum coordinator for an intense week of professional development in nearby Palmdale. Michael Crawford, Nicholas Gravel, Maya Loch, Christopher Spann, Matthew Stanich, and Julie Huffman were all part of the second group of Hart District science educators to board a SOFIA flight. The first group of AAAs flew in 2017 as part of a Program-District partnership. The teachers' visits were facilitated by AAA program and SETI Institute staff members Coral Clark and Pamela Harman.
 
During 2018, the AAAs completed required professional development webinars, an online course, and in-person workshop in preparation for their flight week. The week focused on operations and research of NASA's Stratospheric Observatory For Infrared Astronomy (SOFIA), a unique infrared telescope mounted in a heavily modified 747SP. As the participants were part of the extended Antelope Valley community, an additional facet of their week included learning about the importance of the area in aerospace history. The teachers began their week by touring various facilities at the NASA Armstrong Facility at Edwards Air Force Base, where they talked with experts and learned modeling and engineering techniques they would take back to their students. They also visited the Mission Control Center at Armstrong and had the opportunity to fly a simulator of SOFIA itself.
Back at the SOFIA hangar at the NASA facility in Palmdale, California, the week continued with activities focused on program operations. They learned higher-level emergency procedures during egress training – somewhat more extensive than the safety demos seen on commercial flights. The group also toured the instrument labs and telescope mirror coating facility, and met with the NASA SOFIA Program manager Eddie Zavala, who provided insight to the observatory's science, technology, and management. The group also had the added pleasure of flying their second flight with SETI Institute President and CEO, Bill Diamond, and even appeared in a Facebook Live chat with Bill from the SOFIA hangar. Detailed instruction regarding the Echelon-cross-Echelle Spectrograph (EXES) instrument and telescope was delivered by instrument experts and SOFIA staff onboard the flights.
The EXES instrument was mounted on SOFIA's telescope during their back-to-back flights on October 17th and 18th. The EXES instrument operates in the 4.5 – 28.3 μm wavelength region and uses a 1024x1024 Si:As detector array. High resolution is provided by an echelon (a coarsely-ruled, steeply-blazed aluminum reflection grating) along with an echelle grating to cross-disperse the spectrum. The instrument is utilized for studying molecular gases in nebulae, stars, and protostellar disks. Scientific targets during the two flights included IC 63 (a reflection nebula in a star-forming region), Sirius (a main-sequence star of Type A), and IC 443 (a supernova remnant). Asteroid Vesta and other bright far-IR sources were used as calibration objects.
 

During the flights, the teachers were able to talk to SOFIA personnel, have in-depth and real-time discussions on the astrophysics research and concepts, and even conduct their own experiments. Gravel used a speedometer to measure the aircraft motion during take-off and landing, Crawford brought a scale and several chocolate bars to measure how the altitude of the plane affected the strength of gravity on objects, and Spann used a Geiger counter to measure the level of radiation at higher altitudes.
Throughout the flights, the AAAs were tuned into the communications network, captivated by the collaboration required to resolve issues "on the fly." AAA Nick Gravel commented. "The work that is being done here is going to birth a hundred more questions and end up in a hundred more applications. The profundity of that is not lost on me." Maya Loch described the experience as "transformational". All Ambassadors left eager to bring the experiences of the week back to their students.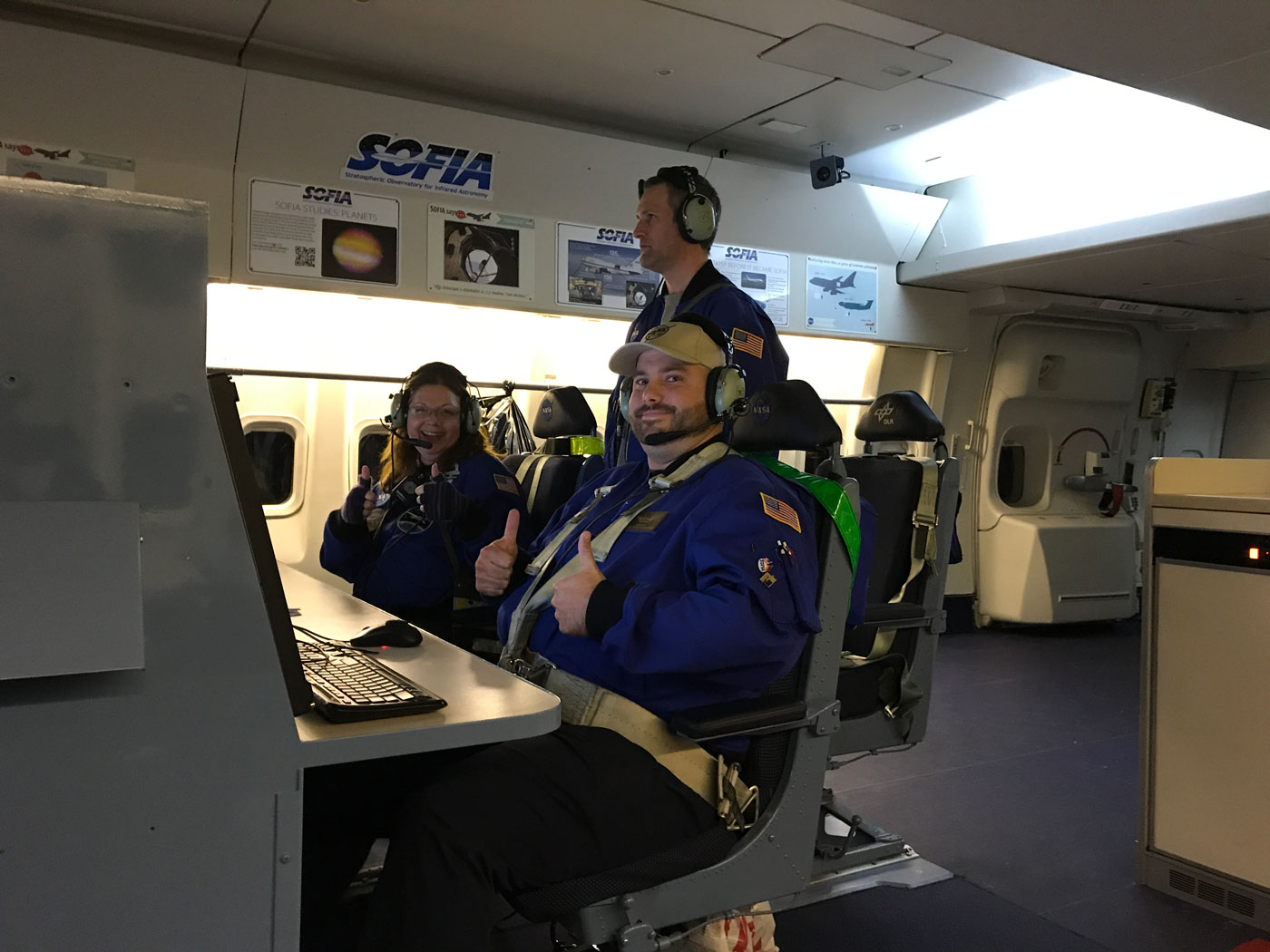 In total, 15 AAAs will be flying on SOFIA this year, bringing what they learn back to their classrooms.
AAA educator applications for the next Cycle (flights during 2019) are open from September 17 through November 9, 2018. Applications will only be accepted from teachers in districts listed on the application form that have established Memoranda of Understanding with the SETI Institute.
About the Airborne Astronomy Ambassadors Program
The Airborne Astronomy Ambassadors (AAA) program is designed to measurably enhance student STEM achievement and engagement in selected school districts via professional development for high school science teachers. AAA participant professional development consists of training in astrophysics and planetary science content as well as a week-long STEM immersion experience at NASA's science research aircraft facility in Palmdale, California, including participation in research flights on the Stratospheric Observatory for Infrared Astronomy (SOFIA). Post-flight, AAA program staff then help participant teachers implement a NASA science-oriented electromagnetic spectrum and infrared astronomy curriculum module, developed by the SETI Institute, in their classrooms.
AAA is funded by NASA SMD NNX16AC51A