On Friday, May 19, 2023, Impossible Sensing, along with a team of scientists and engineers from SETI Institute, NASA JPL, University of Washington's Applied Physics Laboratory and other institutions onboard Ocean Exploration Trust's Exploration Vessel Nautilus expedition, successfully launched InVADER Mission's Laser Divebot into the deep waters surrounding Kingman Reef and Palmyra Atoll. This expedition, which is funded by NOAA Ocean Exploration and Research via the Ocean Exploration Cooperative Institute, marks the first time a high-tech laser laboratory has been integrated into ROV operations for in situ sensing and analysis – a true paradigm shift in ocean research and exploration.
InVADER Mission, which is still on-going, stands for In situ Vent Analysis Divebot for Exobiology Research and aims to advance technologies originally developed to explore ocean worlds like Europa and Enceladus to characterize the seabed here on Earth. In particular, InVADER's instruments (aka the Laser Divebot) seek to characterize the seafloor on-the-fly, faster and more affordably than ever.
Using laser spectroscopy, the Laser Divebot collects high-fidelity compositional data, including rocks, sediments, water column, and biological samples. Being deployed for the first time from a mobile ROV, this technology aims to advance in situ sensing, ultimately removing the need to collect physical samples as the first measure-while-in-motion autonomous solution.
"Measuring sediment and water composition without disturbing the ocean environment is a priority for the community," underscores Dr. Leonardo Macelloni, Associate Research Professor at the University of Southern Mississippi School of Ocean Science and Engineering and one of the Leading Investigators of the project.
Macelloni notes, "we are very excited about the Laser Divebot's first results and the potential they hold for future exploration missions.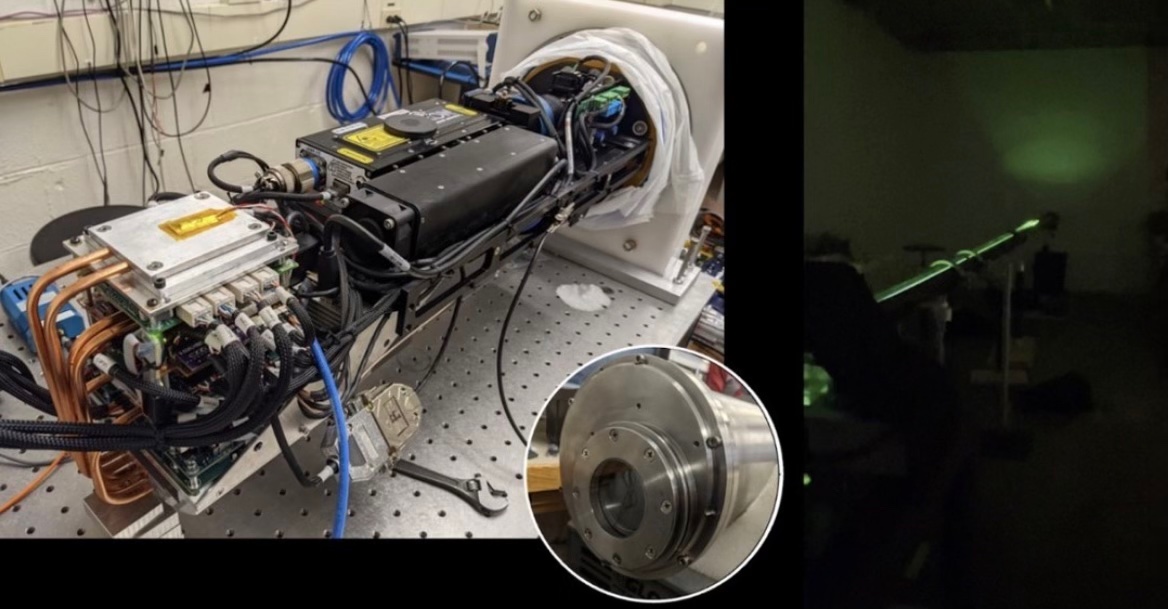 In its first test dives, the Laser Divebot determined the organic content of the water column from surface to bottom. It also identified minerals and organic pigments in rocks and sediments at around 1,500 m depth during ROV transects, all without physical sampling. These are first-time investigations that herald a new era in oceanography.
The habitats found in the deep, unexplored waters surrounding Kingman Reef and Palmyra Atoll are ideal for testing this pioneering technology. Located halfway between Hawaiʻi and American Samoa, this is one of the most isolated and least explored areas on Earth.
The mission's chief architect, Impossible Sensing's Dr. Pablo Sobron, explains, "drawing from space exploration, we've brought a constellation of cutting-edge tools to the last unexplored parts of our own planet. Nine years from concept to reality, we've now unlocked boundless potential for ocean exploration."
Sobron adds, "this breakthrough propels us into a new era of discovery, allowing us to greatly advance the pace of ocean exploration, sparking a sustainable blue economy and a brighter planetary future."
 

InVADER Mission is the first step in unlocking this knowledge and bolsters the momentum behind Impossible Sensing's growing portfolio of autonomous subsea solutions for expansive ocean exploration and monitoring. Funding to develop and test InVADER was provided by NASA, NOAA Ocean Exploration via the University of Southern Mississippi and the Ocean Exploration Cooperative Institute, and the Bureau of Ocean Energy Management Marine Minerals Program.
Find a live stream of the Ocean Exploration Trust's E/V Nautilus expedition at https://nautiluslive.org.
Find more information about the InVADER project, visit https://invader-mission.org.
This article originally appeared on https://www.impossiblesensing.com/