On Wednesday, July 24, 2019,  congressional members met to discuss women's contributions at NASA and how Girl Scouts is engaging girls in STEM. The SETI Institute's Pamela Harman joined Cole Grissom of Girl Scouts USA (GSUSA) and Sydne Jenkins of Girl Scout Space Academy in the meeting with Science, Space, and Technology Committee Chair Rep. Eddie Bernice Johnson, Ranking Member Rep. Frank Lucas, and Space and Aeronautics Subcommittee Chair Rep. Kendra Horn.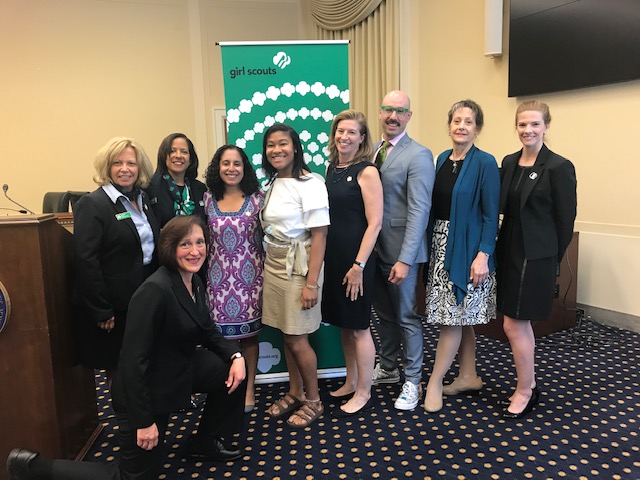 Earlier this month, GSUSA released 42 new badges focused on STEM learning for girls in grades K-12. Among the new badges are three new space science badges for girls in grades 6-12. These are part of the SETI Institute's Reaching for the Stars: NASA Science for Girl Scouts program. These badges follow the space science badges released last year for girls in grades K-8.
"Research shows – and I can personally attest – that women are still vastly underrepresented in STEM fields," said Harman in her remarks. "Exposing girls to these subjects in multiple formats and venues at a young age is vital to ignite their curiosity and close this gap."
Reaching for the Stars is funded by NASA's Science Mission Directorate and led by the SETI Institute. Subject matter expert partners from the University of Arizona, ARIES Scientific, and the Astronomical Society of the Pacific, as well as Girl Scouts of Northern California, supported the development of the space science badges.
In addition to the space science badges, the Reaching for the Stars program includes train-the-trainer workshops for girls, volunteers and amateur astronomers including:
Astronomy Training for Leaders at the University of Arizona
Girl Scout Astronomy Club training at NASA's Goddard Space Flight Center for girls, volunteers, and amateur astronomers
Girl Scouts' Astronomy Adventure Destination at the University of Oregon's Pine Mountain Observatory, where campers learn to operate telescopes, participate in solar and dark-sky observations, and other space science activities
"Along with NASA, the SETI Institute has a rich history of working with Girl Scouts to give girls more opportunities to learn about space science. We are excited to continue advancing that cause," said Harman. "With the latest Space Science badges, we can ignite the curiosity of girls at every level and equip them with the skills and confidence to become the next generation of female leaders in STEM."
Badge booklets that detail the requirements for the space science badges are available online at girlscouts.org and will be in local Girl Scout council stores mid-August. To join or volunteer, visit www.girlscouts.org/join.