For those who never heard of his name, Macario is only one more tragic casualty of the COVID killing machine that's ravaging our planet and leaves the world mourning. For the community of climbers and researchers in the Andes, Macario was a legend. To me, he was not only the guide of my expeditions proudly wearing our patches, he was also my friend and his death on August 18, 2020 leaves an abyss in my heart.
Macario had made a name for himself long before we met for the first time in 2002. Then, over a decade and eight scientific expeditions, we embarked together on an epic odyssey that has taken us across the altiplano and the Andes, including the summit of Licancabur and many more towering volcanoes.
We understood each other beyond the words of our different languages. In fact, we often did not need to talk to understand each other. We just looked at each other. Macario gave me a glimpse into the Atacameño and Inca cultures. He spoke both Spanish and Quechua, and this is always in Quechua that we proceeded with the ceremonies to Pachamama he conducted for us before a climb or before a dive. Every year, I would bring a crystal sphere and we went through our ritual.
The gathering we had in 2007 a day before we began our ascent will stay forever in my memory. Throwing the last coca leaf and salt in the fire, he looked at me and said, "we will have safe passage". As we were close to reaching the summit of the volcano two days later, all hell broke loose around us. A magnitude 7.7 earthquake had struck Tocopilla in Chile, sending shockwaves throughout the altiplano. Along the way, it triggered avalanches and shook the magma chamber of the Lascar volcano which shared a slope with the Simba volcano we were climbing. With all of what mother nature threw at us that day, we came out unscathed. Indeed, we had safe passage.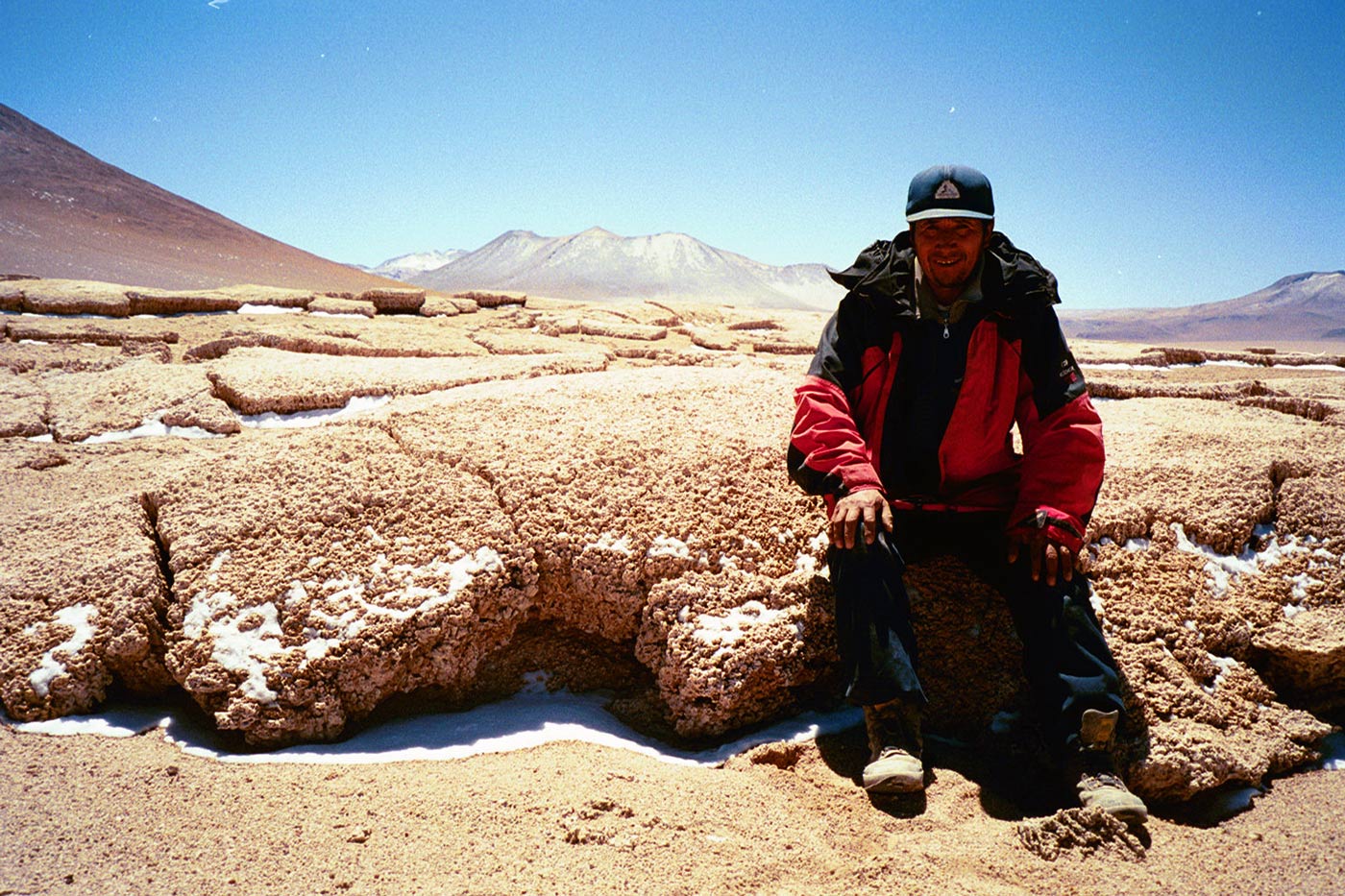 Macario was both mischievous and wise. He loved a good prank, and also to play cacho. But, he was first and foremost tirelessly curious and always wanted to learn more. I explained to him why we were in the altiplano and the Andes when we first met, investigating very high lakes as analogs to the early martian environment, like a bridge in space and time to a small red dot in the sky and the possibility of life beyond Earth. In his own way, through the support he gave us tirelessly, he contributed his share to the search for life beyond Earth. We often talked for hours at a time about these quests when we were together in the field and he helped me sample and explore. Overlooking the turquoise waters of Laguna Verde and its white shores, whether spiritual or scientific, our conversations showed often how fluid and fused these quests are, and we had an immense respect for each other.
There is no doubt that Macario had become more than just a guide for us over the years. He was my friend, my accomplice, always making sure that everything was okay, moving rocks out of the way so the path up the slope would be safer for us, and reading invisible routes amongst mountains of lava blocks that only he knew. He checked my drysuit a last time in 2006 before I entered the water and completed the scuba dives in the summit lake of Licancabur. A year later, it was almost a comedy when he endeavored to remove my climbing shoes without asking me first. They were full of sand. We were bailing out fast of the summit of Simba after the earthquake. On the way down, we took a short break. I radioed basecamp to assess the situation meanwhile trying to keep my balance on that rock as he was pulling on my feet.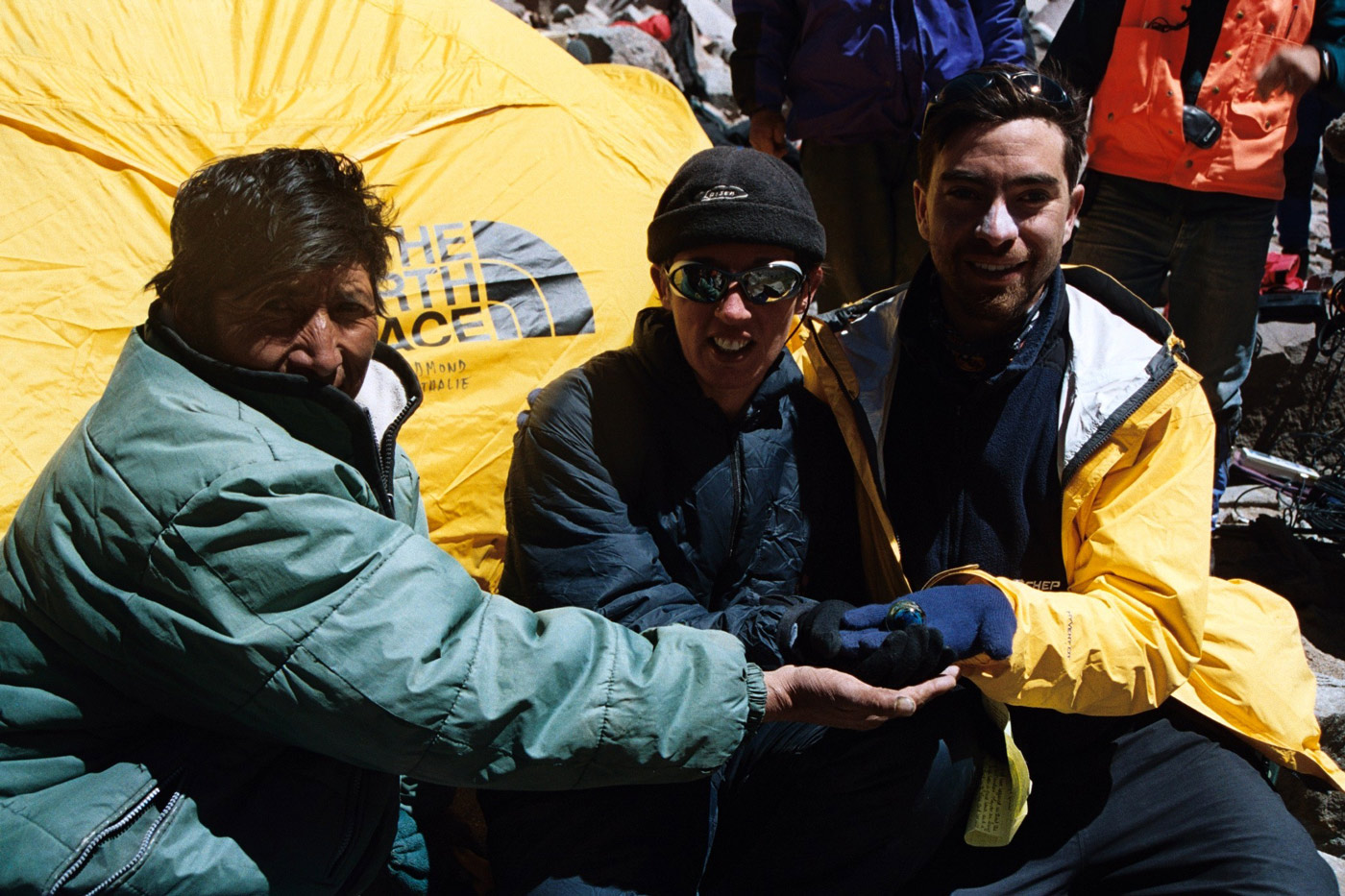 Macario, I will miss you more than I can say, your kindness, your pranks, your wisdom and our conversations at the foot of Licancabur. This disease took your physical presence away from us, but I know that your spirit will soar high over the Andes and over the beautiful expanses of your native Bolivia, where llamas and vicuñas still roam free. I was hoping that we would climb again Licancabur together soon, that we would go near the lake shore and bring the crystal sphere that I had kept for you, like we used to do. It's here, in my office, next to me. Now I am given another reason to return to the land of volcanoes and lakes. I will make the journey for you, up that slope. I won't have you to put my footsteps into yours, but I'll find my way, as I am sure you will find a way to make your presence known. I'll be looking for you, my friend.
Nathalie A. Cabrol.