MIT Club of Northern CA: SETI Lightning Talks
Public talks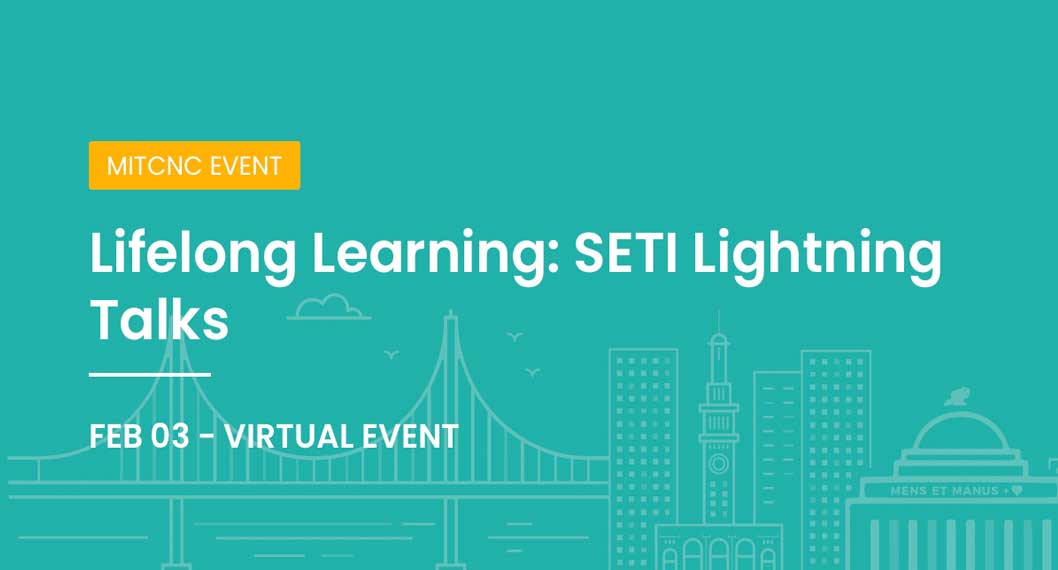 Tags: SETI, Astronomy, Astrobiology, Planetary Protection, Education, AAA, Extremophiles, Mars, Moon
Time: Wednesday, Feb 03, 2021 -
Location: Online
Come join us for lightning talks from the SETI Institute's CEO and 7 scientists working on research relevant to the search for, and understanding of, life beyond Earth.
8 five-minute talks from the SETI Institute including:
Bill Diamond, President & CEO: Meet the Institute
Nathalie Cabrol, Director, Carl Sagan Center for Research a the SETI Institute: Extreme Environments on Earth and the Search for Biosignature on Mars
Pascal Lee, Senior Planetary Scientist:  Ice-Rich Lava Caves on the Moon and Mars
Margaret Race, Senior Research Scientist:  It Takes More than Science & Technology:  Addressing Real World Complexity while Searching for ET Life Nearby
Dana Backman, NASA Airborne Astronomy Ambassador Principal Investigator: The Airborne Astronomy Ambassadors: Teacher professional development at 40,000 feet
Carol Cleland, Professor, Dept of Phillosophy and Director, Center for the Study of Origins, U. Colorado, Boulder, SETI Institute Affiliate: How to Search for Extraterrestrial Life without a Definition of Life
Pamela Such, Associate Professor of Planetary Geology, Astrobiology and Space Resources, National University of Tucuman, Argentina.  SETI Institute Affiliate: Space Resources – A New Era for Humankind
James Boyd, Researcher, econometrics, AI/ML, data and policy, technology strategy, The New School, Boulder, Co.  SETI Institute Affiliate: Hypothesis Generation in SETI

Registration is required. Free to MIT Club members, $19 for non-members.
Register here: https://www.mitcnc.org/events/lifelong-learning-seti-lightning-talks/