From Cowboys to Communities: Changing the Face of Space Exploration
SETI Talks
Tags: SETI Talks, Outreach, Planetary Exploration, Planetary Protection
Time: Tuesday, Oct 16, 2018 -
Location: SRI International, 333 Ravenswood Ave., Menlo Park, CA 94025
SETI Talks are presented by the SETI Institute and SRI International.
As humans prepare to venture once more into deep space, there is a clear need for creating new models for space exploration and expanding the roles,  for those who travel in space and eventually settle on other worlds and for those on the ground whose work ensures their success.
In our first space era, astronaut heroes thrilled us with their daring exploits in the high-flying rocket-ships they rode all the way to the moon and back. Women were not invited to go along, but many were integral to the effort, an invisible space community that we're just beginning to value and recognize, a revised and more comprehensive history that includes Hidden Figures, Rocket Girls, the Mercury 13, and more.
It's been six decades since we first left Earth. The heyday of the space cowboy has come and gone, and the face of space exploration is overdue for a makeover. As humans prepare to venture once more into deep space, the need is clear to create new models for space exploration and to expand the roles, not only for those who travel in space and eventually settle on other worlds, but also for the ground-based scientists and technicians who are so vital to the success of any off-Earth mission.
Dr. Jan Millsapps spent four years finding and amplifying the stories of women who have worked in the shadows of more prominent and visible men – female engineers, scientists, coders, doctors, technicians – and of aspiring Martians: women working today to go farther than women ever have before. In her documentary, Madame Mars: Women and the Quest for Worlds Beyond, Millsapps reframes the story of space exploration as a feminist issue, connecting the original space age that denied opportunities to women to current Mars initiatives that still lack a full commitment to diversity, and argues for a more inclusive spacefaring future.
Millsapps will present scenes from "Madame Mars." Afterwards, Millsapps, the SETI Institute's Margaret Race, and Brian Green, director of technology ethics at the Markkula Center for Applied Ethics at Santa Clara University, will discuss issues raised by the film: the changing face of space exploration, why the right stuff may be all wrong for Mars, and ways to ensure that humanity will represent itself accurately and completely as we take our next big steps out into the universe.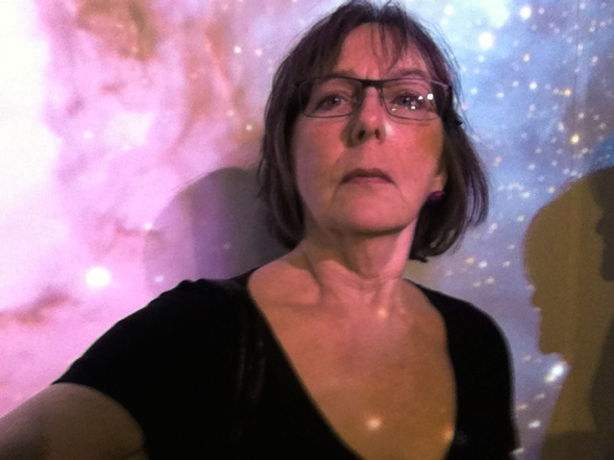 Jan Millsapps, Ph.D., is a veteran filmmaker, a pioneering figure in the new media movement, an early web innovator, and a versatile and accomplished writer.
She has produced films, videos, digital and interactive cinema on subjects ranging from domestic violence to global terrorism, and has written two space-themed novels: "Screwed Pooch" (2007) tells the story of Soviet space dog Laika, the first female space explorer; "Venus on Mars" (2015) blends the stories of three generations of women into one masterful and multi-layered saga examining our ongoing fascination with Mars, and incorporates "augmented moments," clickable links to additional online material.
Her most recent film/multimedia project, "Madame Mars: Women and the Quest for Worlds Beyond", reframes the early years of space exploration within the context of planned human missions to Mars, and argues that, this time around, women will not be peripheral, but critical to the success of eventual Martian outposts and settlements. She has spoken about the need for diversity and inclusion in the space arena at several Mars Society Conventions, and at the 2017 United Nations "Space for Women" experts meeting in New York. The film premiered in June 2018 at the United Nations "Space + 50" event in Vienna, Austria.
She is Professor Emeritus of Cinema at San Francisco State University, where she taught courses in digital cinema, interactive cinema, web cinema, and short format screenwriting. She earned her B.A. with honors in Creative Arts at the University of North Carolina at Charlotte; her M.A. in English at Winthrop University; and her Ph.D. in Rhetoric and Composition at the University of South Carolina. She also holds an academic certificate in cosmology from the University of Central Lancashire in England.
Brian Patrick Green is the director of technology ethics at the Markkula Center for Applied Ethics at Santa Clara University. His responsibilities include representing the Center at the Partnership on Artificial Intelligence to Benefit People and Society, speaking and publishing on AI ethics as well as various other topics in ethics and technology, and coordinating the Center's partnership with The Tech Museum of Innovation in San Jose. Green reviews and evaluates applications to the Center's Hackworth grant program which awards funding to SCU faculty, staff, and students for work in applied ethics. He also coordinates the Technology and Ethics Faculty Group, helps coach and coordinate the University's Ethics Bowl team, works with the Center's Environmental Ethics Fellows, and several other initiatives. In addition, Green teaches engineering ethics in the Graduate School of Engineering.
Green's background includes doctoral and master's degrees in ethics and social theory from the Graduate Theological Union in Berkeley. His undergraduate degree is in genetics from the University of California, Davis, and he has conducted molecular biology research in both academic and industrial settings. Between college and graduate school, he served for two years in the Jesuit Volunteers International teaching high school in the Marshall Islands. His research interests include multiple topics in the ethics of technology, such as AI and ethics, the ethics of space exploration and use, the ethics of technological manipulation of humans, the ethics of mitigation of and adaptation towards risky emerging technologies, and various aspects of the impact of technology and engineering on human life and society, including the relationship of technology and religion (particularly the Catholic Church).
Margaret Race is concerned with protecting the planets. Actually, protecting all the planets: but especially Earth and Mars. Her work focuses on the scientific, technical, legal, and societal issues of ensuring that missions to the Red Planet and other Solar System bodies do not either inadvertently bring terrestrial microbes along, which would complicate our search for indigenous extraterrestrial life, or return any microbes to Earth. Recently, she's done a research study on the environmental impact reviews and public communication associated with high-containment biosafety labs – the type that will eventually be used for the quarantine of returned samples from Mars.
Her interest in extraterrestrial organisms is linked closely to her long-term ecological research on exotic and invasive species. She's also actively involved in education and public outreach about astrobiology. Since her early work with the Environmental Protection Agency as a Public Information Specialist, and her tenure at San Francisco television station KQED, Margaret has had a strong interest in the communication of science via the mass media. She especially likes to work with journalists and educators as they develop materials about complex, controversial issues in space exploration and environmental protection. Her enthusiasm is infectious, and her work ensures that our spacecraft won't be.
NOTE: Due to the popularity of the SETI Talks events, tickets are often sold out. If you register to attend, then realize you will be unable to come, please let us know as we will then be able to open up the seats for others. You can email us at webmaster@seti.org. Thank You!
SETI Talks are held at the SRI Conference Center at 333 Ravenswood Avenue. Please enter from Middlefield Road and follow the signs.
Click here to register.
SAVE THE DATE(S)!
Planning is underway for upcoming SETI Talks, but we have some dates you might want hold:
November 13, 2018
December 18, 2018
January 16, 2019