British Isles: Ireland, Scotland & Isle of Man 12 Day Expedition Cruise
SETI Institute Event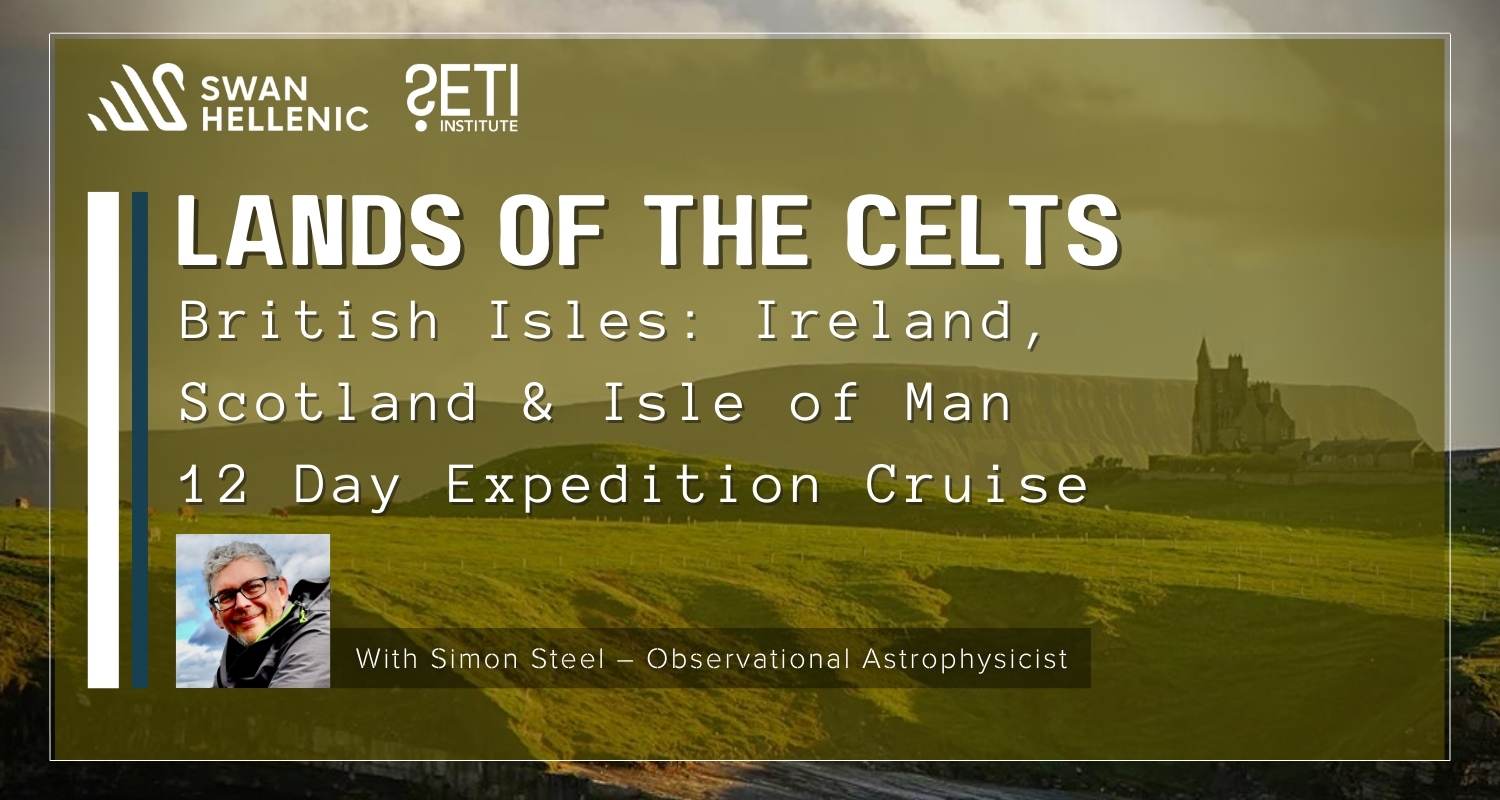 Tags: Partnerships
Time: 23 May - 03 June 2023 -
Location: Cruise to the British Isles
Lands of the Celts
British Isles: Ireland, Scotland & Isle of Man 12 Day Expedition Cruise

Explore the British and Irish coastlines on this 11-night British Isles - Ireland, Scotland and North Wales cruise. Beginning in the historic naval town of Portsmouth on the English Channel, our boutique expedition ship takes in the best of the Cornish scenery with a trip to the subtropical Scilly Isles, before making its way across the Irish Sea. Here we sail via historic ports in Northern Ireland taking in the mysterious Giant's Causeway on our way to Scotland to discover age-old standing stones and peek into WWII naval history. As we cruise past highlands and islands, sit back and enjoy the scenery spotting wildlife and birds such as common seals, dolphins and puffins. Our penultimate stop is in North Wales before making our return to the bustling Irish capital of Dublin.
SETI Institute Guest Lecturer:

Simon Steel – Observational Astrophysicist
Simon is Deputy Director of the Carl Sagan Center for Research at the SETI Institute. Specialising in optical spectrophotometry, he also has an interest in the star formation histories of galaxies. Simon has held lectureships at Harvard University, University College London and University College Dublin. He is also an eight-time recipient of Harvard's Certificate of Distinction in Teaching award for undergraduate education. With an interest in special needs audiences, Simon co-wrote for NASA and the Chandra X-Ray Center the first ever braille book on multiwavelength astrophysics: Touch the Invisible Sky.
Simon will join us aboard our Lands of the Celts cruise, departing Portsmouth on the 23rd of May, 2023. Delve into the mysteries of the ancient people that once ruled these lands as you ponder the same stars they once stood under.