The summer camp & field trips are scheduled for July 3th – July 8th. The basic plan is to drive from Moffett Field/NASA lodge to Hat Creek on Sunday the 3th, spend Monday & Tuesday at Hat Creek doing radio astronomy with Drs. Jill Tarter and Gerry Harp, then Wednesday & Thursday at Lassen doing biology and geology, and Astrobiology at relevant sites as Cinder Cone, Subway Cave, Bumpass Hell, and Sulphur Works. Friday July 8th we'll drive back to Mountain View. On Saturday July 9th a coastal field trip to Half Moon Bay, Pescadero, and Pigeon Point Light House is planned for those who want to explore a coastal environment and have extra fun while learning about coastal sediments and their planetary analogies/connections with astrobiology.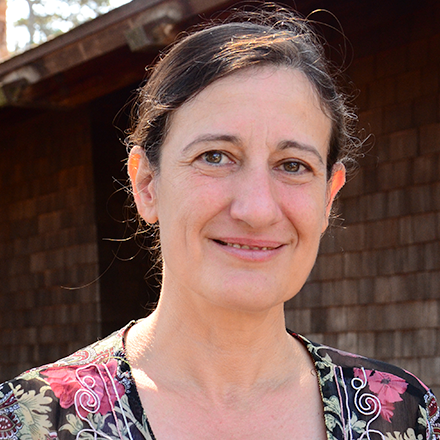 Rosalba Bonaccorsi is an interdisciplinary scientist at the SETI Institute's Carl Sagan Center and NASA Ames Research Center.
Rosalba has been involved as instructor during the one-week REU summer camp since 2011 and she has been the Astrobiology field trip Director for the past three years.  She will act as coach, mentor, and Safety Officer to ensure that the interns are well taken care of.  As Astrobiology instructor, she will lead the field trips and hands-on activities to geologically and biologically relevant sites of the nearby Lassen National Park (Cinder Cone, lava tubes, and hydrothermal systems).
In 2001, Rosalba obtained her Ph.D. in Geological, Marine, and Environmental Sciences from the University of Trieste (Italy). Since 2005, she has expanded her interest to the habitability of mineralogical Mars analogs and very dry desert regions worldwide. For the past 10 years, she has been science team member and field instructor during NASA's Spaceward Bound expeditions (http://spacewardbound.nasa.gov/bios/bonaccorsi.html) to remote places including the Mojave Desert, Antarctica, Atacama (Chile), Australia, New Zealand, Israel, and the Namib Desert.
Rosalba joined the SETI Institute in 2008. She is keen to achieve a wide picture of where life and its signatures are most successfully distributed, concentrated, preserved, and detected. Since 2008, in Death Valley National Park, she has been working on the Ubehebe Volcanic Field (UVC), where she is applying results from this research to Mars Science Laboratory (MLS) mission objectives in collaboration with MSL scientists. At the UVC, Rosalba has been working on several projects such as source-to-sink of sedimentary clay minerals (clays); astrobiology of clays; long-term monitoring of weather/climate and surface water cycle; and formation and stability of short-lived water bodies. In close collaboration with the National Park Service, she has been conducting Park Ranger programs for the past 5 years.  She worked as Road Scholar Lifelong Learning field instructor for the Death Valley Natural History Association in 2014.  Formerly an elementary school teacher, she has been involved with Education and Public Outreach with non-profit organizations since 1989.
Dr. Rosalba Bonaccorsi
REU Astrobiology field trip director  
SETI Institute @ NASA Ames Research Center
Space Science & Astrobiology Division
M.S. 245-3, Moffett Field, CA 94035
rosalba.bonaccorsi-1@nasa.gov