Eclipse experiences from our scientists and staff.
The SETI Institute team fanned across the country to take in the solar eclipse last month. The images and memories will remain with all of us and we wanted to share some of what we experienced. Some of us were in the path of totality, in Oregon, Idaho, and Wyoming. One group went to the ATA in Hat Creek, CA. From Mountain View, CA to Alabama, even the partial eclipse was phenomenal. The photos say much of it, but here is some of what we did:
---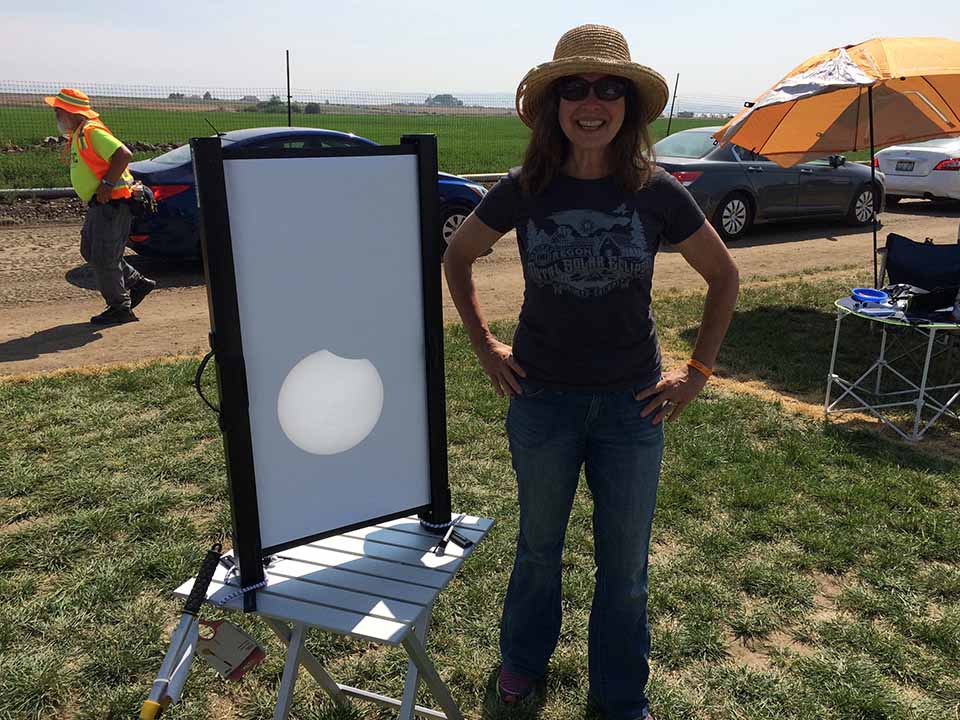 My husband and I camped out on a farmer's field, called Solartown, just outside of Madras, OR. I purchased a "Solar Projector" (from opticaleds.com), which projected a beautiful solar image, about 8 or 9-inches wide, on a screen, 76 feet behind the instrument. We could enjoy ingress and egress with no eclipse glasses, and a whole crowd could see the eclipse progress together.
I was too busy enjoying totality to take too many pictures -- what you see here was an afterthought, just before egress was complete.  You could feel the atmosphere cooling down as the Moon's shadow hid the Sun's face. The corona was quite bright, a few prominences could be seen. Thankfully, the forest fires and their smoke did not spoil the eclipse at this locale.
---
I went with two of my summer students to Oregon, about 70 miles East of Madras. Clear sky. Beautiful and amazing eclipse. Perfect viewing. But we also did a science experiment, a collaboration with a friend in the Netherlands, Elmar. We measured the changes in the surface tension of water. As already noted by Elmar during two prior total eclipses, the surface tension changes over the course of the eclipse. It drops and then recovers. We think that this drop is indicative of subtle changes in the H-bonding with the thin surface layer of water, where the H2O molecules are a state more akin to a liquid crystal than to a liquid
---
We were in Madras Oregon with a group of friends n. It was great fun. We took a couple of colanders to project images of the partial phases.
- Edna DeVore
---
Twelve miles east of a ghost town, Ashwood, OR, down a single lane bumpy road, camping for 4 days, where 4 veterans of the 1979 total eclipse and 7 rookies. We were on a private property where cell phone coverage and wifi were non-existent. Wildfire smoke threatened the view until the winds shifted Sunday night.  That was the fastest two minutes and 4 seconds of my life!   The high ridge lines around the canyon prevented shadow bands.  The temperature dropped from 77° to 64°.
---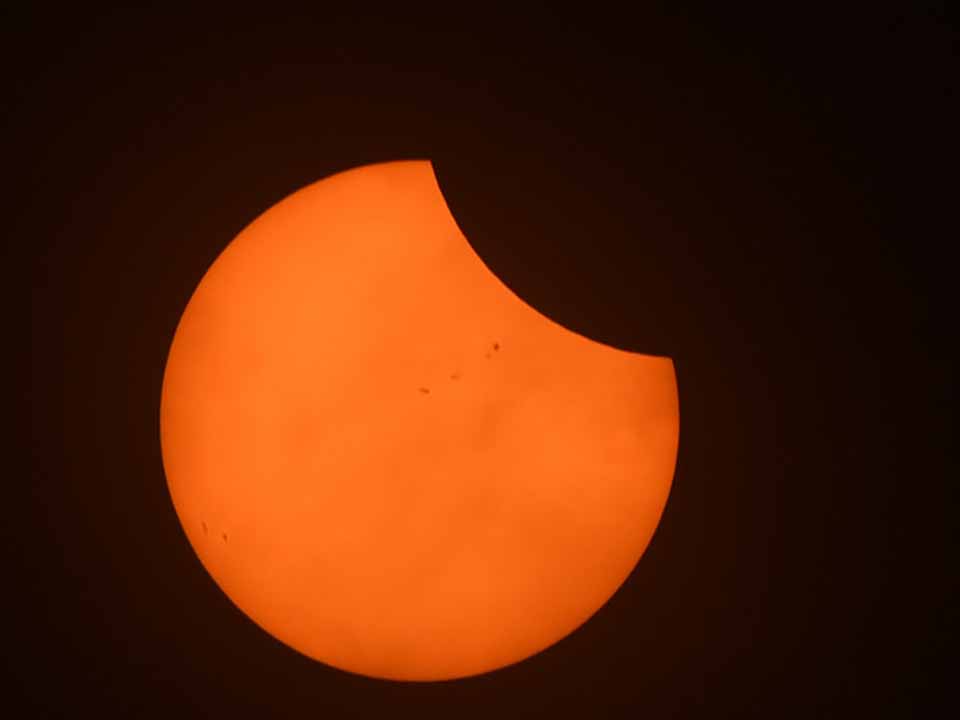 Since I moved to Alabama earlier this year, I wasn't yet ready to leave my cats and the new home to put myself in the path of totality, so I resigned myself to a partial solar eclipse. Since it occurred at midday here, the Sun was high overhead, making it unnecessary to find a scenic spot for photos - such as at the beach.  The sun and water would never be in the same shot. I took these photos from my back yard. At maximum coverage, the Sun was a big grin in the sky.  The birds went silent, the insects started singing, and the temperature dropped a few degrees.  As the Moon moved east, I lengthened the time between shots to about 5 minutes, until it passed completely off the face of the Sun. 
- Barbara Vance
---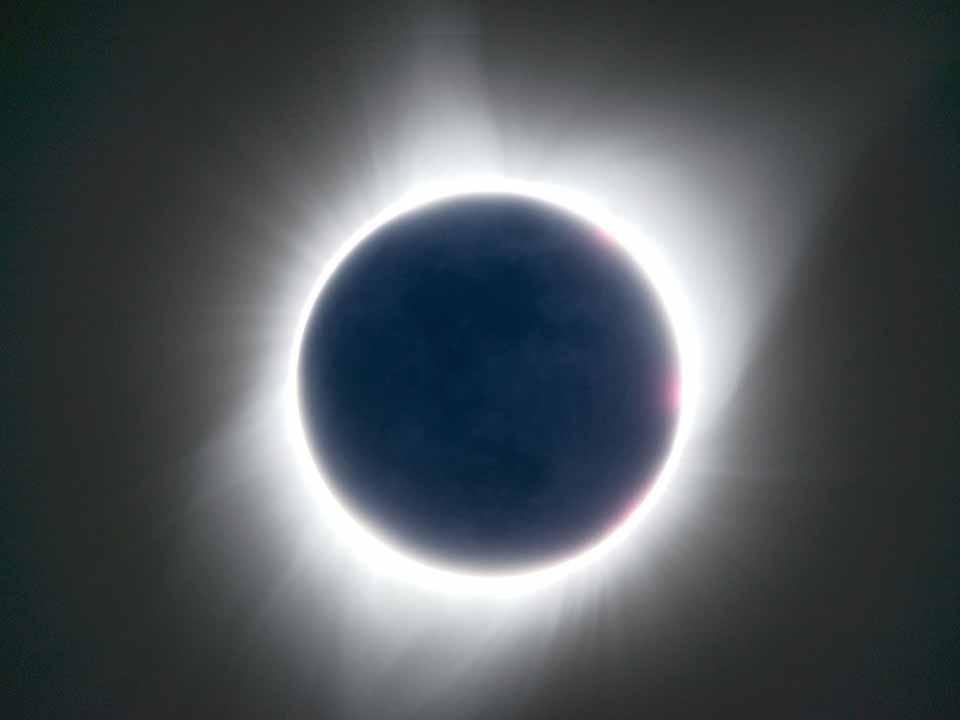 I did some experiments with "High Dynamic Range" processing of my eclipse photos. Someone in my group took many exposures to try to capture the full dynamic range of the eclipse. He had a 1500 mm lens, so he got a lot of detail on the Moon and Sun but only caught the inner corona. 
One image combines four of his raw digital files. The blue tint is real, arising from the fact that the Moon is illuminated by sunlight reflected off of our blue planet! BTW, the north pole of the Sun is at about 10 o'clock in this image. You can locate the poles because the Sun's magnetic field lines converge there, and much of the corona follows these field lines. The Sun's magnetic field is very simple right now because we are near solar minimum; the 2024 eclipse will be near solar maximum and you will see a very different, much more complicated corona.
---
The big news is that several people got actual pictures of shadow bands which had not been done before, that I know of. This has been about 100 years in the making! I had a group of a few thousand at Principia School (grammar, junior high, and high school connected with the College) and we ordered about 11,000 eclipse glasses altogether - most were sent around the country (to donors, etc.).
We had perfect skies during the whole event and it really was a lot of fun! We got about 1 minute 18.5 seconds of totality. I was on a PA system to tell people when to put their eclipse glasses back on. It was kind of like a giant fair at the school. The crickets came on and got really loud during totality - I could hear them over the cheering of the crowd. Sure was fun!
---
We were in Wyoming at the Grand Teton National Park with Eclipse Watch led by Doug Duncan (Fiske Planetarium Director), where I gave a talk on Mars on Tuesday. The weather and conditions were spectacular for us as well and many people in our group of 200 brought telescopes. We viewed patterns from holes in cardboard and trees and watched our shadows shrink and darken. The sky became deep purple and it got very cold before the sun appeared to "set" for 2 min 22 sec for us. Then we saw an orange horizon in all directions.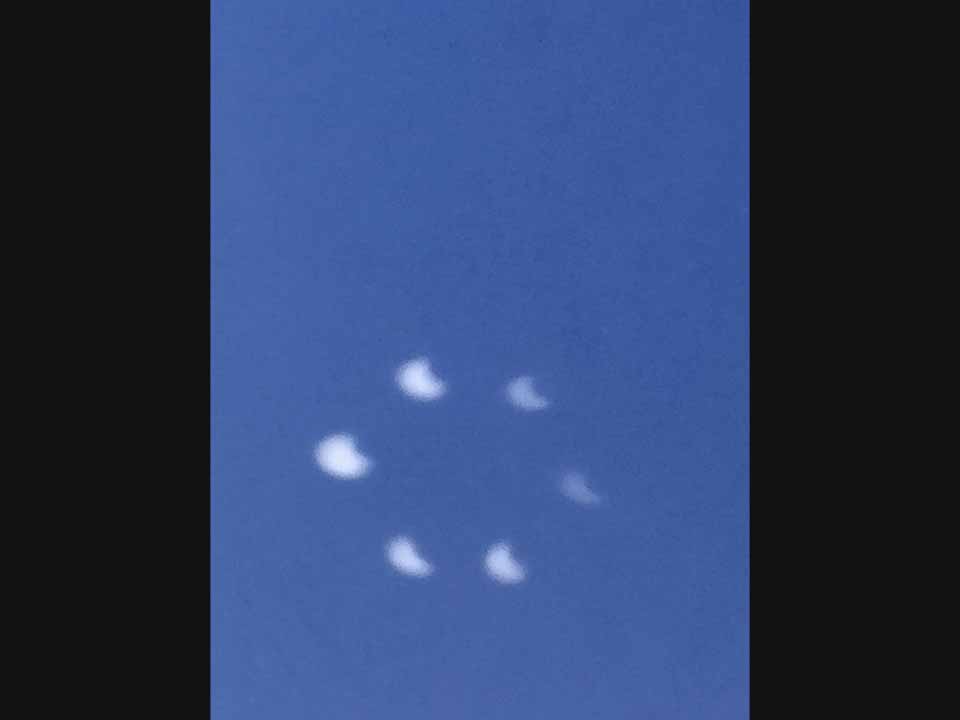 We didn't have a white surface to photograph the shadow bands, but we saw the fuzziness pass us in waves. We were at a golf course and didn't see any animals, but others at the Grand Tetons saw elk and moose come out of the woods as if it were dusk and then wander back after the sun returned. (They typically appear at sunset).
---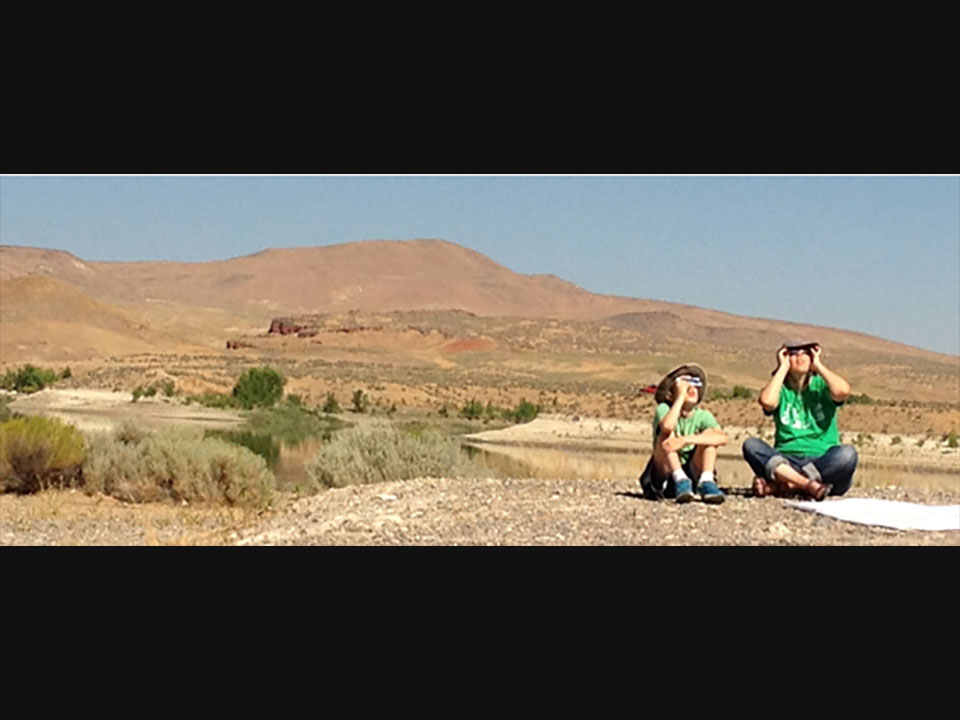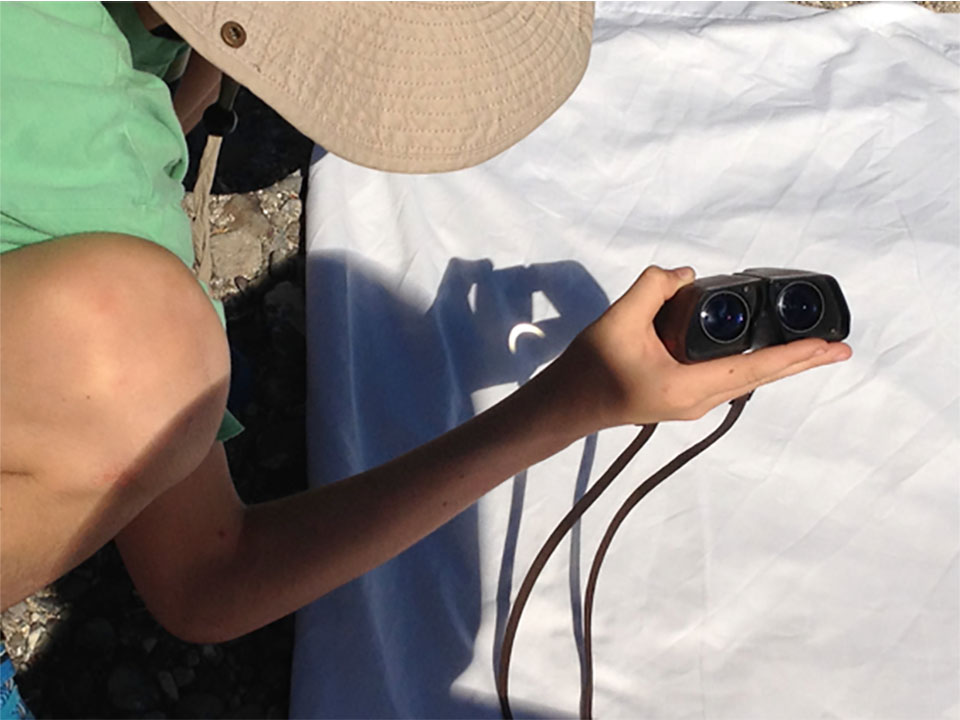 Our family traveled to Bully Creek Reservoir, near Vale OR, to watch the total solar eclipse.  We chose this location both to maximize our chances of good weather and in hopes of avoiding the likely larger crowds that would accumulate in western and central OR — and, indeed, we had no problem with either crowds or clouds.  Our location had about a minute and a quarter of totality, and we chose to stay in the comfort of our campsite for the eclipse, rather than to drive north towards the eclipse centerline. 
---