Where in the Worlds has SETI Institute Been? April 3 – April 9 and March 2017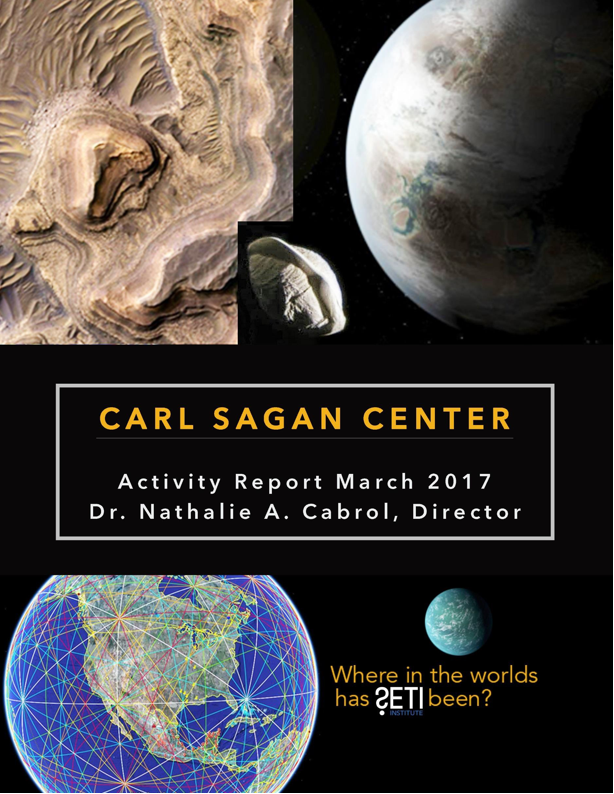 Special Expanded Edition!
Welcome to the special expanded edition of Where in the Worlds has SETI I Been!
In addition to our weekly summary of SETI Institute publications and activities, each month we will be sharing a comprehensive roundup of what our SETI Institute scientists have been up to. It's pretty incredible to see the breadth and depth of the work they do, from peer-reviewed publications, to scientific conferences, to public talks, and much, much more.
The full report for March 2017 can be downloaded, but here are some highlights:
8 papers accepted or published in peer-reviewed journals, including The Astrophysical Journal, on topics such as Orbits for the Impatient, PAH emission characteristics of the reflection nebula NGC2023, and polycyclic aromatic hydrocarbon emission in Spitzer/IRS maps

From the Lunar and Planetary Sciences Conference in Texas, to the International Astronomical Union symposium, in Puerto Varas, Chile, to NASA's Space Science and Astrobiology Jamboree, SETI Institute scientists participated in conferences throughout the U.S. and internationally
Popular media turn to SETI Institute experts for comment, interviews, and content – publications such as NBC News, Astronomy Magazine, and Sky's Up turned to the SETI Institute for answers and insights in March
Public speaking appearances at the Kavli Institute for Theoretical Physics, Mills College, MarsFest, and more covered topics as diverse as photoevaporation and evolution of gas and dust in discs, the TV series Expanse, and the search for extraterrestrial life
Our new Facebook Live weekly event featured SETI Scientists talking about the Drake Equation, planetary defense, astrobiology, and even Chuck Berry – all live event videos can be viewed on the SETI Institute's Facebook page here: https://www.facebook.com/SETIInstitute/?ref=aymt_homepage_panel
Possible Venus Twin
NASA's Kepler space telescope found a possible Venus twin 219 light years away. The planet is slightly larger than Earth and orbits a low-temperature star and is called Kepler-1649b. The discovery will provide information about planets around M dwarf stars, which are thought to be the most common kind of star in the Universe. SETI Institute scientists Isabela Angelo and Elisa Quintana discuss the importance of the discovery.
SETI Institute Observes Trappist-1
The SETI Institute's Allen Telescope Array (ATA) has begun collecting data from between two Trappist-1 planets, and through a collaboration with IBM, will be experimenting with new methods to discover symbolic patterns in radio signals. SETI Institute scientist Gerry Harp writes about the work.
Frontier Development Lab (FDL)
SOFIA/Airborne Astronomy Ambassadors
Stacey Shrewsbury, lead flight director for the Challenger Learning Center at Heartland Community College, was profiled as one of the recent participants in the SETI Institute's SOFIA/Airborne Astronomy Ambassadors program. A separate article profiled Naseem RangwalaThe program prepares teachers for flights onboard NASA's flying observatory. Shrewsbury was part of the 2016 program. The SETI Institute recently announced the educators who will be participating in the program in 2017 and 2018.
Big Picture Science
The April 3, 2017 broadcast of the SETI Institute radio show, Big Picture Science, Winging It examined the future of flight. This week's show, The Brain's Reins, wonders about the relationship between people and their brains and includes interviews with Kevin Davis, Hilarie Cash, Adam Atler, and Peter Vishton.
Quotables
In episode 2 of a new podcast from Institute for the Future, Mark Frauenfelder and David Pescovitz interview SETI Institute senior astronomer and host of Big Picture Science about Alien Hunting.
Facebook Live
The April 5 Facebook Live event featured SETI scientists Matt Tiscareno and Mark Showalter discussing Cassini and New Horizons, respectively. Video can be viewed on the SETI Institute Facebook page.
Events
Cambridge Science Festival: April 14-23, 2017, Cambridge, MA. A celebration of science, technology, engineering, math and art. On April 14, Opening Night: Are We Alone? at Harvard University will honor Frank Drake, Chairman Emeritus of SETI Institute and best known for conceiving the Drake Equation.  Seth Shostak will be on the panel.
Conference on World Affairs: April 10-14, Boulder, CO. A year-round unit of the University of Colorado, this festival of ideas features five days of speakers, performances and music. Seth Shostak will participate on eight different panels during the Conference.
University of Washington Astrobioloogy Colloquium: April 18, 2017, Seattle, WA SETI Institute scientist Pablo Sabrón will present, Missions to Planetary Analogys: Science and Technology that Enable Robotic Planetary Exploration.
SpacetimeLabs Webinar: April 19, 2017 8:00AM PDT Seth Shostak will participate in this webinar for scientists, researchers, and science communicators about improving public outreach efforts. The cost is $39.
SpaceBall: April 22, 2017, San Jose, CA. Held in conjunction with Silicon Valley Comic Con, where SETI Institute will host a booth hold talks, and participate in panel discussions, SpaceBall will be SETI Institute's inaugural fundraising gala celebrating space exploration and innovation. Tickets can be purchased here.
AbSciCon: April 24-28, 2017, Mesa, AZ The theme of this year's conference organized by the astrobiology community is Diverse Life and its Detection on Different Worlds. SETI Institute scientists have had 32 abstracts accepted, including 11 oral presentations.
Astronomy on Tap: April 25, 2017, San Francisco, CA SETI Institute scientist Franck Marchis will the search for a sister Earth.
Las Vegas Science & Technology Festival: April 28-May 6, 2017. This week-long science festival will feature Jill Tarter, trustee and Bernard M. Oliver Chair for SETI at the SETI Institute.
IAA Planetary Defense Conference: May 15-19, 2017, Tokyo, Japan This bi-annual conference brings together world experts to discuss the threat to Earth posed by asteroids and comets and actions that might be taken to deflect a threatening object.  SETI Institute scientist Michael Busch will attend.
Osher Lifelong Learning Institute: June 1, 2017, Santa Clara, CA Edna DeVore, Director of the Education at the SETI Institute will help people get prepared for this summer's total eclipse of the sun which will take place on August 21, 2017.
Spacefest: June 8-11, 2017, Tucson, AZ. An annual event that brings the space community together. Pascal Lee and Seth Shostak of SETI Institute will be speaking.
Machine Learning 4 SETI Hackathon, June 10-11, San Francisco, CA The SETI Institute invites all citizen data scientists and technologists to join us as collaborators in our mission to find radio signals from intelligence beyond our solar system.
Starmus Festival IV, June 18-23, 2017, Trondheim, Norway A celebration of science and the arts. Presenters will include Jill Tarter, Bernard M. Oliver Chair for SETI at the SETI Institute and Nathalie Cabrol, Director of the Carl Sagan Center for Research at the SETI Institute