Where in the Worlds has SETI Institute Been? May 29 - June 4, 2017
Transiting Exoplanet Survey Satellite (TESS)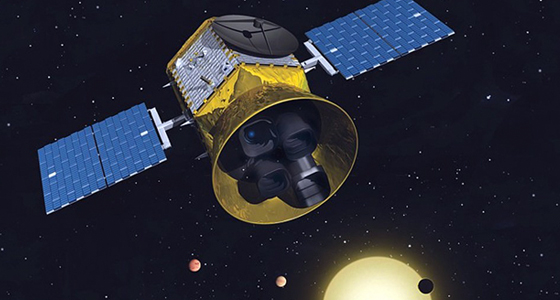 TESS is a space telescope that will search for exoplanets using the transit method and will launch in March 2018. While Kepler surveyed part of the Milky Way to provide an accurate estimate of the number of exoplanets, TESS's survey will help identify some of the most interesting planets for further exploration – those that may turn out to be the most Earth-like. TESS will provide information about the mass and density of planets, allowing researchers to determine which will be the best candidates for further examination by telescopes such as the James Webb Telescope (a so-called "next generation space telescope" with greater resolution and sensitivity than previously known which will launch in October 2018). The SETI Institute is deeply involved with TESS, with several SETI Institute scientists bringing their experience and learning from their work with Kepler to bear.
"There is going to be very little overlap between the stars that Kepler observed and the stars that TESS will observe, so their data will be analyzed separately," said SETI Institute scientist Jeff Coughlin in the July 2017 issue of Astronomy Magazine. "However, we have learned a lot of the lessons from Kepler that we can apply to TESS to find planets faster and more reliably. . . Every additional planet we find, from any mission, is very valuable in order to perform detailed study of as many as possible. This lets us better compare how different planets form and evolve, establish which factors allow rocky planets to form and maintain substantial atmospheres, and ultimately one day be able to probe nearby planets to establish is any of them have an atmosphere like ours."
Astronomy Magazine: Get Ready for the Next Generation Planet Hunter
Note: Astronomy Magazine is available by subscription only. This article appears in the July 2017 issue
Note #2: If you're interested, SETI Institute scientist Ross Beyer, who studies planetary surfaces, worked with Astronomy Magazine to help them a globe of Pluto which is for sale in the Astronomy Magazine online store.
Eclipse Boxes for the Girl Scouts
The SETI Institute is leading a new STEM project with the Girl Scouts, Reaching for the Stars: NASA Science for Girl Scouts. Reaching for the Stars is a five-year space science education program that brings the Girl Scouts together with scientists and educators at the SETI Institute, NASA and beyond. Projects will include Space Science merit badges and out-of-school experiences for Girl Scouts nationwide.
One of the first initiatives has been the development of eclipse boxes filled with educational materials, projects and eclipse glasses that will be used to teach Girl Scouts about the Great American Eclipse that will take place on August 21. 300 boxes were provided to 128 Girl Scout councils.
Note: You can sign up to receive NASA emails at the above link
Martian Lakes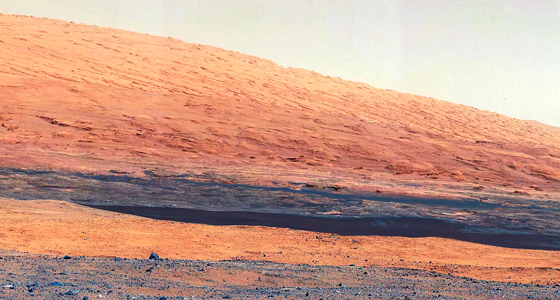 The Mars Curiosity Rover has been working on Mars investigating its climate and geology and assessing whether environmental conditions were ever favorable for sustaining microbial life since 2012, collecting and analyzing rock samples. A new paper published in Science concludes that the lake in Gale Crater, formed when hit Mars more than three billion years ago, had different environmental conditions in different areas. Some areas were high in oxygen and others were not, suggesting they could have supported different types of microbial life.
SETI Institute scientist Janice Bishop, who was not involved with this research, commented, "What is really important about this study is that it shows that warm and wet conditions existed on Mars at a time much later than realized before. It has long been assumed by many Mars scientists that the early Mars (Noachian) was warm and wet, although how warm and how wet continues to be debated. This study shows that warm and wet conditions existed in the Hesperian at Gale crater."
Are Aliens Already Here?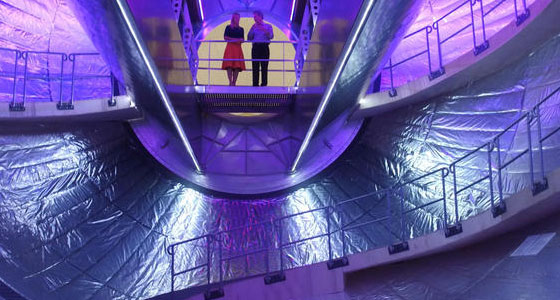 Millionaire Robert Bigelow believes that aliens not only exist, but that he and his family members have had personal experiences with them here on Earth. He is also funding, to the tune of millions of dollars, the Bigelow Expandable Activity Module that may in the future be used as work spaces, labs and living quarters in space. The module was launched last year and is attached to the International Space Station for testing.
SETI Institute Senior Astronomer, Seth Shostak does not believe there is yet evidence of extraterrestrial life here on Earth, or elsewhere. While he thinks it's unlikely that among trillions of planets in our galaxy that Earth is the only one with intelligent life, the science hasn't proved it yet.
SETI, METI and What's Next?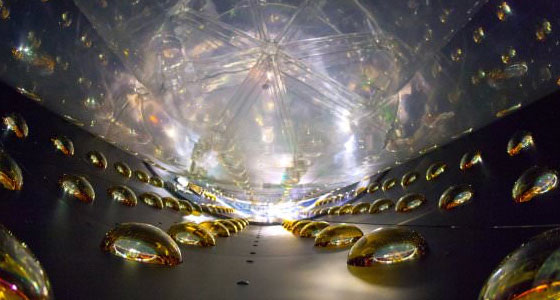 The SETI Institute conducts research in nearly all branches of science addressing questions around the development of life, where else in the Universe it might exist and how we might it. Core areas include astronomy, astrophysics, exoplanets, astrobiology, climate and geoscience, planetary exploration and, of course, SETI (search for extraterrestrial intelligence). While SETI research searches for messages from alien intelligence, METI creates messages to send to aliens.
SETI searches began, and continue to be based on radio astronomy. But there are new efforts afoot involving optical telescopes and the search for laser signals. Another emerging idea is to search for neutrinos, which are a subatomic particle that could theoretically be used for communication.
Universe Today: Are Aliens Communicating with Neutrino Beams?
The SETI Institute's Artists in Residence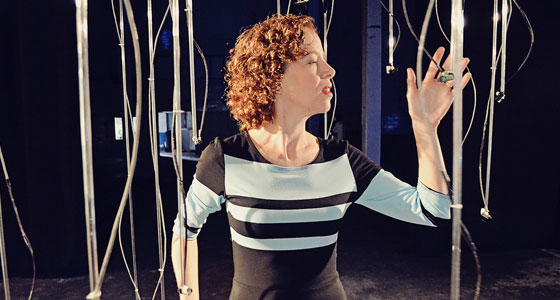 The SETI Institute's Artists in Residence (SETI AIR) program facilitates an exchange of ideas between artists and scientists, creating a space where they can inspire each other and foster new modes of understanding and expression. SETI AIR artists offer a fresh perspective to difficult concepts that can lead to a broader awareness of the science being conducted at the SETI Institute.
This spring, SETI AIR alumna Nina Waisman created the Laboratory for Embodied Intelligences (LEI) in Los Angeles. LEI presented site-specific performances, participatory workshops and an interdisciplinary panel featuring astrobiologists, artists and mind-body experts.
Rebel Girls and Extraordinary Women
Good Night Stories for Rebel Girls was published last year and included 100 stories about real life women, written in a fairy tale style. Among the featured women was Jill Tarter, SETI pioneer and Bernard M. Oliver Chair for SETI at the SETI Institute. A new review of the book cites the importance of stories that break away from traditional models of how girls can shape their own futures foster aspirations outside traditional boundaries.
The Free Press Journal: The Not-so-Fairy Tales of Real Princesses
Tabby's Star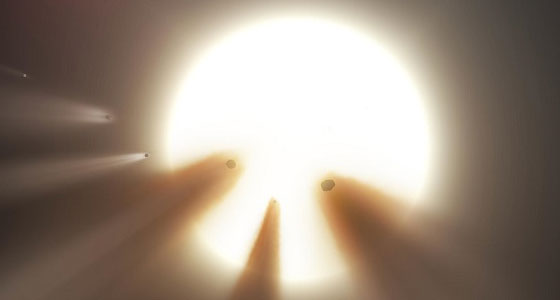 Tabby's Star, more officially known as KIC 8462852 continued to make the news as a result of its unexplained dimming on May 18. Tabby's Star is 1,300 light-years from Earth and its periodic dimming always fuels excitement and theories. The SETI Institute has observed Tabby's Star with its Allen Telescope Array (ATA), but has not detected evidence of alien communication.
SETI.org: What's Up with Tabby's Star?
India.com: Tabby's Star Observed to be Dimming! Astronomers Shocked as Mysterious Star in the Universe is Acting Up Again
Big Picture Science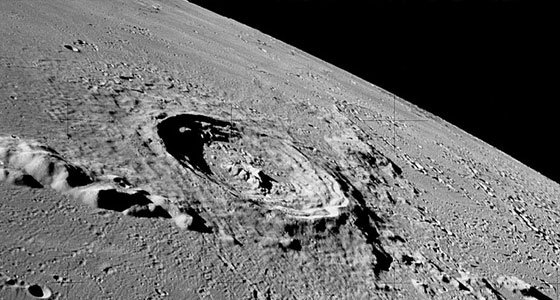 Last week, an encore presentation of The Crater Good suggested that Earth may be headed toward land masses converging into one massive supercontinent, and also explored earthquakes and earthquake clusters both on Earth and beyond. This week, in another encore, Gene-y in a Bottle wonders if you can change your own DNA.
Quotables
Neil deGrasse Tyson sits down with Jill Tarter, SETI Institute Bernard M. Oliver Chair for SETI and SETI Institute Senior Astronomer Seth Shostak to discuss the movie Contact, Proxima b, the Drake Equation and more on StarTalk.
Senior Astronomer and host of Big Picture Science Seth Shostak was interviewed on the podcast Blackout in an episode entitled Contact on idobi: Dr. Lynne Kitei, Seth Shostak.
Events
Spacefest: June 8-11, 2017, Tucson, AZ. An annual event that brings the space community together. Pascal Lee and Seth Shostak of SETI Institute will be speaking.
Machine Learning 4 SETI Hackathon, June 10-11, San Francisco, CA The SETI Institute invites all citizen data scientists and technologists to join us as collaborators in our mission to find radio signals from intelligence beyond our solar system.
Dynamical Astronomy Meeting of the American Astronomical Society: June 11-15, London, UK SETI Institute Scientist Matija Cuk will chair a session on Planetary Formation and System Architecture.
MACH in VR: June 14, New York SETI Institute Senior Astronomer Seth Shostak with kick off a live VR interview series hosted by NBC with "Are We Alone?" – the event is virtual and anyone with a VR headset (or join in 2D) can attend.
Smithsonian Magazine Future Con, June 16-18, Washington D.C. Bringing science fiction and fantasy together with serious science and cutting-edge technology. Seth Shostak with be a speaker.
Starmus Festival IV, June 18-23, 2017, Trondheim, Norway A celebration of science and the arts. Presenters will include Jill Tarter, Bernard M. Oliver Chair for SETI at the SETI Institute and Nathalie Cabrol, Director of the Carl Sagan Center for Research at the SETI Institute
Kepler & K2 SciCon IV: June 19-23, Moffett Field, CA SETI Institute scientists including Jeffrey Coughlin will participate.
SETI Talks: July 12, Palo Alto, CA SETI Talks return featuring Jill Tarter, Sarah Scoles, Eliot Gillum and more.
Virtual Reality in Space: The Next Big Thing: July 12, San Francisco, CA Franck Marchis will participate in a discussion about ways in which virtual reality might play a role in space exploration.
Starship Congress 2017, August 7-9, Monterey, CA. A conference that explores pathways to allow human exploration of the galaxy. Franck Marchis will give a presentation.
---
April 2017 Activity Report of the SETI Institute
It's time again for a more comprehensive review of the work that has been going on at the SETI Institute. The complete Carl Sagan Center Activity Report for April 2017 can be downloaded here