Where in the Worlds has SETI Institute Been? March 27 - April 2, 2017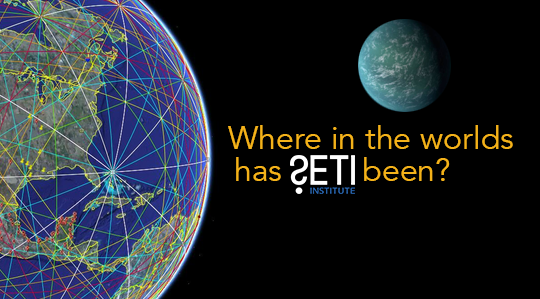 Meteor Showers
A review of the interactive website that shows the major meteor streams orbiting the Sun. The site includes 12 major meteor showers and the data comes from NASA's Cameras for Allsky Meteor Surveillance (CAMS) and SETI Institute astronomer Peter Jenniskens. Users can select which meteor shower path to view, or view all at once. CAMS is attempting to confirm 300+ meteor showers on the International Astronomical Union Working list that still need verification. More than 300,000 meteoroid trajectories have been recorded since 2010.
Daily Mail: The stunning 'shooting stars' interactive graphic that reveals the path of every major meteor shower
SETI Institute: Warped meteor showers hit Earth at all angles
Project ESPRESSO
Coverage continued of the Project for Exploration Science Pathfinder Research for Enhancing Solar System Observations (Project ESPRESSO) which was awarded a $5 million contract to develop tools and methods for exploring the solar system. The SETI Institute is part of the  Project ESPRESSO team, which is led by the Southwest Research Institute.
Parabolic Arc: SwRI-led Team Selected for NASA's Solar System Exploration Research Virtual Institute
SOFIA/Airborne Astronomy Ambassadors
Stacey Shrewsbury, who is the lead flight director for the Challenger Learning Center at Heartland Community College, was profiled as one of the recent participants in the SETI Institute's SOFIA/Airborne Astronomy Ambassadors program. The program prepares teachers for flights onboard NASA's flying observatory. Shrewsbury was part of the 2016 program. The SETI Institute recently announced the educators who will be participating in the program in 2017 and 2018.
SETI Institute: SETI Institute Announces 2017 and 2018 Educators for the Airborne Astronomy Program Aboard NASA's SOFIA Flying Observatory
Herald & Review: Challenger Learning Center director inspired by flights
Big Picture Science
The March 27, 2017 broadcast of the SETI Institute radio show, Big Picture Science, Shell on Earth, explores the evolution of marine shells, such as oysters.  Also the story of animals that lost their shells, including squids, as well as Earth's geologic tectonic shell.
This week's show is an encore of Winging It, and examines the future of flight.
Quotables
CostcoConnection explored the question, Are we ready for extraterrestrial contact? SETI Institute Senior Astronomer and host of Big Picture Science, Seth Shotstak, weighed in.
On The Leaders Podcast, Seth chats with Michael Menkin, a former NASA engineer, in The Royal Science Rumble.
In a Seattle PI article, Coolest thing about theory of fast radio bursts powering starships
Seth is quoted, saying, "Unfortunately, there is a problem with postulating that these intriguing radio sources are the result of someone, rather than something. There's no limit to your imagination. You can cook up an alien explanation for just about any sort of signal you discover. Extraterrestrials have been given credit for pulsars, quasars, and lots of other odd celestial behavior. But while extraterrestrials are easy to profile, they are — and should be — hard to convict. There's not been a single case in which aliens were proven responsible for any new cosmic mystery."
Events