Where in the Worlds has SETI Institute Been? April 10 - April 16, 2017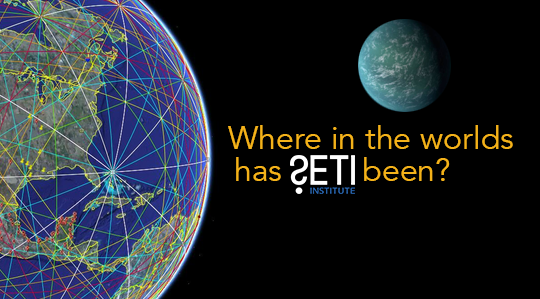 The Auroras of Uranus
Since 1990, when its mission began, the Hubble Space Telescope has made more the 1.3 million observations. Voyager 2, which launched in 1977, and is the only spacecraft to have ever visited Uranus, is currently en route to interstellar space, is expected to transmit data back to Earth until at least 2025.
Last week, NASA released composite images of Uranus, combining observations from Voyager 2 and from Hubble. These new images show auroras that are rotating with the planet. An aurora is caused by electrically charged particles that get caught in a planet's magnetic field, such as the Aurora Borealis on Earth 
SETI Institute planetary astronomer Mark Showalter and his team are studying the rings and moons orbiting Uranus with Hubble.
The Daily Mail: The incredible auroras of Uranus: Hubble spots intense storms on the giant ice planet
What's a Habitable Exoplanet?
Jeffrey Coughlin is a SETI Institute support scientist for NASA's Kepler Mission. Kepler, which is a space-based telescope launched by NASA in 2009, is surveying stars in the Milky Way to discover Earth-sized exoplanets. An exoplanet is a planet that orbits a star other than Earth's Sun.
Jeffrey was recently interviewed by Astronomy Magazine about his work and what it means for an exoplanet to be considered potentially habitable.
"When the everyday person hears the word habitable they probably think something like Earth or (a place) humans could walk out of a spaceship and be happy: there's water, an atmosphere, gravity wouldn't be too high, the temperature wouldn't be too hot or too cold," Coughlin explains. "But when astronomers talk about habitable worlds we're really just asking about two things: could there be liquid water on what is a mostly rocky surface, nothing like Jupiter where you have a huge atmosphere crushing you down-those are really the two terms that astronomers think about. When we say a planet is habitable, that's all we really mean."
Astronomy Magazine: Your guide to the most habitable exoplanet 
Astrobiology Science and Technology
Nathalie Cabrol is a senior scientist at the SETI Institute, and director of the SETI Institute's Carl Sagan Center and she has been particularly interested in developing strategies, methodologies, and tools that could help in determining whether there is, or once was, life on Mars. 
One of her projects, Astrobiology Science and Technology for Exploring Planets (ASTEP) involved testing a lake lander in Chile to see if it could be used on Titan, a moon of Saturn, to explore the impact of ice loss on planetary lakes. Ultimately, this particular lander was not selected, however, learning from this research continues to inform the planning of future missions to Titan.
Space.com: Lander designed for Titan's methane seas tests tech on Chilean lake
Visit from Luxembourg Trade Delegation
Last week, the SETI Institute welcomed a trade mission from Luxembourg led by Luxembourg's Deputy Prime Minister and Minister of the Economy, Etienne Schneider. The delegation also included the Hereditary Grand Duke Guillaume and Hereditary Grand Duchess Stéphanie, as well as representatives from several companies active in the space industry. After presentations about the work at the SETI Institute, the Hereditary Grand Duke and Hereditary Grand Duchess were able to take a virtual reality tour of the International Space Station using an Oculus Rift.
The SETI Institute at the Silicon Valley Comic Con and the Inaugural SpaceBall
Next weekend the SETI Institute will be participating in the Silicon Valley Comic Con in San Jose, CA, April 21-23. In addition to hosting an exhibit booth (#530), several SETI Institute all-stars will be participating is panel discussions. These include Bernard M. Oliver Chair, Jill Tarter, Senior Astronomer and host of Big Picture Science, Director of the Carl Sagan Center, Nathalie Cabrol, Senior Scientist, Mark Showalter, and Trustee, Jonathan Knowles.
We will also be hosting SpaceBall: An Out of this World Gala on Saturday, April 22, and the Hilton, San Jose. Not your average fundraiser, SpaceBall will feature a wide variety of experiences including Theramin music by Project Pimento, a virtual reality demo from Oculus, a Discovery Dome planetarium, cocktail buffet with astronaut ice cream for dessert, and a live auction of out of this world items. Also included will be a line-up of fast-paced and engaging Lightning Space Talks from world-class researchers and scientists.
The SETI Institute and STEM Education and Outreach
Edna DeVore, Director of the SETI Institutes Center for Education, wrote about the SETI Institute's work in the area of STEM education and outreach. Initiatives include the SETI Institute radio program and podcast, Big Picture Science, SETI Talks, the SETI Institute's public lecture series, the Airborne Astronomy Ambassador program aboard NASA's SOFIA flying observatory, and a new collaboration, Reach for the Stars, to develop new science badges for Girl Scouts. 
STEM Today: Searching for Life Beyond Earth
CU Boulder's Conference on World Affairs
Last week Seth Shostak, SETI Institute Senior Astronomer and host of Big Picture Science, participated in a panel discussion at CU Boulder's Conference on World Affairs, Sex with Robots: What's Not to Like?
"There is a love jacket that you can put on and cuddle with someone, even though they are halfway around the world," Shostak said. "I don't think you can buy it on Amazon yet, but it's been demonstrated."
Seth also participated in a panel discussion, Space Tourism for Fun and Profit. "It sounds frivolous, but tourism may be the biggest economic driver in getting more people into space," he said.
Frontier Development Lab (FDL)
NASA Frontier Development Lab (FDL) applications are open with a deadline of April 19, 2017. FDL is hosted by the SETI Institute and is an 8-week summer workshop that brings together machine learning expertise with planetary science expertise to tackle specific knowledge gaps. This year's challenges include planetary defense, space weather, and space resources.
Possible Venus Twin
There was more coverage of NASA's Kepler discovering a possible Venus twin.
Isabel Angelo is a scientist at the SETI Institute, and she says that studying planets similar to Kepler 1649b is "becoming increasingly important in order to understand the habitable zone boundaries of M dwarfs. There are several factors, like star variability and tidal effects, that make these planets different from Earth-sized planets around Sun-like stars."
Another SETI Institute scientist and member of the Kepler 1649b discovery team, Elisa Quintana, noted, "Many people are hung up on finding other Earths. But Venus analogs are just as important. Since new telescopes coming down the pike will allow us to probe atmospheres, focusing on both Earth and Venus analogs may help decipher why, in our Solar System, one planet allows life to thrive, and one does not, despite having similar masses, comparable densities, etc. 
Big Picture Science
The April 3, 2017 broadcast of the SETI Institute radio show, Big Picture Science, The Brain's Reins, wonders about the relationship between people and their brains and includes interviews with Kevin Davis, Hilarie Cash, Adam Atler, and Peter Vishton. This week's episode, Skeptic Check: Glutenous Maximus, an encore presentation, helps listeners understand how to think critically about popular food and diet trends.
Facebook Live
The April 12 Facebook Live event featured IBM's Graham Mackintosh talking about how we use machine learning to better understand the volumes of data collected by the SETI Institute Allen Telescope Array. Video can be viewed on the SETI Institute Facebook page. 
Events
University of Washington Astrobioloogy Colloquium: April 18, 2017, Seattle, WA SETI Institute scientist Pablo Sabrón will present, Missions to Planetary Analogys: Science and Technology that Enable Robotic Planetary Exploration. 
SpacetimeLabs Webinar: April 19, 2017 8:00AM PDT Seth Shostak will participate in this webinar for scientists, researchers, and science communicators about improving public outreach efforts. The cost is $39. 
Breakthough Initiatives: April 21-22, 2017, Palo Alto, CA and Facebook Live Jill Tarter, Bernard M. Oliver Chair at SETI Institute will chair a session SETI Observations of Proxima b and Nearby Stars. The schedule can be found of the Breakthough Initiatives Facebook page.
SpaceBall: April 22, 2017, San Jose, CA. Held in conjunction with Silicon Valley Comic Con, where SETI Institute will host a booth hold talks, and participate in panel discussions, SpaceBall will be SETI Institute's inaugural fundraising gala celebrating space exploration and innovation. Tickets can be purchased here.
AbSciCon: April 24-28, 2017, Mesa, AZ The theme of this year's conference organized by the astrobiology community is Diverse Life and its Detection on Different Worlds. SETI Institute scientists have had 32 abstracts accepted, including 11 oral presentations.
Astronomy on Tap: April 25, 2017, San Francisco, CA SETI Institute scientist Franck Marchis will the search for a sister Earth.
Las Vegas Science & Technology Festival: April 28-May 6, 2017. This week-long science festival will feature Jill Tarter, trustee and Bernard M. Oliver Chair for SETI at the SETI Institute.
Institute for Cross Disciplinary Engagement at Dartmouth: May 11, 2017, Chicago, IL Jill Tarter, trustee and Bernard M. Oliver Chair for SETI at the SETI Institute will be in discussion with philosopher Patricia Churchland in Future of Intelligence: Human, Machine and Extraterrestrial: A Dialogue Between an Astronomer and a Philosopher. 
IAA Planetary Defense Conference: May 15-19, 2017, Tokyo, Japan This bi-annual conference brings together world experts to discuss the threat to Earth posed by asteroids and comets and actions that might be taken to deflect a threatening object.  SETI Institute scientist Michael Busch will attend. 
Osher Lifelong Learning Institute: June 1, 2017, Santa Clara, CA Edna DeVore, Director of the Education at the SETI Institute will help people get prepared for this summer's total eclipse of the sun which will take place on August 21, 2017.
Spacefest: June 8-11, 2017, Tucson, AZ. An annual event that brings the space community together. Pascal Lee and Seth Shostak of SETI Institute will be speaking.
Machine Learning 4 SETI Hackathon, June 10-11, San Francisco, CA The SETI Institute invites all citizen data scientists and technologists to join us as collaborators in our mission to find radio signals from intelligence beyond our solar system 
Starmus Festival IV, June 18-23, 2017, Trondheim, Norway A celebration of science and the arts. Presenters will include Jill Tarter, Bernard M. Oliver Chair for SETI at the SETI Institute and Nathalie Cabrol, Director of the Carl Sagan Center for Research at the SETI Institute
March 2017 Activity Report
The full March 2017 activity report, including peer-reviewed publications, scientific conferences, public talks, and much, much more can be downloaded here.