SETI Institute To Support Scientific Research At NASA Ames
Wednesday, July 30 2014 - 10:00 am, PDT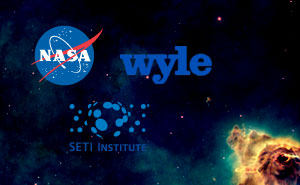 MOUNTAIN VIEW – The SETI Institute has been chosen as a key partner to support scientific and technical mission and project services at NASA Ames Research Center. On July 24, NASA awarded the Fully Integrated Mission Support Services (FILMSS) contract to Wyle Incorporated as the prime contractor.   Wyle, with headquarters in Houston, Texas, provides a wide range of science, engineering and technical services to government agencies, including NASA.  The SETI Institute is part of the contract awarded to Wyle to provide support to NASA's Ames Research Center.  These services were previously managed by Lockheed Martin.  
"We are delighted to be a key partner on FILMSS at NASA Ames," said David Black, the SETI Institute's president. "Today, Institute scientists and educators are key contributors to the success of NASA Ames' research projects and space missions such as Kepler and SOFIA.  The Institute has a 30-year history of working closely with NASA Ames in these areas as well as associated education projects. The FILMSS contract expands those opportunities." 
NASA Ames research Center is located at Moffett Field, CA in the heart of the Silicon Valley.
For further information about the Wyle Laboratories, Inc. team and FILMSS, go to: http://www.wyle.com/
About SETI Institute
Founded in 1984, the SETI Institute is a non-profit, multi-disciplinary research and education organization whose mission is to explore, understand, and explain the origin and nature of life in the universe. Our research encompasses the physical and biological sciences and leverages expertise in data analytics, machine learning and advanced signal detection technologies.  The Institute is a distinguished research partner for industry, academia and government agencies, including NASA and NSF.