On this International Woman's Day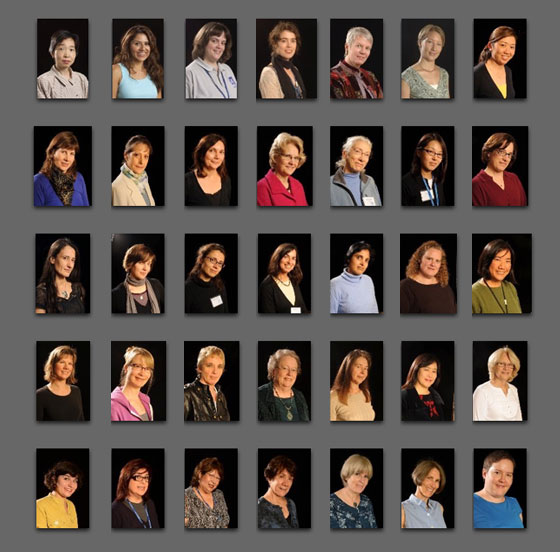 Some of the scientists, engineers, artists and administrators at the SETI Institute
Top Row: Hiromi Kagawa, Josie Lozano, Michelle Murray, Molly Bentley, Jill Tarter, Lori Fenton, Lisa Kanehiro
Row 2: Janice Bishop, Pamela Harman, Carrie Chavez, Margaret Race, Esther Weber, Hayley Wu, Jean Chiar
Row 3: Rosalba Bonaccorsi, Lisa Ballard, Alessandra Ricca, Debbie Koyler, Uma Gorti, Virginia Gulick
Row 4: Monica Kress, Niki Parenteau, Nathalie Cabrol, Edna DeVore, Mary Barsony, Jeonghee Rho, Margaret Race
Row 5: Nelly Ben Hayoun, Armine Saroian, JoAnn Rogers, Yvonne Nicholas, Barbara Vance, Anne Dimock, Angela Zalucha
Not pictured: Kate Yu, Amanda Schenk, Susan Mullally, Elizabeth Johnson, Melissa McGrath, Maggie Turnbull, Ruth Peterson, Rachel Sussman, Jen Bervin, Bettina Forget, Nina Waisman
---
I want to take a moment  to salute all the extraordinary women of the SETI Institute who, day in and day out, are making exceptional contributions to science and exploration. It is an honor and a privilege to serve you and provide an environment where your unique qualities and expertise are blossoming and helping shape the future of this planet…and others.
Beyond the SETI Institute, I want to send all my wishes to the women of the world: the grandmothers, mothers, sisters, and daughters, those at home taking care of their families, those in the fields, in the office, saving lives and protecting countries, climbing mountains, diving in the oceans, in submersibles, on the International Space Station…but also those still fighting for their rights to simply exist, receive an education, and be recognized as equal. Wherever you are, you are all extraordinary, You matter and you make a difference. You are the first teachers to children, the first role models, and lifelong inspirations.
To all the young girls and young women: never let anybody tell you who you should be or what should define you. Find it in yourself, hold on to your dreams, no matter what, no matter who, no matter where, and make it your life's journey to manifest them and brighten the future of this planet.
To all of you, Happy International Women's Day.
Director, Carl Sagan Center
The SETI Institute
---
Dear Colleagues,
It is with great pride and pleasure that I acknowledge International Women's Day at the SETI Institute, and salute the many talented and dedicated women of science, business, and leadership I'm honored to work with and support.
While there is still much work to be done in terms of gender equality in the workplace, in education, politics, and society at large, I am proud of the example we set at the SETI Institute - where the percentage of women we have in science and technology positions, business positions, and leadership positions, is far and away higher than the most socially advanced and "gender neutral" organizations in the United States, let alone in Silicon Valley.
The SETI Institute is the poster child for gender diversity in Silicon Valley, and that is something in which we should ALL take pride!
TO all of us and FOR all of us – Happy International Women's Day!