SETI Institute Partners with Distant Suns (max) Astronomy App
For Immediate Release
Contact information:
Karen Randall
SETI Institute
krandall@seti.org
650-969-4530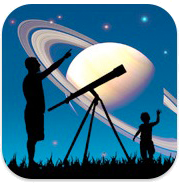 San Jose, California - First Light Design (Distant Suns (max)), today announced release of version 3.4 of its comprehensive, award-winning Distant Suns (max)(TM) Astronomy App for iPad(R) and iPhone(TM). It now features the ability to see the star systems that are being monitored in real-time by the SETI Institute for possible signs of extraterrestrial life. Whenever SETI Institute's Allen Telescope Array near Mt Lassen in Northern California is operating, Distant Suns (max) will indicate where the radio telescope's dishes are pointing. The update also includes the ability to show a star's numerical magnitude as well as its Bayer numbers in Greek and Latin, a new detailed, texture map of Mercury, a new Milky Way image, as well as a few bug fixes.
The new features enhance Distant Sun's already extensive feature-set which includes augmented reality viewing and over 300,000 celestial objects. It is now one of the easiest to use astronomy apps for both casual sky watchers as well as serious professionals. Distant Suns (max) is available for iOS(R) devices on the App Store for $9.99.
"The SETI Institute is thrilled to be partners with Distant Suns," said Dr. Jill Tarter, (Bernard M. Oliver Chair for SETI). "This has such a gorgeous palette and texture that the user has the sense of being part of the ongoing exploration of the planetary worlds being observed by the ATA."
"Since Distant Suns original release in 1985, our mission has been to bring the wonders of stargazing and education about the universe to everyone," said Mike Smithwick, Founder and President of First Light Design. "It is my hope that with the ability to monitor where SETI is targeting, we can help bring greater awareness of their unique efforts to the public."
Features include:
* View the stars from the Earth or out in the solar system
* Augmented Reality Viewing overlays the sky with the local landscape
* What's Up? Offers an overview of the evening's sky
* GPS and Compass aware
* NASA's Night Sky Network of local astronomical events (US only)
* Red Night Vision
* Real-time monitoring of where SETI is looking for extraterrestrial signals
* Stories behind each constellation
* Ability to touch the sky and reveal data for each object, including every planet
* Over 300,000 planets, stars, galaxies, nebula and star clusters
* Viewpoint Lock keeps any planet centered
* Current Weather patterns on the earth, updated daily
* Change the look of the stars
* Hubble Space Telescope images
* Interactive tour of the solar system
* And much more
First Light Design, LLC, is a privately owned company. It first released Distant Suns for the Commodore Amiga in 1987, followed by versions for Macintosh and Windows. First Light Design is a proud member of Parents With Apps, a collaborative group of family-friendly developers with family-friendly apps. Besides partnering with the SETI Institute, Distant Suns (max) is also partnered with NASA's Night Sky Network and the Astronomical Society of the Pacific to provide listings of astronomical events. Details about the company and its products can be found at Distant Suns. Copyright (C) 2012 First Light Design, LLC. All Rights Reserved. Distant Suns is a trademark of First Light Design, Inc. Apple, the Apple logo, iPhone, iPod and iPad are registered trademarks of Apple Inc. in the U.S. and/or other countries. Other trademarks are the property of their respective owners.