Sally Ride (1951 – 2012)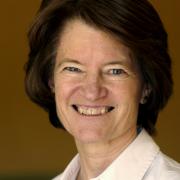 Sally Ride, who died July 23, was a testament to the oft-quoted admonition, "it's nice to be important, but more important to be nice."
Sally was both.
She was the first American woman in space, riding the Challenger Shuttle to orbit in June, 1983.  A year later, she flew again.  Sally stayed with NASA until 1987, thereafter joining the physics faculty at the University of California, San Diego.
I first met Sally at a dinner in San Jose to celebrate recent accomplishments of the U.S. space program.  I was fortunate to be seated next to her, as it was soon clear that she was clever, unassuming, and interested in a wide variety of science. 
This favorable impression was  augmented a few years later, when both of us served on the board of the California Air and Space Center – an initiative begun by NASA and the cities of Mountain View and Sunnyvale to construct a science venue in the Silicon Valley.  During board meetings, Sally was generally quiet.  But when she spoke, she was both inspirational and realistic.  Her wonderful combination of modesty and expertise was recognized by other board members.  She was exceptional.
In 1999, television commentator Lou Dobbs founded an internet company devoted to space and astronomy – SPACE.com.  He chose Sally Ride to be president.  Soon afterwards, she came to the SETI Institute to propose that we supply regular content for the SPACE.com web site.  Our Institute elected to do this, largely out of regard for Sally Ride.
Sally Ride was devoted to advancing the cause of women in science, and spent many years at the helm of Sally Ride Science, a program for both young girls and teachers.
Sally's accomplishments are legion.  She is one of those rare individuals who helped ensure that our future will be better than our past, and has earned both respect and admiration.  But when I think of Sally, I think of her quiet modesty.  She was an example of how good people can be.
-- Seth Shostak, Senior Astronomer, SETI Institute