Monthly Digest May, 2014
This Month's Top Stories and Announcements
Meet Mark Showalter
Showalter is the discoverer of six moons and three planetary rings. He is a Senior Research Scientist at the SETI Institute, the PI of NASA's Planetary Data System Rings Node, a co-investigator on the Cassini-Huygens mission to Saturn, and co-investigator on the New Horizons mission to Pluto.
Big Picture Science Radio Show: Our Tasteless Show
Imagine biting into a rich chocolate donut and not tasting it. That's what happened to one woman when she lost her sense of smell.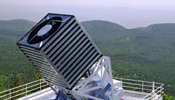 Weekly Colloquium: Dark Energy from the Largest Galaxy Maps
Dark energy is a phenomena causing the Universe to expand more rapidly than can be explained by Einstein's laws of gravity. Its discovery merited the 2011 Nobel Prize in Physics.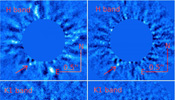 Characterizing the exoplanet HD 95086b with GPI
Another week and yet another article based on Gemini Planet Imager (GPI) data has been accepted for publication.
Eyjafjallajökull volcano
Why did the 2010 volcanic eruption in Iceland create so much ash?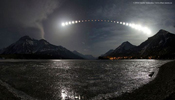 Lunar Eclipse time-lapse photo
Recorded on April 15th, this total lunar eclipse sequence looks south down icy Waterton Lake from the Waterton Lakes National Park in Alberta, Canada.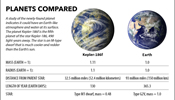 5 Things to Know About Alien Planet Kepler-186f, 'Earth's Cousin'
A newly discovered planet nicknamed "Earth's cousin" has just been found 490 light-years from Earth.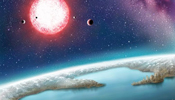 Kepler 186f — First Earth-sized Planet Orbiting in Habitable Zone of Another Star
Elisa Quintana and team announce the achievement of another milestone in the exploration of space: the first Earth-sized planet orbiting in the habitable zone of a star other than the Sun.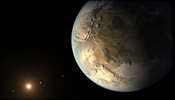 SETI Institute Research Scientist Elisa Quintana on NPR's 'All Things Considered'
Scientists who have been hunting for another Earth beyond our solar system have come across a planet that's remarkably similar to our world.
Kepler 186f: Is It Inhabited?
It's so far away that even if you booked a trip on the speediest of our rockets, you'd have 100 million years to polish your Sudoku skills en route to Kepler 186f.
Seth Shostak at Starlight Festival
Seth Shostak, Senior Astronomer at SETI Institute will give a special presentation "Finding ET: The Search Today" at the StarLight Festival on May 24th in Big Bear, CA to answer these questions and to give us insight into the serious, scientific inquiry of the search for extraterrestrial intelligence.
Silicon Valley Lecture Series
On Wednesday, May 21st, 2014, at 7 pm, Dr. Chung-Pei Ma (of the University of California, Berkeley) will give a free, illustrated, non-technical talk on: 
Monster Black Holes: What Lurks at the Center of Galaxies
in the Smithwick Theater, Foothill College, El Monte Road and Freeway 280, in Los Altos Hills, California 94022.
The talk is part of the Silicon Valley Astronomy Lecture Series, now in its 14th year.
Black holes are among the most fascinating objects in the cosmos and have long entranced the public as well as astronomers.  Today we understand that black holes can grow to monstrous size, swallowing the mass of millions or billions of suns. New telescopes and techniques in the past decade have expanded and improved our ability to weigh such "supermassive black holes."  Dr. Ma will describe recent discoveries of record-breaking black holes, each with a mass of ten billion times the mass of the Sun.  New evidence shows that these objects could be the dormant remnants of powerful "quasars" that existed in the young universe.
 Chung-Pei Ma is Professor of Astronomy at the University of California, Berkeley. Her research interests include the origin and large-scale structure of the universe, the formation and development of galaxies, and the growth of giant black holes.  She is also an avid violin player and pursued parallel studies in physics and music at MIT and the New England Conservatory of Music.
Foothill College is just off the El Monte Road exit from Freeway 280 in Los Altos. For directions and parking information, see: http://www.foothill.edu/news/transportation.php For a campus map, see: http://www.foothill.edu/news/maps.php The lecture is co-sponsored by:
The Astronomical Society of the Pacific
NASA Ames Research Center
The Foothill College Astronomy Program
The SETI Institute
We expect large crowds, so please arrive a little bit early to find parking. Having exact change or bills for the $3 parking fee helps speed up the line.
Past Silicon Valley Astronomy Lectures are now available in MP3 format at: http://www.youtube.com/SVAstronomyLectures