Mars Madness Month at Lafayette, CA with SETI Institute Scientists
To all SETI Institute fans and their family who live in the Bay Area, the Lafayette Public Library is organizing a "Mars Madness Month" event in March. Several activities, including public lectures by Margaret Race and Pascal Lee, both scientists at the Carl Sagan Center of the SETI Institute are scheduled in the program.
On March 19th, Margaret will talk about "life out there", sharing the latest research as scientists search for the universe for other signs of help.
On March 25th, Pascal Lee, also director of the Mars Institute, will share his knowledge and experiences in planning future human missions to Mars. Copies of his book, MISSION: MARS will be available for purchase and signing. If weather permitted, you will be able to watch Mars through a telescope!
Download Flyers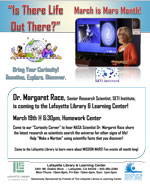 Is There Life Out There flyer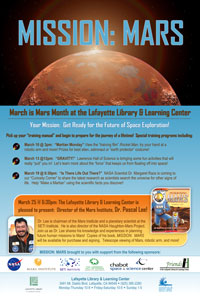 Mission Mars flyer
Additional Information
Balancing Commercial and Science Space Policy in the Coming Decade - with M. Race
http://www.youtube.com/watch?v=exsDJJSnEpA
Interview with Margaret Race, Planetary Protector
http://www.seti.org/node/456
Field Tests in Mojave Desert Pave Way for Human Exploration of Small Bodies
http://www.seti.org/node/1732
Scholastic, Mars Institute and SETI Institute Take Flight with the Launch of New Nonfiction Book "MISSION: MARS"
http://www.seti.org/seti-institute/press-release/scholastic-mars-institute-and-seti-institute-take-flight-launch-new