Jill Tarter to speak at the EBI2014 Conference
Date: March 16-21, 2014

Venue: Hilton El Conquistador—Tucson, Arizona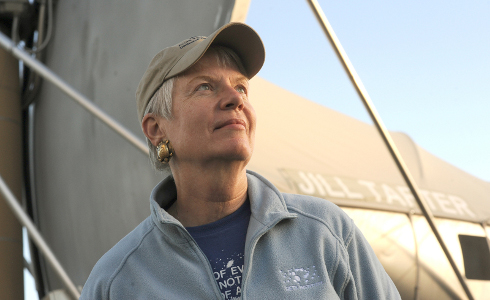 Jill Tarter, holder of the Bernard M. Oliver Chair at SETI Institute, will give a public talk at  the conference "The Search for Life Beyond the ​ S​olar ​ S​ystem — Exoplanets, Biosignature & Instruments" at Tucson, Arizona on Tuesday March 18  at 7:30 pm MST. Jill Tarter's talk, entitled "Why investing in the Search for Intelligent Life Beyond Earth is Important to the Long Term Future of Humanity" will be given in the UA Social Sciences building, Room 100 in the University of Arizona.
Recent discoveries are rapidly increasing the number of known Earth-sized planets. Meanwhile, scientists are finding a likewise increasing range of extreme conditions in which life on Earth can persist. But what techniques and technologies will allow us to search for such life on these exoplanets? To address this multifaceted challenge, the scientists attending the conference will include experts on exoplanet observations, early and extreme life on Earth, atmospheric biosignatures, and planet-finding telescopes.
This conference, co-hosted  by the Vatican Observatory and the University of Arizona's Steward Observatory, will include 160 presentations discussing the search for life beyond Earth, one of the great challenges of modern science, including an invited presentation given by Jill Tarter (SETI: Past, Present, Future) on Friday March 21 at 1:30pm MST. 
About 200 scientists from around the world are expected and the public will be able to participate. NASA's Astrobiology Institute will broadcast a
live feed
 of the entire conference, which will remain available online after the event. 
The conference is also organizing 
"Virtual Coffee Break" sessions to connect remote participants - scientists and the public - to  some of the key speakers, including Jill Tarter. 
Jill Tarter will participate to the session, currently planned for 12:15-12:45MST.
Together with the Vatican Observatory and the UA Steward Observatory, other institutions co-sponsoring the meeting include the NASA Astrobiology Institute; the UA Lunar and Planetary Laboratory; and the Europe-based International Center for Relativistic Astrophysics Network.
Links: