The International Space Orchestra (ISO) Playing in Space
Two Ardusat (Arduino based Nanosatellites run by Nanosatisfi) are carrying and playing from space a recording of the latest opera of the International Space Orchestra (ISO). These nanosats were launched on August 4 2013 and deployed in space on November 19, 2013.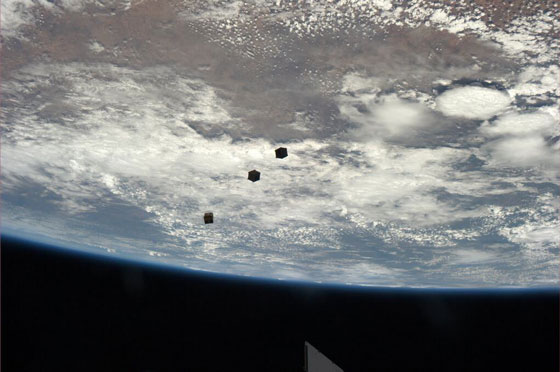 The Ardusats were released from the International Space Station by the six-member Expedition 38 crew two days ago. The ISS astronauts finalized with mission control the deployment on the Ardusats from the Japanese space module called Kibo on Tuesday at 7:10 a.m. EST. The Japanese robotic arm grappled and unberthed a deployer mechanism containing the Ardusats from the Kibo's airlock. Flight Engineer Koichi Wakata monitored the satellite deployment while operating the Japanese robotic arm.
 A video describing the deployment below:The recording of Ground-Control:
An Opera in Space which lasts 27min is currently being broadcast by radio waves and Morse code from the Ardusats. Any amateur HAM with the right equipment can listen to it (find out how on http://bit.ly/184uecB). One Ardusat is broadcasting the voice, the other one is playing the instrumental part, making this broadcast the first duet space orchestra.
GROUND-CONTROL: AN OPERA IN SPACE first was performed by the International Space Orchestra (ISO) in September 2011 in front of the World Largest Windtunnel in NASA Ames Research Center. The International Space Orchestra (ISO) is a team of space scientists from the NASA Ames Research Center, the SETI (Search for Extraterrestrial Life) Institute, Singularity University and the International Space University. It was recorded at Skywalker Ranch, George Lucas' Studio. The two Ardusats carrying ISO's recordings were launched aboard the H-II transfer vehicle, HTV-4, also known as Kounotori-4.
 'Music washes from the soul the dust of everyday life. Much as science washes away the fallacies of how the world was formed and sustains itself… Good luck in your cosmic endeavours and may you truly make the music of the spheres.' John W Boyd Senior Advisor to the Center Director of NASA Ames, the Senior Advisor for History and the Center Ombuds, letter to Nelly Ben Hayoun, August 13th, 2012.

Additional Information: