Carl Sagan Center Scientists at the 45th LPSC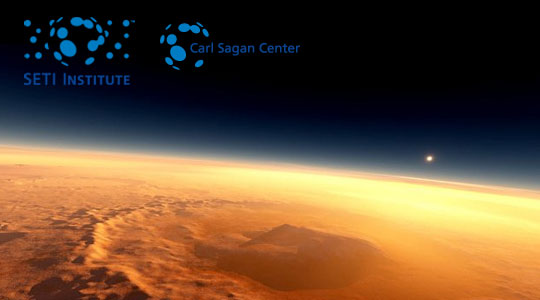 The 45th Lunar and Planetary Science Conference was recently held at
The Woodlands Waterway Marriott Hotel and Convention Center, The Woodlands, Texas, March 17–21, 2014.
This yearly conference brings together international specialists in petrology, geochemistry, geophysics, geology, and astronomy to present the latest results of research in planetary science.
During this five-day conference, several SETU Institute scientists presented their work on the studies of Mars geology, and Mars-analog terrains on Earth.
Ross Beyer
Aligning terrain model and laser altimeter point clouds with the Ames Stereo Pipeline Ross A. Beyer, Oleg Alexandrov, and Zachary Moratto, Lunar Planet. Sci. Conf. XLV, Abstract #2902
http://www.hou.usra.edu/meetings/lpsc2014/pdf/2902.pdf
Janice Bishop
Bishop, J. L. & Rampe, E. B. 2014. The importance of nanophase aluminosilicates at Mawrth Vallis. Lunar Planet. Sci. Conf. XLV, Abstract #2068.
http://www.hou.usra.edu/meetings/lpsc2014/pdf/2068.pdf
Bishop, J. L., Ward, M. K., Roush, T. L., Davila, A., Brown, A. J., McKay, C. P., Quinn, R. & Pollard, W. 2014. Spectral properties of Na, Ca-, Mg- and Fe-chlorides and analyses of hydrohalite-bearing samples from Axel Heiberg island. Lunar Planet. Sci. Conf. XLV, Abstract #2145.
http://www.hou.usra.edu/meetings/lpsc2014/pdf/2145.pdf
Gross, C., Noel, A. J., Bishop, J. L., Al-Samir, M., Flahaut, J., McGuire, P., Weitz, C. M., Seelos, F. & Murchie, S. 2014. Investigating the mineralogy, morphology and stratigraphy of Mound B in Juventae Chasma, Mars using multiple datasets. Lunar Planet. Sci. Conf. XLV, Abstract #1918.
http://www.hou.usra.edu/meetings/lpsc2014/pdf/1918.pdf
Tornabene, L. L., Osinski, G. R., Greenberger, R. N., Bishop, J. L., Cloutis, E. A., Marion, C. L., Mustard, J. F., Pontefract, A. & Ramsey, M. S. 2014. The pre-, syn- and post-impact origin of hydrated phases: a case study based on the remote sensing and ground-truth at the Haughton Impact Sturcture, Nunavut, Canada. Lunar Planet. Sci. Conf. XLV, Abstract #2710.
http://www.hou.usra.edu/meetings/lpsc2014/pdf/2710.pdf
Mann, P., Cloutis, E. A., Greenberger, R. N., Milliken, R. E., Hiroi, T., Mustard, J. F., Klima, R. L., Hibbits, C. A., Plescia, J. B., Bell Iii, J. F., Roush, T. L., Bishop, J. L. & Ehlmann, B. L. 2014. An interlaboratory UV/VIS/NIR wavelength calibration study. Lunar Planet. Sci. Conf. XLV, Abstract #2392.
http://www.hou.usra.edu/meetings/lpsc2014/pdf/2392.pdf
Englert, P., Bishop, J. L., Patel, S., Gibson, E. K., Koeberl, C., Tirsch, D., Boettger, U. & Jaumann, R. 2014. Sediments and soil profiles of Upper Wright Valley, Antarctica. Lunar Planet. Sci. Conf. XLV, Abstract #1707.
http://www.hou.usra.edu/meetings/lpsc2014/pdf/1707.pdf
Fenton, L. K., Bishop, J. L., Lafuente, B., Horgan, B. H., Szynkiewicz, A., Bustos, D. & King, S. J. 2014. Preliminary results from a field study of the mineralogy of White Sands National Monument Dune Field. Lunar Planet. Sci. Conf. XLV, Abstract #2855.
http://www.hou.usra.edu/meetings/lpsc2014/pdf/2855.pdf
King, S. J., Bishop, J. L., Garcia, G. C., Lafuente, B. & Fenton, L. K. 2014. VNIR specra of gypsum-rich field samples from White Sands New Mexico as an analog study for Olympia Undae, Mars. Lunar Planet. Sci. Conf. XLV, Abstract #2284.
http://www.hou.usra.edu/meetings/lpsc2014/pdf/2284.pdf
Lafuente, B., Bishop, J. L., Fenton, L. K., King, S. J., Blake, D., Sarrazin, P., Downs, R. T., Horgan, B. H. & Garcia, G. C. 2014. Mineralogical characterization by XRD of gypsum dunes at White Sands National Monument and application to gypsum detection on Mars. Lunar Planet. Sci. Conf. XLV, Abstract #2578.
http://www.hou.usra.edu/meetings/lpsc2014/pdf/2578.pdf
Englert, P., Bishop, J. L., Patel, S., Gibson, E. K., Koeberl, C., Tirsch, D., Boettger, U. & Jaumann, R. 2014. Sediments and soil profiles of Upper Wright Valley, Antarctica. Lunar Planet. Sci. Conf. XLV, Abstract #1707.
http://www.hou.usra.edu/meetings/lpsc2014/pdf/1707.pdf
Weitz, C. M., Bishop, J. L. & Baker, L. L. 2014. Fresh exposures of allophane in association with channels and debris aprons in Coprates Chasma, Mars. Lunar Planet. Sci. Conf. XLV, Abstract #1386.
http://www.hou.usra.edu/meetings/lpsc2014/pdf/1386.pdf
Carter, J., Viviano, C. E., Le Deit, L., Bishop, J. L. & Loizeau, D. 2014. Orbital detection and implications of akaganeite on Mars. Lunar Planet. Sci. Conf. XLV, Abstract #2364.
http://www.hou.usra.edu/meetings/lpsc2014/pdf/2364.pdf
El-Maarry, M. R., Watters, W. A., McKeown, N. K., Carter, J., Noe Dobrea, E. Z., Bishop, J. L., Pommerol, A. & Thomas, N. 2014. Potential desiccation cracks on Mars: A synthesis from modeling, analogue-field studies, and global observations. Lunar Planet. Sci. Conf. XLV, Abstract #2530.
http://www.hou.usra.edu/meetings/lpsc2014/pdf/2530.pdf
Blaney, D. L., Murchie, S. L., Green, R. O., Mustard, J. F., Jeganathan, M., Mouroulis, P., Van Gorp, B., Rodrequiez, J., Tucker, S., Nastal, J., Glavich, T., Helmlinger, M., Ferdosi, J., Santo, A., Morgan, F., Strobehbehn, K., Seelos, F., Allwood, A., Bishop, J. L., Boardman, J. W., Bridges, N. T., Ehlmann, B. L., Farmer, J. D., Hoehler, T., Johnson, J. R., King, P. L., Lewis, K. W., Mangold, N., Milliken, R., Minitti, M., Smith, M., Vincendon, M. & Wolff, M. J. 2014. MinMap: An instrument concept for the Mars 2020 Mission. Lunar Planet. Sci. Conf. XLV, Abstract #2037.
http://www.hou.usra.edu/meetings/lpsc2014/pdf/2037.pdf
Roush, T. L., Brown, A. J., Bishop, J. L., Blake, D. & Bristow, T. 2014. Optical constants of Mars candidate materials used to model laboratory reflectance spectra of mixtures. Lunar Planet. Sci. Conf. XLV, Abstract #1380.
http://www.hou.usra.edu/meetings/lpsc2014/pdf/1380.pdf
Davis, A. C., Bishop, J. L., Veto, M., Ruff, S., Bristow, T., Gates, W. & Blake, D. 2014. Comparing VNIR And TIR spectra of clay-bearing rocks. Lunar Planet. Sci. Conf. XLV, abs. #2699.
http://www.hou.usra.edu/meetings/lpsc2014/pdf/2699.pdf
Nathalie Cabrol
Cabrol, N. A., T. M. Smith, E. A. Grin, S. Lee, R. E. Lorenz, J. Moersch, E. D. MacLennan (Graduate Student), V. Parro, L. Pedersen, E. W. Smith, P. Sobron, C. Tambley, C. Thompson (Graduate Student), D. S. Wettergreen, Planetary Lake Lander: Year 3 Science Overview, 45th Lunar Planet. Sci. Conf., Abstract 1167, 2014.
http://www.hou.usra.edu/meetings/lpsc2014/pdf/1167.pdf
Cabrol, N. A., D. S. Wettergreen, K. Warren Rhodes, E. A. Grin, T. Hare, J. Wei, J. Lambert, J. Moersch, S. Pointing, K. Tanaka, C. Tate, D. R. Thompson, M. Wagner, A. Wang, and K. Zacny, Subsurface Life in the Atacama: Overview of the first autonomous traverse of a 1-m rover mounted drill, 45th Lunar Planet. Sci. Conf., Abstract 1185, 2014.
http://www.hou.usra.edu/meetings/lpsc2014/pdf/1185.pdf
Smith, E. W., N. A. Cabrol, T. M. Smith, E. A. Grin, S. Lee, R. Lorenz, J. Moersch, E. MacLennan, V. Parro, L. Pedersen, P. Sobron, C. Tambley, C. Thompson, D. S. Wettergreen, Planetary Lake Lander: An Online E/PO Campaign Using Social Media Tools To Address The General Public, 45th Lunar Planet. Sci. Conf., Abstract 2419, 2014.
http://www.hou.usra.edu/meetings/lpsc2014/pdf/2419.pdf
Smith, T., T. Y. Lee, L. Pedersen, H. Seddiqi, N. A. Cabrol, E. A. Grin, R. Lorenz, J. Moersch, E. MacLennan, V. Parro, E. W. Smith, P. Sobron, C. Tambley, C. Thompson, D. S. Wettergreen, Planetary Lake Lander: Adaptive Science Initial Results, 45th Lunar Planet. Sci. Conf., Abstract 1616, 2014.
http://www.hou.usra.edu/meetings/lpsc2014/pdf/1616.pdf
Sobron, P., A. Sanz, C. Thompson, N. A. Cabrol, and the 2013 Planetary Lake Lander Project Team, Underwater Laser Raman Spectroscopy for characterizing organic content in lakes: Implications for Titan astrobiology, 45th Lunar Planet. Sci. Conf., Abstract 2736, 2014.
http://www.hou.usra.edu/meetings/lpsc2014/pdf/2736.pdf
Paul Estrada
The Influence Of Evaporation Fronts On The Global Evolution Of Solids And Gas In The Protoplanetary Nebula. P. R. Estrada and J. N. Cuzzi, 45th Lunar Planet. Sci. Conf., Abstract 2642, 2014
http://www.hou.usra.edu/meetings/lpsc2014/pdf/2642.pdf
Lori Fenton
King, S. J., Bishop, J. L., Garcia, G. C., Lafuente, B., Fenton, L. K. (2014) VNIR spectra of gypsum-rich field samples from White Sands New Mexico as an analog study for Olympus Undae, Mars. Lunar and Planetary Science Conference XLV, March 17-21, The Woodlands, TX, USA, Abst. #2284.
http://www.hou.usra.edu/meetings/lpsc2014/pdf/2284.pdf
Fenton, L. K., Bishop, J. L., Lafuente, B., Horgan, B. H., Szynkiewicz, A., Bustos, D., King, S. J. (2014) Preliminary results from a field study of the mineralogy of White Sands National Monument dune field. Lunar and Planetary Science Conference XLV, March 17-21, The Woodlands, TX, USA, Abst. #2855.
http://www.hou.usra.edu/meetings/lpsc2014/pdf/2855.pdf
Garcia, G. C., Fenton, L. K. (2014) Determining the dune-constructing wind regime in eastern Olympia Undae. Lunar and Planetary Science Conference XLV, March 17-21, The Woodlands, TX, USA, Abst. #2792.
http://www.hou.usra.edu/meetings/lpsc2014/pdf/2792.pdf
Lafuente, B., Bishop, J. L., Fenton, L. K. (2014) Mineralogical characterization by XRD of gypsum dunes at White Sands National Monument and application to gypsum detection on Mars. Lunar and Planetary Science Conference XLV, March 17-21, The Woodlands, TX, USA, Abst. #2578.
http://www.hou.usra.edu/meetings/lpsc2014/pdf/2578.pdf
Sarmento, P. T. K., Vaz, D. A., Fenton, L. K., Barata, M. T., Michaels, T. I. (2014) Automated dune field mapping from CTX imagery. Lunar and Planetary Science Conference XLV, March 17-21, The Woodlands, TX, USA, Abst. #2404.
http://www.hou.usra.edu/meetings/lpsc2014/pdf/2404.pdf
Chojnacki, M., Johnson, J., Michaels, T., Fenton, L. (2014) Persistent aeolian activity at Endeavour crater, Meridiani Planum, Mars; New observations from orbit and the surface. Lunar and Planetary Science Conference XLV, March 17-21, The Woodlands, TX, USA, Abst. #2775.
http://www.hou.usra.edu/meetings/lpsc2014/pdf/2775.pdf
Tim Michaels
T.I. Michaels, (2014). Further Characterization of the Aeolian Transport Environment Near Endeavour Crater, Lunar and Planetary Science Conference XLV, March 17-21, The Woodlands, TX, USA, Abst. #2897
http://www.hou.usra.edu/meetings/lpsc2014/pdf/2897.pdf
Virginia Gulick
Evidence For Multiple Stages Of Extensive Low Outflow Channel Floor Resurfacing In Southern Circum-Chryse, Mars. J.A.P. Rodriguez, ,V. Gulick, V. Baker, T. Platz And A.G. Fairén, ,Poster by Debbie Hernandez, my CAPARE/REU intern last Summer:
http://Www.Hou.Usra.Edu/Meetings/Lpsc2014/Pdf/2917.Pdf
Gullies On Mars: Fluvial Geologic Processes As Evidence For Liquid Water On Mars. D.J. Hernandez1, V. C. Gulick And C. A. Narlesky
http://www.hou.usra.edu/meetings/lpsc2014/pdf/1198.pdf
Automated Classification Of Geological Samples Using High Resolution Macro Images. P. M. Freeman, S.T. Ishikawa And V. C. Gulick
http://www.hou.usra.edu/meetings/lpsc2014/pdf/2739.pdf
Geomorphic And Flow Analysis For Gullies In Palikir Crater, Mars. C. A. Narlesky And V. C. Gulick,
http://www.hou.usra.edu/meetings/lpsc2014/pdf/2870.pdf
Comparative Study Of Gullies In Kaiser Crater On Mars. N. H. Glines And V. C. Gulick,
http://www.hou.usra.edu/meetings/lpsc2014/pdf/2926.pdf
Clickworkers Interactive: Progress On A Jpeg2000-Streaming Annotation Interface. E. A. Coleman, S. T. Ishikawa, And V. C. Gulick,
http://www.hou.usra.edu/meetings/lpsc2014/pdf/2593.pdf