Join us for MarsFest, March 28 - 30 2014
The third Annual MarsFest in Death Valley: Linking Extremes of Earth and Space
We are excited to announce the third annual MarsFest in Death Valley National Park, on March 28th, 29th, and 30th, 2014! Registration is FREE!
Death Valley National Park has several planetary analog research sites within its boundaries, and is excited to share this little known, but extremely important, use of our public land.
The SETI Institute, NASA Ames, NASA Goddard,  JPL, and the National Park Service are proud to collaborate again this year to bring scientists, the public, and National Park enthusiasts together to explore the fascinating research being done in this field. A key component is the NASA's MSL Curiosity rover mission team, represented by the Sample Analysis at Mars (SAM) Education and Public Outreach (E/PO) Team.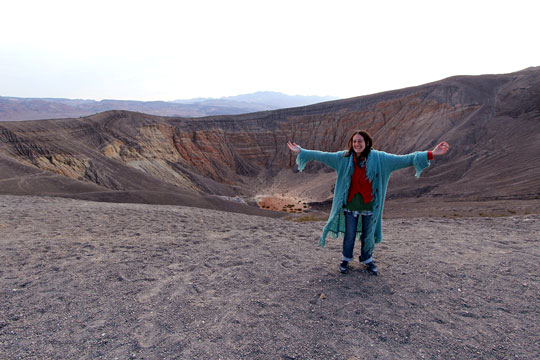 [ Dr. Rosalba Bonaccorsi of NASA has been studying Ubehebe Crater for years, looking at the geological markers of molten magma and groundwater contact, and the subsequent erosion and sediment forming at it's bottom. Finding similar features on Mars helps understand evidence of water and volcanic activity on the planet, and perhaps places to find evidence of life. Image credit: Robert Fullton]
The goal of MarsFest is to elevate public awareness about planetary analog research taking place on Earth, and its associated missions in space such as MSL and the upcoming 2020 missions.
The first two MarsFest weekends, held in 2012 and 2013, were extraordinarily successful thanks to the dedication of Park personnel, the SETI Institute, and NASA Centers.
Support for the festival comes from several scientists, E/PO professionals, astronomy club members, and other planetary science enthusiasts (e.g., The Mars Society and The Planetary Society), who volunteer to share their time, information, resources, and their passion with visitors. MarsFest has also been featured on NASA TV ("This Week@NASA").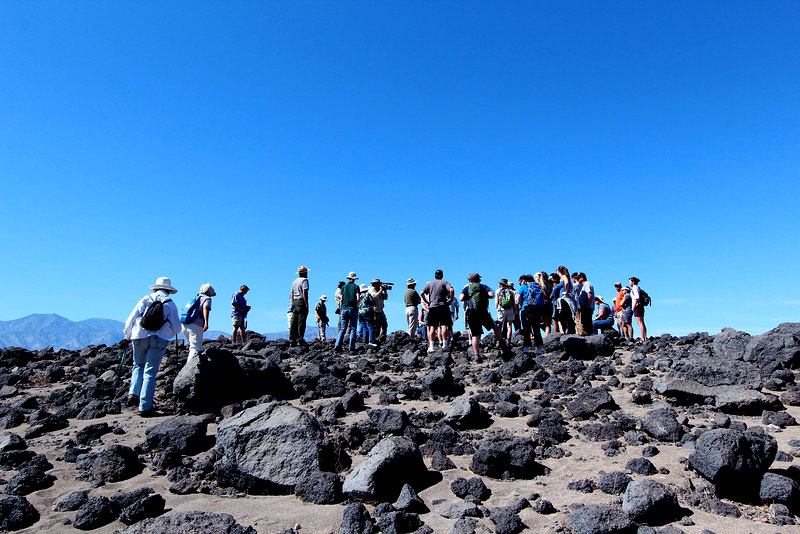 [Here scientists, educators and Park staff gather at "Mars Hill", a place that has been used to examine a surface similar to some on Mars. Some Mars rover designs have been tested here for mechanical and navigation purposes. Photo credit: Robert Fullton]
The 2012 and 2013 events were so successful and so well received by participating scientists, park staff, and the general public that they have set the stage for MarsFest 2014.
Visitors of all ages are invited to MarsFest 2014. The event will be opened by a keynote speaker and will feature scientist-led field trips to analog sites such as: Mars Hill, Badwater Basin, Ubehebe Volcanic Field, and Mesquite Sand Dunes as well as guest lectures and special presentations at the park's Furnace Creek Visitor Center. The event will include a "Curiosity Hour" update featuring scientists participating in the Mars Science Laboratory Curiosity rover mission, followed by a Q&A session.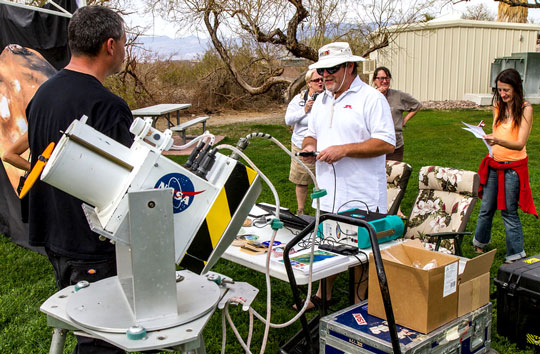 [Mark Helmlinger at a booth during 2012 event. Photo credit: Jack Freer]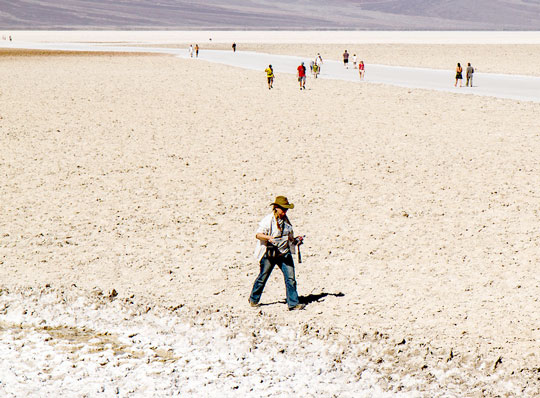 [Field trip to Mars analog site of Badwater with Dr. Susanne Douglas. Photo credit: Jack Freer]
The MarsFest 2014 Organizing Committee:
Terry Baldino, National Park Service, Death Valley

Rosalba Bonaccorsi, NASA Ames Research Center/Carl Sagan Center, SETI Institute

Lora Bleacher, NASA Goddard Space Flight Center

Andrea Jones, NASA Goddard Space Flight Center/Lunar and Planetary Institute