October 2017 SETI Institute Activity Report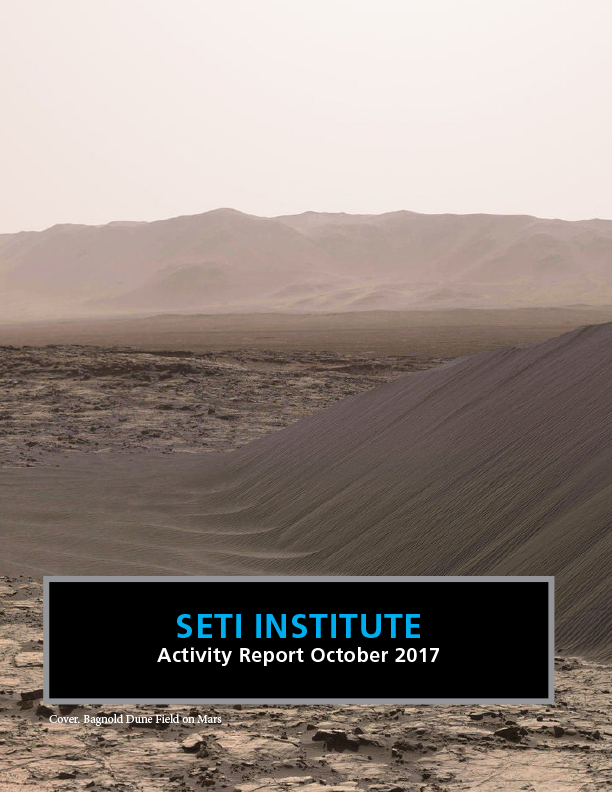 SETI Institute is a world-class center of scientific research. But that's not all we do. In addition to the Carl Sagan Center for Research, our Center for Education and Center for Outreach work to share knowledge and learning with all humanity. The Center for Education promotes STEM education that teaches and excites children, young adults and educators, while the Center for Outreach engages with the general public through a variety of digital, print and in-person initiatives. This newly expanded activity report covers all work of the SETI Institute to provide a more holistic overview of the impact of our work. You can download the whole October 2017 activity report here. Here are some highlights:
Carl Sagan Center for Research
Peer reviewed articles published or accepted for publication include:

The geologic exploration of the Bagnold Dune Field at Gale crater by the Curiosity Rover (Journal of Geophysical Research, co-author Lori Fenton)
Photochemistry of Coronene in Cosmic Water Ice Analogs at Different Concentrations (The Astrophysical Journal, co-author Alessandra Ricca)
Shape modeling of potentially hazardous asteroid (85989) 1999 JD6 from radar and lightcurve data (Icarus, co-author Michael Busch)

The work of SETI Institute scientists has been or will be featured at several important scientific conferences and events including:

Division of Planetary Sciences Conference (October 2017 – Matt Tiscareno, Peter Tennenbaum, Cristina Dalle Ore, Matija Cuk, Robert French, Mark Showalter, Franck Marchis)
Fourth International Conference on Early Mars (October 2017 – Janice Bishop)
American Geophysical Union Fall Meeting (December 2017 – Janice Bishop, Michael Busch, Franck Marchis, Matt Tiscareno)

SETI Institute scientists working on TESS completed a number projects including implementing commissioning tools to measure in-flight Focal Plane Geometry (FPG) and Pixel Response Function (PRF) (Jeff Smith, Robert Morris); generated simulated data sets for Ground Segment Integration Testing (GSIT) (Peter Tennenbaum); and completed revisions to the Data Validation (DV) report design (Joseph Twicken)
Professional presentations included:

Fourth International Conference on Early Mars (Janice Bishop)
World Conference of Science Journalists (Seth Shostak)
Solar Radiation Workshop (NASA Ames, Nathalie Cabrol)
Center for Education
Reaching for the Stars: NASA Science for Girl Scouts:

G.I.R.L. Convention, Columbus OH – Pamela Harman hosted the SETI Institute Astronomy Adventures Exhibit, led a STEM campfire workshop and participated in a panel discussion on the "Future of Space Exploration."
The SETI Institute received the Alliance Award from Girl Scouts of Northern California South Bay & Peninsular Area in recognition of outstanding support of Girl Scouts of Northern California

California Science Education Conference, Sacramento, CA – Coral Clark was a Focus Speaker and Pamela Harman led a workshop
Airborne Astronomy Ambassadors: Dana Backman and Pamela Harman led a group through training, meetings, and tours at NASA AFRC and facilitated two overnight flights on SOFIA
Center for Outreach
Popular Publications (print and digital)
TV, Podcasts, Multimedia

Sand in the Wind (WeMartians podcast featuring interview with Lori Fenton)
Death Dive to Saturn (Nova, included interview with Matt Tiscareno)

Public Presentations

Amateur Astronomy Club of NY star parties, New York, NY (Franck Marchis)
Hartnell Community College, Salinas, CA (Gerry Harp)
Science Night at Menlo Park Library, Menlo Park, CA (Margaret Race)
Download the SETI Institute Activity report for September 2017.