Tech Summit on Collaborative Innovation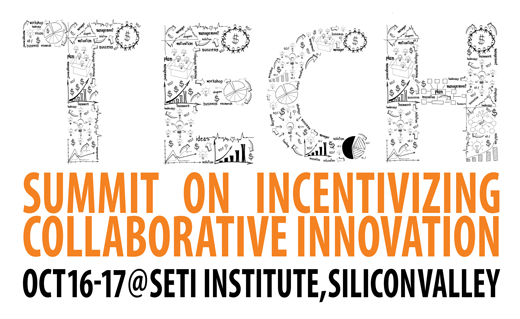 SETI Institute Opportunity: The Tech Summit on Incentivizing Collaborative Innovation | October 16-17th, 2013
SETI Institute, Mountain View, CA - Reserve your spot: http://www.competitionsciences.org/techsummit13.html
--- Doors Open 8am October 16th, and the program concludes at 12pm on the 17th.
The first 50 SETI Institute Members will receive a 50% discount on participation by using code: SETI-GUEST50.
This two-day Summit organized by the Institute of Competition Sciences gathers scientists, technologists, and innovation leaders to engage in discussions on how incentivized innovation can help advance revolutionary technologies. Come and see how your company or organization can identify and implement the best competitions, prizes, or hackathons for your own science and technology strategies. You will connect with NASA technology leaders, professional competition designers, Lux researchers, White House representatives, and other industry leaders interested in using competitions to drive new science and technology advancements. 
NASA has been using competitions to advance its technology portfolio for years. They have created competitions for new astronaut gloves, super-strong tethers, green aviation fuels, new rocket designs, and more. At the Summit, they will be exploring new partnerships for their next competitions and will announce an opportunity where you could design a competition that NASA would then fund with a multi-million-dollar prize!
Not only will you learn how to help your organization use the best models of incentivized innovation, but you will also share thought leadership in creating the knowledge, insights, and expertise to help improve the impact of competitions and prizes across the globe.
Join a top list of featured participants for this one-of-a-kind Summit:
Dr. Mason Peck, Chief Technologist, NASA
Mark Bunger, Research Director, Lux Research
Jason Calacanis, Former CEO, Netscape and Prolific Entrepreneur
Cristin Dorgelo, Associate Director for Grand Challenges, White House OSTP
Samuel Ortega, Program Manager, NASA Centennial Challenges
Mitra Best, US Innovation Lead, PriceWaterhouseCoopers
Seating is limited, and first come, first served. Reserve your spot for this two-day Summit as part of the SETI Institute Community and get 50% off registration: http://www.competitionsciences.org/techsummit13.html using code SETI-GUEST50.