Planetary Landscapes on Facebook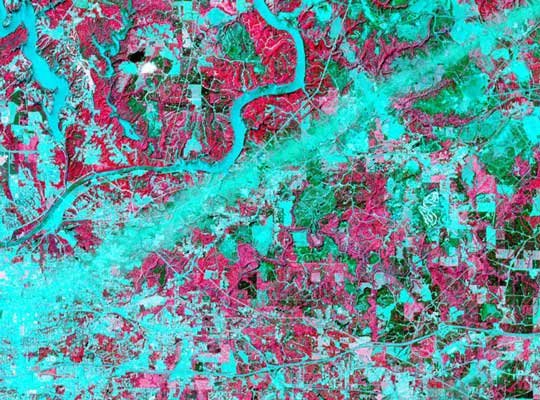 Description: When it comes to violent acts of nature, our home planet can come up with some terrible displays as well. We all remember the tragedy at Tuscaloosa where a EF-4 tornado tore across town. This ASTER image taken a day after the disaster shows
in pink the vegetation and aqua represents the lack of vegetation.The tornado ripped up everything in its path, scouring the Earth's surface and leaving a path that could be seen from orbit.
An example of one of the many incredible image on Planetary Landscapes.
Planetary Landscapes, a Facebook page
created by SETI Institute Research Scientist, Nathalie Cabrol, celebrates planetary sciences, knowledge, and the spirit of human exploration. It is dedicated to those, in the long line of explorers, who dare to look beyond what the eyes can meet, invent tomorrow, and find their way to its destination.