Join us for the Second Annual MarsFest in Death Valley National Park: Linking Extremes of Earth and Space!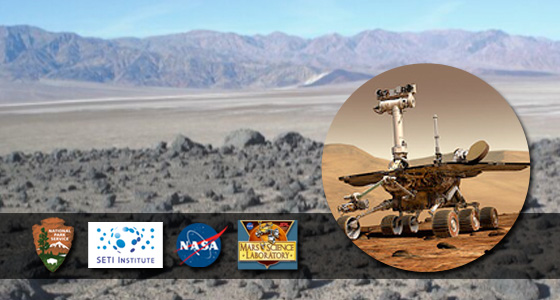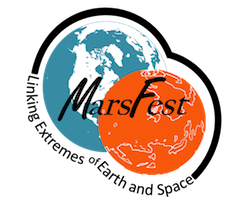 We are proud to announce the Second Annual MarsFest (formerly Mars and the Mojave Festival) in Death Valley National Park from March 1st to March 3rd, 2013!
The SETI Institute, NASA Goddard, NASA Ames, JPL, and the National Park Service are excited to collaborate again this year to bring scientists, the public, and National Park enthusiasts together to explore the fascinating research being done in this field. Death Valley National Park boasts several planetary analog research sites within its boundaries and is excited to share this little known but extremely important use of our public lands.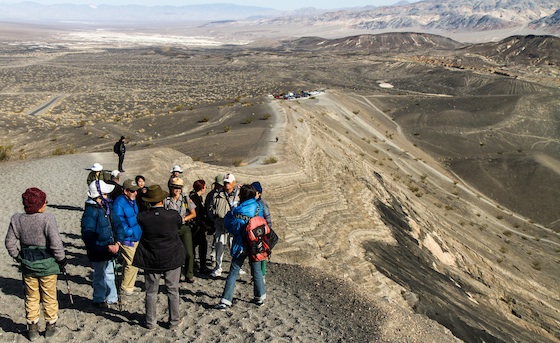 Dr. Rosalba Bonaccorsi and Death Valley National Park Education Specialist Stephanie Kyriazis – Studying Mars from Earth at The Ubehebe Volcanic Field. Image Credit: Overland Photography ]
The goal of the MarsFest is to raise public awareness about planetary analog research taking place on Earth as well as celebrate the scientific endeavor of the Mars Science Laboratory Mission. The "First Ever Festival", held in 2012, was extraordinarily successful thanks to the dedication of Park personnel, NASA and SpacewardBound scientists, the SETI Institute, and volunteers. Mars and the Mojave Festival 2012 was also well received by the science community at large. 
MarsFest 2013 is an annual planetary science festival for all ages and interest levels.  It will feature lectures scientist-led field trips to analog sites (Mars Hill, Badwater Basin, Ubehebe Volcanic Field, and Mesquite Sand Dunes), ranger talks/guided hikes for novice space explorers, and an Expo with information booths, demonstrations, and kids' table. The Expo booths will be hosted by representatives from NASA, non-profits, and universities – and will include a mini-Curiosity rover from JPL's Mars Public Engagement Team, Mars Society's mini-rover, and CheMin Terra demonstrations. The festival will culminate in a "Curiosity Hour" featuring scientists participating in the Mars Science Laboratory Curiosity rover mission, and a panel discussion on the impact of planetary exploration on society (on Earth and beyond).
The MarsFest 2013 Organizing Committee:
Lora Bleacher, NASA Goddard Space Flight Center
Rosalba Bonaccorsi, NASA Ames Research Center/Carl Sagan Center, SETI Institute
Liza Coe, NASA Ames Research Center
Andrea Jones, NASA Goddard Space Flight Center/Lunar and Planetary Institute
Vicki Johnson, National Park Service, Death Valley
Amy Thickpenny, National Park Service, Death Valley
Carole Wendler, National Park Service, Death Valley
Mars and the Mojave Festival 2012