Explode Everyday: An Inquiry into the Phenomena of Wonder
The SETI Artists in Residence (SETI AIR) seeks to open an exchange of ideas between artists and scientists, inspiring each and leading to new paths of understanding and expression. The SETI Institute's mission is to explore, understand and explain the origin, nature and prevalence of life in the universe. Our artists provide a fresh perspective to help broaden awareness of the work being done by the scientists and researchers at the SETI Institute.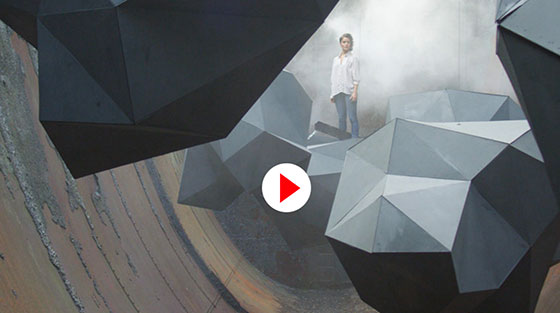 This winter a number of SETI AIR artists have been featured in the MASS MoCA exhibit, Explode Everyday: An Inquiry into the Phenomena of Wonder: Charles Lindsay (SETI Air Program Director), Jen Bevin, Rachel Sussman, and Dario Robleto. The name of the exhibit was inspired by something Ray Bradbury said at Comic Con in 2010: "You remain invested in your inner child by exploding every day. You don't worry about the future, you don't worry about the past, you just explode."
The exhibit explores aspects of wonder and the human impulse of discovery. Rachel Sussman (AIR '16) has two pieces included in the exhibit. One, (Selected) History of the Spacetime Continuum, explores our sense of time and place in the universe. "Conceptually, I'm weaving together astrophysics, geology, biology, mathematics, archeology, history, Einsteinian relativism, and chronocriticism," said Sussman.
The MASS MoCA exhibit closes on March 19.
SETI AIR artists are tenured for two years. For more information about the SETI AIR program