Announcing SpaceBall 2017: An Out of this World Gala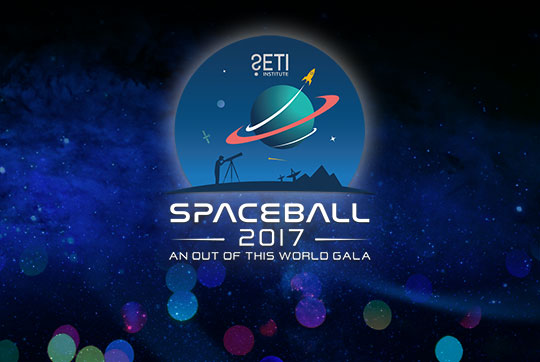 To celebrate Silicon Valley's enthusiasm for space and passion for exploration and innovation, the SETI Institute will host an inaugural event, SpaceBall: An Out of this World Gala on April 22 at the Hilton San Jose. You can be among the first to join us.
SpaceBall will be held in conjunction with Silicon Valley Comic Con 2017 (SVCC17). This year's theme will be, "The Future of Humanity: Where Will We Be in 2075?" In partnership with NASA, SVCC17 will feature a Space Exploration Zone where the SETI Institute will host a booth and participate in panel discussions.
SpaceBall will feature Theremin music by Project Pimento; Lightening Space Talks by SETI Institute scientists; a cocktail buffet; a live auction, and many fun surprises.
Special guests will include space-tech business leaders, venture capitalists, scientists, and space/science enthusiasts from around the Bay Area. You can check out our complete list of Honorary Committee members here.
There are several ticket levels and packages available. This event is expected to fill up quickly, so be sure to plan ahead.
Click here for more information and to purchase tickets.
If you have questions, click to contact Lori Marshall.